Blue Supermoon Might Turn Red in Total Lunar Eclipse Jan. 31
For 15 years, In&Out Magazine has been the definitive source of "Everything that's going on" in and out of the community. We thank you, our readers, as well as the businesses that support the magazine through advertising, for that opportunity. But with little going on, and many businesses suspending or canceling their ads during the Covid-19 crisis, we are suspending publication of the magazine and web sites for the month of May. 
---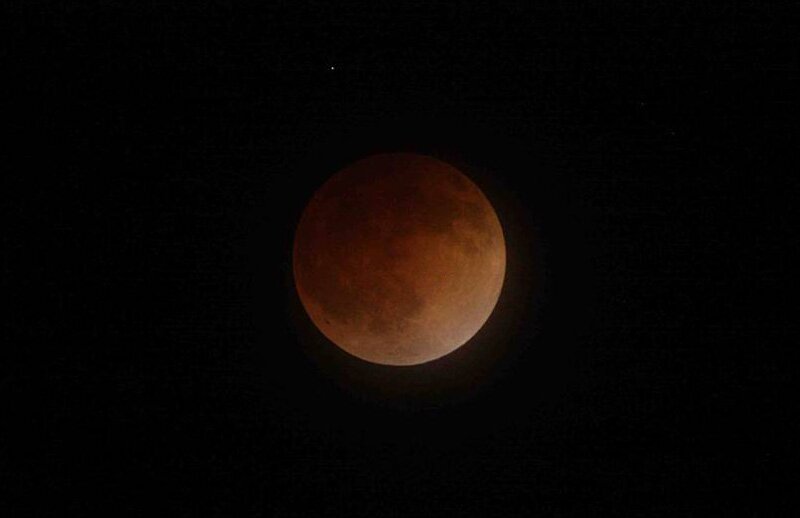 Early risers on Wednesday, Jan. 31 are in for a treat. At about 5:52 a.m. local time across Arizona, while it's still dark, a big full moon sinking to the western horizon will fall completely into Earth's shadow. Weather permitting, this total lunar eclipse will be easy to view.
What You'll See At about 4:48 a.m., Earth's shadow will take a bite out of the moon. The bite will grow larger until the moon is fully engulfed. It's well worth watching this process—especially the last few moments before totality. (All times are local for Arizona. For other regions, see this NASA page.)
Red Moon During the total eclipse the moon will be dark but visible, gradually turning brown or possibly orange or red, as sunlight from all the world's sunrises and sunsets is scattered by Earth's atmosphere, hits the moon, and is reflected back to your eyes. The color and intensity varies with each eclipse, depending on dust and clouds in those sunsets. In rare instances, a rich, deep hue creates what astronomers call a blood-red moon.
Blue Moon The second full moon in a month (there was one on Jan. 1) is known as a blue moon. It's just a label. Actual blue moons are rare, and due to volcanic eruptions or huge forest fires—hence the phrase "once in a blue moon."
Supermoon As occurred Jan. 1, this full moon will be a supermoon, which happens when a full moon coincides with the moon's closest approach to Earth on its non-circular orbit. A supermoon can be 14 percent bigger and 30 percent brighter than the smallest full moons.
So the Jan. 31 event can be called a totally eclipsed blue supermoon that might turn red.
How it Works Every 29.5 days, the moon orbits Earth and creates a loose alignment of the sun, Earth and moon. Because the moon's orbit is slightly askew compared to the plane of Earth's orbit around the sun, the sun's light usually falls full on the face of the moon at this periodic juncture, and we see a full moon. But every now and then, the alignment is perfect, and Earth gets in the way.
Fun Fact Total lunar eclipses won't always be possible. The moon is moving away from Earth by about 1.6 inches a year. Right now, Earth can fully cover the moon with its shadow. Billions of years from now, the moon be too far away to be totally engulfed in Earth's umbra.
The next total lunar eclipse visible from Arizona, an evening event, will be Jan. 20, 2019.

Note: The partial eclipse ends at 8:11 a.m., after moonset.
---
SOURCES: "The Moon Book," NASA, Fred Espenak (Mr. Eclipse); EclipseWise.com; timeanddate.com