Off-Road Enthusiasts Plan Christmas Light Parade in Anthem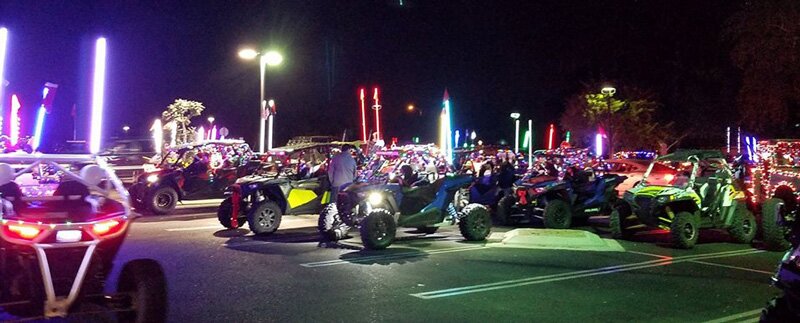 Last year about this time, some 30 or 40 off-road vehicles (ORVs) sporting holiday decorations paraded around parts of Anthem Parkside in an informal Christmas parade. Few people knew it was happening, so few people saw them. This year, the still-informal event, slated for Sunday, Dec. 17, promises to be much bigger, and the organizer hopes all of Anthem comes out to watch.
The 2nd Annual Anthem Christmas Light Parade is for those off-road-capable, outsized golf carts you've seen around town, known as side-by-side (SXS) vehicles or UTVs (which can stand for either utility vehicles or utility terrain vehicles, depending on who you ask). So far, 186 drivers have signed up on the event's Facebook page, said organizer Harmony Brown. Some 1,200 people have checked the "interested" box. (Both figures have changed since this writing.)
"Last year we didn't have a ton of spectators," Brown said in a telephone interview. "A lot of people didn't know about it. This year I want it to be really well known and really big."
Brown created a route that winds through much of Parkside, from the Wal-Mart area on the west side to the far eastern reaches of Meridian Drive and down to the Panhandle. There's a map on the event's Facebook page.
The parade is "very informal," Brown said. She emphasized the main rules: Participants must drive street-legal vehicles and follow all traffic laws. The plan is to start at 6:15 p.m. and finish by around 8:10 p.m.
"I would love to see all of Anthem come outside and wave to us," Brown said.
STAY INFORMED
Anthem Residents: Subscribe to the Anthem Newsletter