Spring Fun: Anthem Days & Carnival Full Schedule
For 15 years, In&Out Magazine has been the definitive source of "Everything that's going on" in and out of the community. We thank you, our readers, as well as the businesses that support the magazine through advertising, for that opportunity. But with little going on, and many businesses suspending or canceling their ads during the Covid-19 crisis, we are suspending publication of the magazine and web sites for the month of May. 
---

After a long, cold, wet winter, spring officially arrived this week. And for the 20th year in a row, so does the Anthem Days festival, with a familiar slate of activities, all open to the public. Entry is free, but there's a charge for food and drink, the carnival and some Kids Zone activities, all in Anthem Community Park.
Saturday, March 23
10 a.m.–4 p.m.
Sunday, March 24
10 a.m.–4 p.m.

Craft & Food Vendors

Craft & Food Vendors

Food Court & Beer Garden

Food Court & Beer Garden

Kids Zone

Kids Zone

Business Expo

Business Expo

Live Music: Caution Party Band

Live Music: Zero Gravity Fighters

Baseball Speed Pitch Challenge*

Egg Hunt (free)
*A meet-and-greet is planned with MLB Hall of Fame pitcher Ferguson "Fergie" Jenkins, 10 a.m. to noon.
Frazier Shows Carnival
All-you-can-ride wristbands cost $20, or $17 with a coupon available in advance at the Anthem Community Center and Civic Building. Printable coupons will be available on Frazier's Facebook page. Times and prices are subject to change by Frazier.
| | | |
| --- | --- | --- |
| | Hours | Wristband Hours |
| Thursday | 5–8 p.m. | 5–8 p.m. |
| Friday | 5–9 p.m. | 5–8 p.m. |
| Saturday | 1–10 p.m. | 1–4 p.m. |
| Sunday | 1–5 p.m. | 1–4 p.m. |
Eggstravaganza Egg Hunt (Sunday, March 24)
| | |
| --- | --- |
| Softball Field No. 1 | Softball Field No. 2 |
| | 10:15 a.m.: Special needs |
| 11:20 a.m.: 2-year-olds | 11:30 a.m.: 3-year-olds |
| 11:40 a.m.: 4-year-olds | 11:50 a.m.: 5-year-olds & grade K |
| Noon: 1st graders | 12:10 p.m.: 2nd graders |
| 12:20 p.m.: 3rd graders | 12:30 p.m.: 4th- & 5th-graders |
| 12:40 p.m.: 2-year-olds | 12:50 p.m.: 3-year-olds |
| 1 p.m.: 4-year-olds | 1:10 p.m.: 5-year-olds & grade K |
| 1:20 p.m.: 1st graders | 1:30 p.m.: 2nd graders |
| 1:40 p.m.: 3rd graders | 1:50 p.m.: 4th- & 5th-graders |
More Photos from Past Carnivals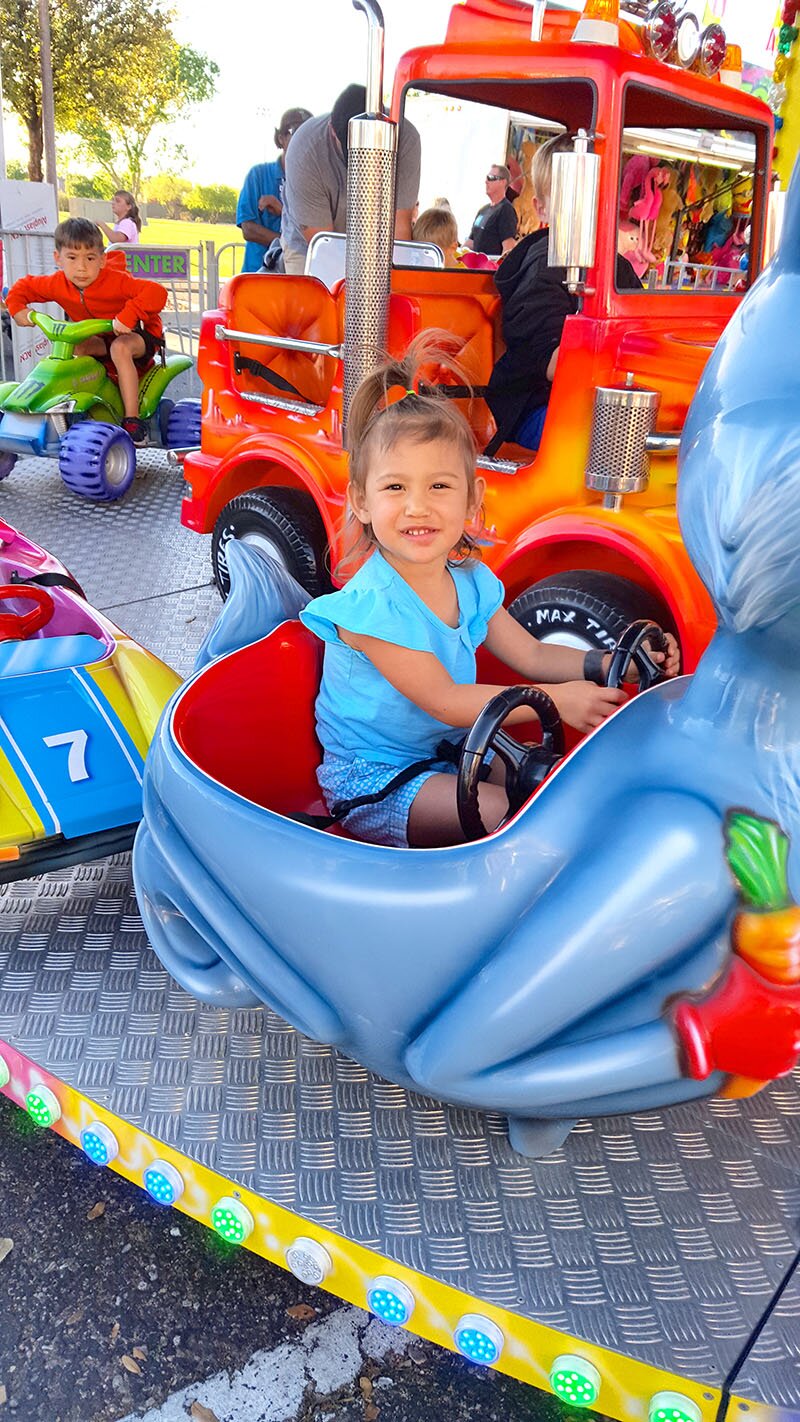 Unless otherwise credited, Photos are file Photos from In&Out Publications and ACC