Fast-Moving 303 Fire Scorches North Phoenix Desert

UPDATES: 
---
UPDATE Friday, June 23 — A rapidly moving wildfire that began around 1 p.m. Thursday near the Loop 303 and Interstate 17 spread quickly northward toward the Carefree Highway by mid-afternoon, forcing closure of I-17 in both directions for several hours. The fire was contained after burning 1,676 acres, and the highway was re-opened late Thursday evening.
As the fire hopped and blew northward, thick smoke blanketed I-17 at intervals, blotting out the sun. Smoke settled into many parts of the North Valley and was visible as far away as Anthem. [See Photos Below]
The 303 Fire, as it was named, scorched about 2.6  square miles — according to the Arizona State Department of Forestry and Fire Management in a statement Friday.
No homes were threatened, given that the west side of I-17 is largely undeveloped in this region. By 6:49 p.m. Thursday, the smoke had died down notably, said a North Phoenix News reporter at the scene. By 7:54 p.m., I-17 was re-opened in both directions.
"The  303 Fire has been contained," Daisy Mountain Fire Department tweeted just after 8 p.m. "Crews will remain on scene throughout the night and into tomorrow to ensure all hotspots are mopped up."
'Large, Very Fast-Moving'
At 3 p.m. Thursday, the fire looked to be burning in several different locations, with disparate plumes of smoke. Some of those plumes were from back fires set by a Hotshots crew, aiming to contain the fire's spread. While the fire stayed west of I-17, other firefighters watered brush on the east side of I-17 near HonorHealth, off Dove Valley Road, as a precaution.
Windy conditions help spread the fire, official said.
It was a "a very large, very fast moving brush fire," Daisy Mountain Fire Department officials said at about 2 p.m. A DMFD firefighter captured frightening footage of fire whirl, a dust-devil-like whirlwind of fire and smoke, with flames hopping across hundreds of feet of desert in just moments.
At 3:20 p.m., Phoenix Fire Department tweeted, "pulling out all the stops for this rapidly spreading" fire.
A huge 4-engine jet flew over Tramonto just before 3 p.m. and dumped retardant on the fire, one of several efforts from the air. A helicopter was dropping water. Some 100 personnel battled the blaze, according to the state  forestry department.
Early Observations
This article first published at 1:31 p.m. Thursday, June 22. Here were some of the initial observations by North Phoenix News from the scene:
The fire initially closed the westbound lanes of Loop 303 and quickly bumped up against I-17 near the Dove Valley Road exit on the west side. Highway closures came in rapid succession, and by 3:30 p.m. I-17 was closed in both directions between the Loop 101 and Pioneer Road, just south of Anthem.
From around 1 p.m. onward, crews from Daisy Mountain and Phoenix fire departments were on the scene.
Early in the fire's development, state troopers and other officials, including firefighters, were chasing people and their cars from makeshift observation spots on I-17 offramps and in turnouts along Dove Valley Road, until roads and onramps/offramps could be closed.
Smoke drifted east across I-17 and settled into much of North Phoenix. The smoke was visible as far away as Anthem shortly after the fire started. By 1:50 p.m. the blaze had grown and the smoke was much thicker than when early reports came in. The fire was spreading rapidly toward the Dove Valley Road exit and I-17 at 1:56 p.m.
At 3 p.m. brush was burning at the southwest corner of I-17 and Carefree Highway near Tramonto, and other plumes of smoke rose from the desert along I-17 down to the 303.
Very Active Season
There have been about two dozen wildland fires this year between the Loop 101 and Sunset Point Rest area, along I-17, in what DMFD has called the most active fire season locally in two decades. A wet winter created ample grass and brush that's tinder dry now.
Photos of the 303 Fire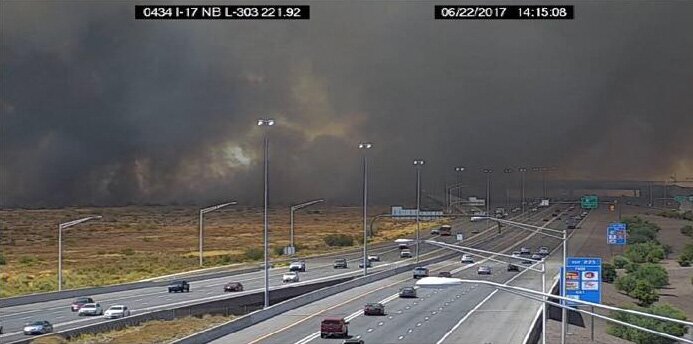 Photos of the 303 Fire From Daisy Mountain Fire Department
---
Functional, Light & Bright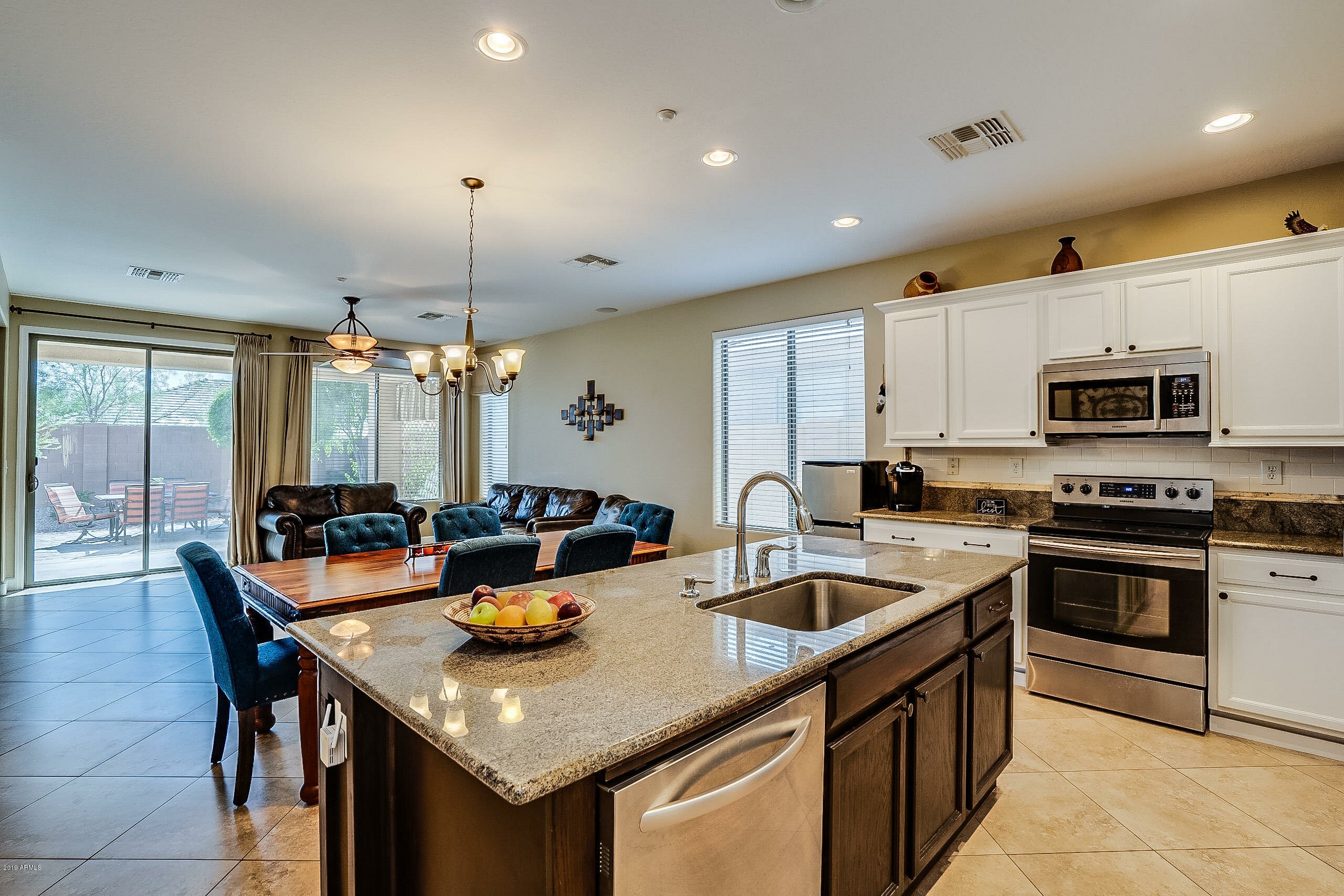 ADVERTISEMENT
Private backyard • Tile throughout • Beautiful grant slab in updated kitchen • Surround sound is ready • Space for huge TV • No pesky niches!
4 BEDS | 2 BATHS | 2-CAR GARAGE | 2,082 SQFT | $335,000
W Eastman Drive, Anthem Country Club
Call 623-297-2557 or CLICK TO LEARN MORE