Eclipse Photos from North Phoenix
People all around the country watched the solar eclipse today—online, on TV and in person. In the Phoenix area the sun was 63 percent covered at the maximum. Anthem resident Erik Victoria used a DSLR camera and a homemade solar filter to make the video above, as clouds challenged the view.
The images below were taken with an iPhone with eclipse glasses in front of the lens. By tapping on the sun, the camera automatically reduced the amount of light captured.
If you have images or experiences of the eclipse you'd like to share, add them to our Facebook posts on NoPhoNews or Anthem News.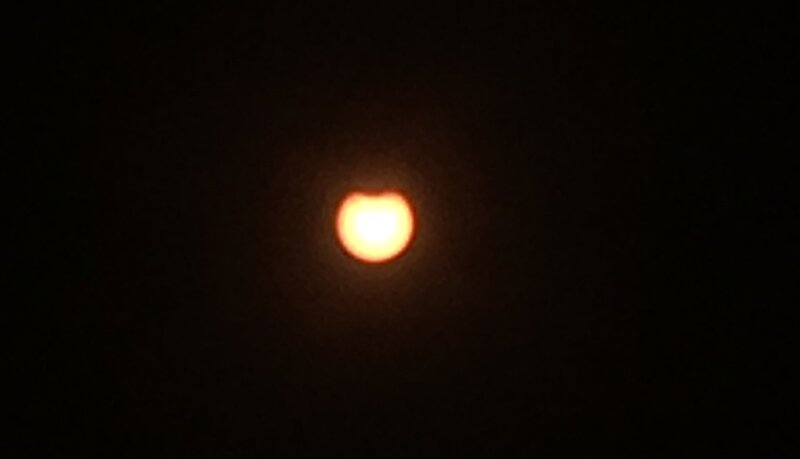 Clouds covered the sun fully at the moment of maximum coverage, from our vantage point in North Phoenix.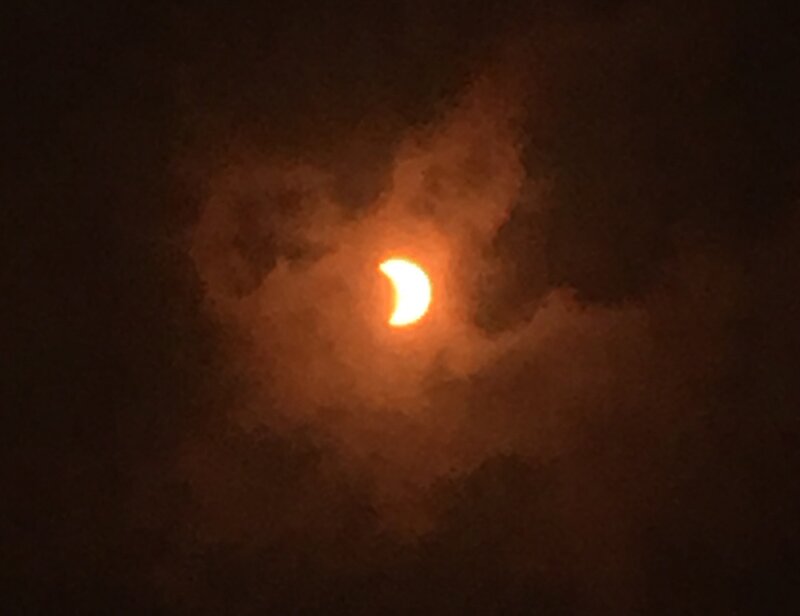 The eclipse will be done at about noon in Arizona, when the moon moves out of the way of the sun from our vantage point. As the moon's shadow moves to the eastern half of the country, online and TV viewing remains possible.
Steve Miller, an Anthem resident who drove to Wyoming to be in the path of the total eclipse, texted us some thought just prior to the sun going dark:
"Sunlight shining on my skin no longer feels warm, like it should.
… There is a bog below us, maybe half a mile away. The frogs, just now, started singing, like frogs do in the evening.
so cool!
… Very dim now. Sixteen more minutes.
… Sun looks like a crescent moon.
… Things are changing really, really fast now.
… There will likely be a very thin cloud over the sun.
… There are crickets singing now!!!
… Ten minutes. Sun is a sliver.
… No words."
A NOAA satellite captured the moon's shadow landing on Earth this morning as the total eclipse began in the Pacific Northwest:
Meanwhile, here's what the total eclipse looked like from Jefferson City, Missouri: