New Flu Cases Spike to 10 Times 5-Year Average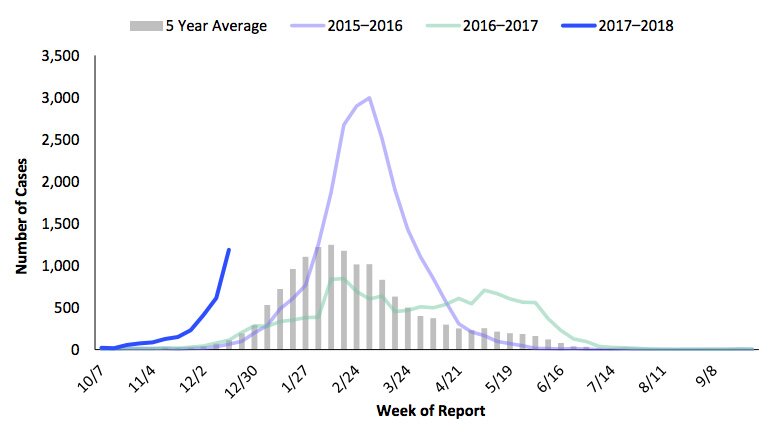 UPDATED Dec. 20 — A flu season that was already off to a brisk beginning in Arizona saw cases spike in the most recent week to 10 times the pace over the past five seasons, according to the latest report out today from the Arizona Department of Health Services.
In the latest week, 1,188 new confirmed cases were reported, compared to an average of 112 for the same week over the past five seasons. So far this flu season, which typically begins slowly in October, peaks during winter and fades out by mid-summer, there have been 2,976 confirmed cases, 9 times the previous five-year average.
Influenza is "widespread in Arizona," the health agency cautioned in a statement today. Cases have been reported in all 15 counties. One child died of the flu this year, in Maricopa County.
The total number of cases is higher than what's officially reported, the health department notes, since many people with the flu don't see a doctor and are not counted.
State health officials and the CDC advise nearly everyone, age 6 months and older, to get a flu vaccine (details). The flu kills 56,000 people in the United States each year, on average, and 700 in Arizona.
Children, the elderly and those with other health conditions are a high risk of flu complications that can lead to death, the CDC says.
"Getting a flu shot is the best way to protect yourself and your family against the flu, and with the disease spreading quickly in Arizona the time to get vaccinated is now," Dr. Cara Christ, ADHS director, said in a statement today. "It can take up to two weeks to build full immunity to the flu after you are vaccinated, so I encourage everyone who has not yet had a flu shot to get one today before the holidays."
---
Flu Symptoms
Flu symptoms can be debilitating, with a fever coming and going over several days. Typical symptoms (though not everyone will feel each):
Fever or feeling feverish/chills

Cough

Sore throat

Runny or stuffy nose

Muscle or body aches

Headaches

Fatigue (tiredness)

Some people may have vomiting and diarrhea, though this is more common in children than adults.
SOURCE: CDC; WebMD
---
This article first published Dec. 13. It was updated to included the latest data.