New Gallery Celebrates the Eclectic
For 15 years, In&Out Magazine has been the definitive source of "Everything that's going on" in and out of the community. We thank you, our readers, as well as the businesses that support the magazine through advertising, for that opportunity. But with little going on, and many businesses suspending or canceling their ads during the Covid-19 crisis, we are suspending publication of the magazine and web sites for the month of May. 
---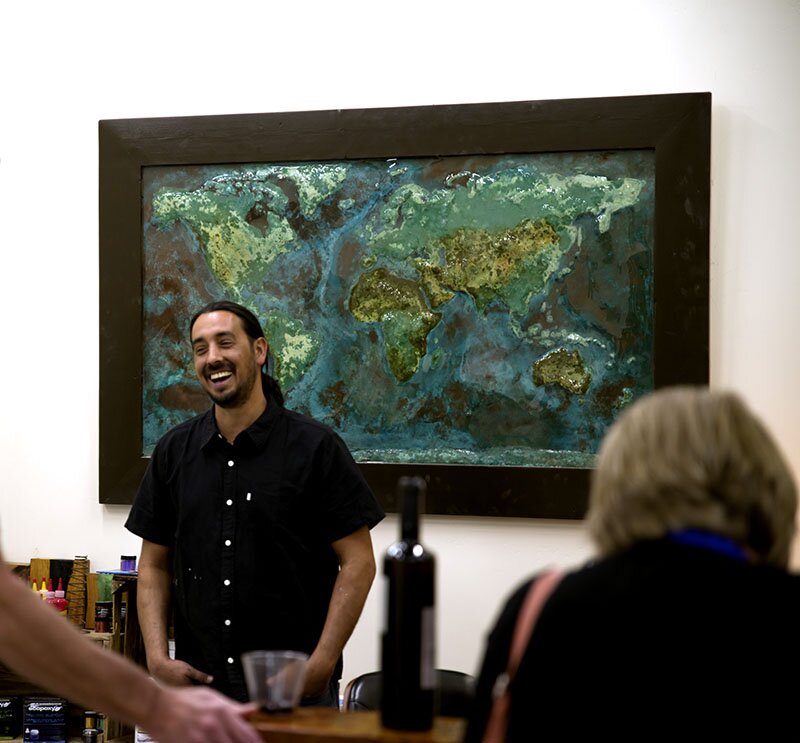 Anthem has a new, hip exhibit space to highlight work from local artists. And it all started with a pair of angel wings.
In late February, the Bloc Project kicked off its first gallery night in a new space in Anthem Commerce Park. Organizers plan to display works of different types and styles every month.
"We built the Bloc Project to offer a place here in the Anthem community to bring the creative minds together, socialize as a community while enjoying an evening of art, music and good times," artist and gallery owner Nate Decker said. "I want people to walk in and feel the atmosphere, and to be transplanted maybe to a little gallery in New York or something."
A photographer by trade, and former home builder, Decker's talents go beyond the two dimensional.
He describes it as eclectic. His artistry includes metal work, wood carving and sculpting.
When his wife, Rochelle Decker, owner of the adjacent Hair 'n' Dipity Salon, asked for a small set of angel wings for the salon when it opened five years ago, Nate went big. And 3D. And wooden. He even sculpted a body to go with it.
"Most guys who bring home a log of wood and say they are going to carve wings out of it would be shut down quick, but she always goes along with my craziness," he said. "But she is also there to help pull me back when I go a little too overboard."
Rochelle says all of her husband's work is commissioned. But it's not your average paint-on-canvas variety. "He paints, but not always with paint," she said. Hint―he uses liquid plastic. "He uses chemicals. It's hard to put him in a certain category. You really have to walk in and see his work and then it all makes sense."
No set exhibit schedule has been announced yet.
The Bloc Project
4111 W. Innovative Drive, Suite 114
For upcoming events and to check out the artwork, find them on social media and the web: instagram.com/theblocproject/
www.theblocproject.com.