North Phoenix Home Sales Strong in 2017
The number of existing homes sold in the NoPho region of North Phoenix rose 10.3 percent in 2017 compared to 2016, according to the latest analysis by North Phoenix News and In&Out Magazine. In 2017, 1,910 existing homes sold across NoPho, an area of the I-17 corridor from Norterra to New River. The total was 1,732 in 2016.

Meanwhile, prices continued their upward trend through the end of the year. Average prices for existing homes in December was higher than the year prior across four of the five NoPho zones, and the price per square foot was higher in all five zones, reflecting a nationwide trend of rising prices.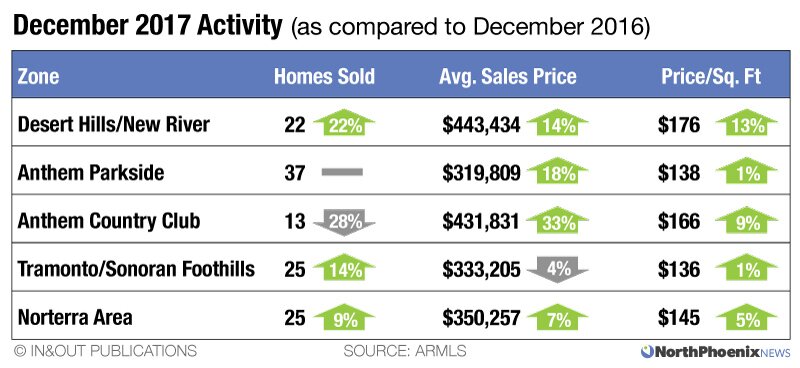 December is typically a slow month for real estate closings. Yet, while December 2017 saw five fewer NoPho homes close than November, the total of 122 was slightly higher than the 118 closures in December 2016.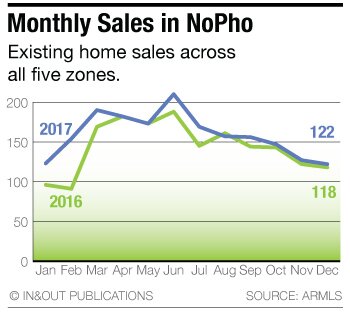 The inventory of homes available for sale remained tight nationally and in NoPho, especially in Anthem Parkside (1.4 months), the Tramonto & Sonoran Foothills area (1.9 months) and the Norterra area (2.4 months). Inventory in Anthem Country Club rose slightly to 3.7 months, and in New River & Desert Hills it rose notably from 4.7 months in November to 6.8 months in December. Less than 6 months is considered a "seller's market."
Get Details on Each Zone
Related Articles