Parents Keep Kids Home Even as High School Threat Deemed Not Credible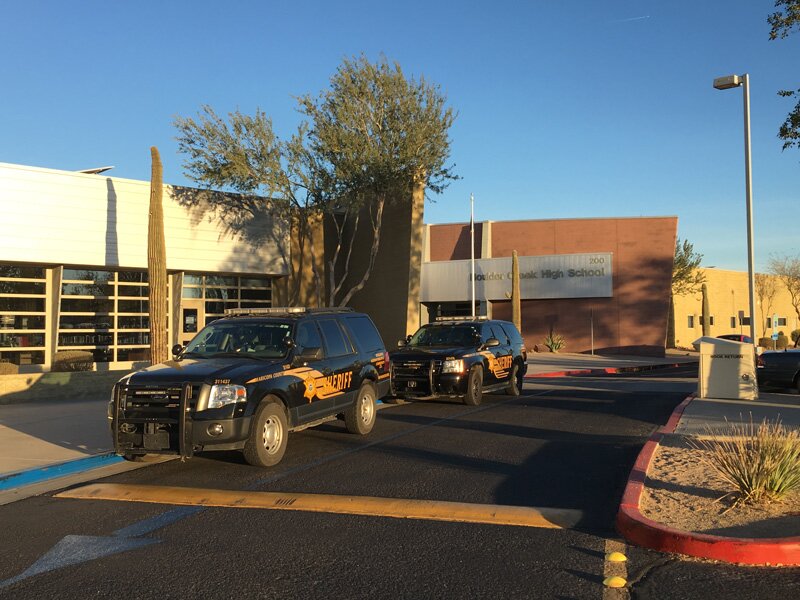 Editor's Note: This article was updated at 4:26 p.m. to include today's actual attendance figure and details from a Friday afternoon message to parents from the BCHS principal.
Attendance at Boulder Creek High School was significantly low today after an announcement Tuesday of a threat scrawled on a bathroom wall. School officials on Tuesday said the threat had been deemed not credible, but did not divulge its nature. The threat mentioned today, Feb. 9.
In one first-period class, 10 of 32 students showed up, according to one of the students. In the student parking lot, which is normally packed, somewhere between one-third and half of the spaces were empty. Three units from the Maricopa County Sheriff's Department were at the school. (Attendance was 37 percent, the district reported later in the day.)
Some parents criticized the lack of information about the incident. In social media, several parents expressed concern—some saying they sent their kids to school but with trepidation. Deer Valley Unified School District spokesperson Monica Allread addressed those criticisms this morning:
"They're still looking for the person who may have written it, so as part of the investigation they don't want to release too much information," Allread told North Phoenix News.
"Boulder Creek High School staff discovered a threat written on the boys bathroom wall which mentions the date of Friday, Feb. 9," Principal Brittany Sutton said in an automated phone call to parents Tuesday. The Maricopa County Sheriff's Department and school administrators "investigated the threat and believe it is not credible," Sutton said.
"It's highly disappointing that students would miss school based on a non-credible threat," Allread said. "There are only 180 days for kids to learn. It's important for them to be in school and be learning."
The sheriff's presence was intended to ease fears for anyone concerned about the credibility of the threat, Allread said, but mostly to continue the investigation.
Sutton sent another message (voice and email) to parents Friday afternoon:
"As in many cases nowadays false information and rumors were spread on social media, which escalated concerns and resulted in some parents choosing to keep students home today," Sutton said. "We withheld a few details to discourage any copycat threats and also to preserve the integrity of the investigation to identify the students who did write the threats. No new information has surfaced through the investigative process since Tuesday."
She said the school will continue to take threats seriously, and she promised transparency. "Should there be any credibility to a threat, we would share that information with you in an honest and open manner," she said.
What should parents do Monday?
"They should bring their kids to school," Allread said.
---
Subscribe for Free & Stay Informed
North Phoenix Newsletter
Anthem Newsletter