Phoenix–Avondale Water Partnership Anticipates Future Shortages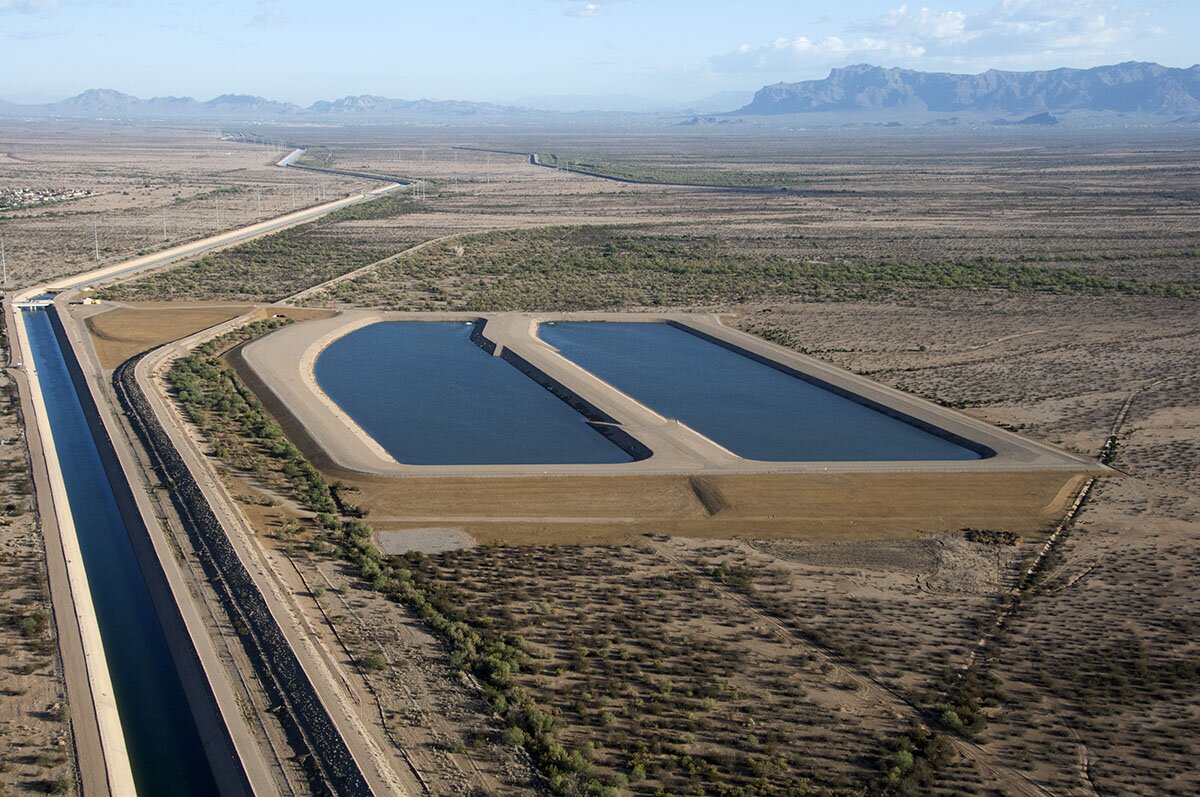 The cities of Phoenix and Avondale just created a partnership to put Colorado River water into natural underground aquifers and help improve water resiliency for both cities. The agreement, approved by the Phoenix City Council and Mayor Greg Stanton, comes as Colorado River water users throughout Arizona and other Western states worry there simply won't be enough to go around if an ongoing drought causes Lake Mead water levels to continue falling.
Under the agreement, Avondale, which relies mostly on groundwater, will take delivery of its treated Colorado River water via a connection with Phoenix's system, and Phoenix will store some of its allocation in Avondale's aquifers, according to a statement released by Phoenix yesterday.
In any future shortage, the statement reads, "Avondale can pump water stored by Phoenix, and exchange the pumped water for an equal amount of Avondale's Colorado River water delivered to Phoenix through the Central Arizona Project [CAP] aqueduct."
"This partnership with Avondale, and others like it, helps secure a long-term water supply for all our residents and protects our growing regional economy," Stanton said.
"Recharge remains an important part of Arizona's multi-pronged strategy for addressing the impacts of shortages on the Colorado River, and the Phoenix—Avondale agreement is an innovative extension of that approach," CAP spokesperson DeEtte Person told North Phoenix News. "This kind of exchange is contemplated in the CAP System Use Agreement, and will allow both cities to benefit from existing investments in infrastructure."
Water Supply Dwindling
The state-run CAP uses a 336-mile canal to bring water from Lake Havasu to Phoenix and Tucson. It serves some 5.3 million people in Maricopa, Pinal and Pima counties, including North Phoenix and the west side of Anthem (which is in the City of Phoenix).
Here's the problem: Agreements allocating water from the Colorado to various organizations, Native American tribes and municipalities throughout the Western states were made mostly in the 1930s—during an historically wet period, scientists say. Now, the total amount of water promised exceeds what actually flows down the river during normal years.
Upstream from Lake Havasu, Lake Mead serves as the main storage reservoir for Colorado River water that ultimately ends up in Phoenix. With the entire basin in a 16-year drought, "water levels in Lake Mead, the primary storage reservoir for the Lower Basin states, and the entire Colorado River System have been rapidly declining and projections indicate that this will continue into the foreseeable future," CAP officials say.
Because more water is used than what flows into Lake Mead, the lake has been dropping about 12 feet a year and is only about 37 percent full, according to CAP. If the surface of Lake Mead falls below 1,075 feet, mandatory restrictions kick in, and at some unknown lower level, called the "deadpool" level, "the reservoir ceases to provide water," CAP says.
"New river flow projections indicate that Lake Mead levels could drop to the point of seriously impacting power generation and water availability," CAP states on its website.
Voluntary Restrictions?
The announcement comes at a time when rural resident near North Phoenix see their local aquifer dwindling and wells drying up.
The Phoenix-Avondale plan won't have any direct on the water woes in New River and Desert Hills, where residents are looking to Anthem and the water utility EPCOR to provide a supply of trucked-in water when the City of Phoenix cuts off the current supply Dec. 31, as it plans to.
Meanwhile, CAP is in the process of trying to get Arizona to agree to voluntary reductions now, to help preserve lake Mead's water level. So far, the state hasn't been able to get all its water users to agree, and thus hasn't signed on to the plan, CAP officials say.
The new Phoenix-Avondale agreement allows Phoenix to store up to 1,800 acre-feet (586 million gallons) of its Colorado River water through this year, and up to 5,000 acre-feet (1.6 billion gallons) next year. An acre-foot is enough water to cover a football field roughly a foot deep.
"Now more than ever we must work collaboratively with other Valley cities to find long-range water supply solutions," said Councilwoman Thelda Williams, Chair of the Arizona Municipal Water Users Association. "Phoenix's agreement with Avondale is a smart example of working together to safeguard against continued drought on the Colorado River.