Solar Eclipse Monday, Aug. 21: What to Expect in North Phoenix
If you haven't already booked a hotel room along the path of the Aug. 21 total solar eclipse, odds are good you won't be seeing it. Described as awe-inspiring by those who've witnessed one of these rare events, the total eclipse will be drawing unprecedented crowds to many of the small towns in its path.
Astronomers and enthusiasts started making plans and booking rooms years ago along the path of the total eclipse, and many motels have been booked up for months. Traffic into the path is expected to be heavy.
Weather permitting, the view from Arizona, meanwhile, will be of a partial eclipse, with the moon covering 63 percent of the sun in Phoenix. The sky won't darken, animals won't freak out, and unless you have proper viewing glasses or an indirect viewing device, you probably won't even notice.
---
---
Total solar eclipses, in which the sky goes dark as night for a few moments and birds are said to go quiet, are exceedingly rare in any given location. The last one in the contiguous United States was 1979, and the next one will be in 2024.
The Aug. 21 total solar eclipse will be visible along a 70-mile-wide path that runs from Oregon to South Carolina. The partial eclipse — far less dramatic — will be visible from all of North America.
The partial eclipse from the greater Phoenix area will begin at about 9:13 a.m., reach maximum at 10:33 a.m., and end at about noon.
IMPORTANT
Do not to look directly at the sun during the partial solar eclipse. It will damage your eyes.
Viewing Options
Under normal circumstances, special eclipse glasses can be purchased online. Whether it's still possible to get any shipped to arrive in time is questionable. Amazon offers several options, but they are for bulk purchase only — typically $40 or more for a pack. There have been reports of unsafe eclipse glasses being sold by shysters, so buyer beware.
Number 14 welder's glass is safe, too (but many welders use goggles and shields that are not up to this standard). If you know a welder, you might be in luck.
Sunglasses are NOT safe.
Click here for other ways to safely see a partial solar eclipse, including easy-to-make pinhole cameras. NASA has more eclipse-viewing safety information here.
Local Viewing Events/Parties
TV or Online Viewing
Network and cable TV stations and NASA plan to broadcast the total eclipse live. Click here for a list of options for watching it from your living room.
There will also be several live online streams of the total solar eclipse.
---
---
How Solar Eclipses Work
First, some basics: The moon orbits Earth, and Earth orbits the sun. All three objects (and most of the other planets) travel on roughly the same plane in space. Imagine a fruit bowl at the center of a table as the sun, with apples (planets) on the table going in circles around the fruit bowl, and a cherry (the moon) going around one of the apples.
A solar eclipse occurs when the moon gets directly between Earth and the sun. Light from the fruit bowl is blocked by the cherry, casting a shadow on the apple.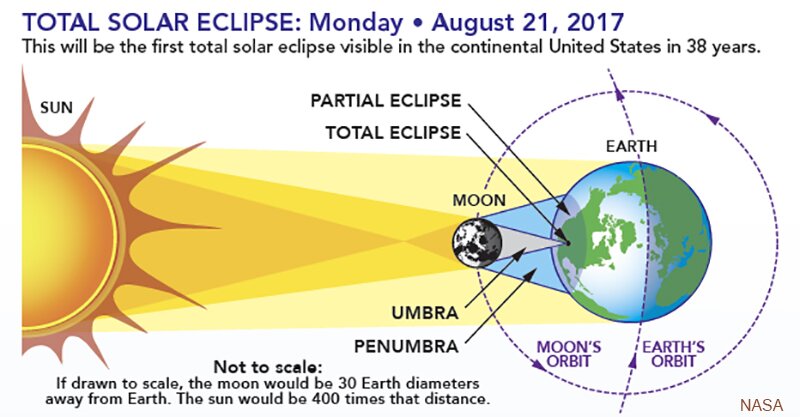 The moon orbits Earth approximately every 28 days. So why isn't there a solar eclipse each time? Because the moon's orbital plane around our planet is tilted slightly compared to Earth's orbital plane around the sun. Now and then, the objects align perfectly, and a total solar eclipse can occur, but in most months, the moon just gets lost in the glare of sun at new moon.
Goodbye, Moon
We live in a cosmically coincidental time, by the way. The sun and moon are almost exactly the same apparent size in the sky, from our point of view (the sun is much larger, of course, but also much farther away).
So for now, the moon just barely covers the sun — the fit is so tight that the moon's full shadow on Earth is only a few dozen miles wide. Anyone outside that path, including Arizona residents during this eclipse, will see the moon partially covering the sun, as though taking a scallop out of it (or, in some parts of the world, they'll see no eclipse).
Eventually there won't be any total solar eclipses. The moon is drifting away from Earth by about 1-1/2 inches a year. In about 600 million years, it'll be too far away to completely blot out the sun.