Special Election Primary Tuesday Feb. 27: Polling Places
All registered voters in Anthem, Tramonto, New River and Desert Hills may vote in Tuesday's primary for the Congressional District 8 special election to fill a seat in the U.S. House of Representatives, created by the resignation of Trent Franks.
Registered Independent voters, who don't have a party affiliation, may vote in the primary by simply requesting a ballot for one of the parties—Republican or Democratic—without actually changing their Independent designation, according to Karen Loschiavo at the Maricopa County Recorder's Office. This can be done at a polling place on the day of the primary.
Polling Places (Precincts Included)
Daisy Mountain Fire Station 43814 N New River Rd Phoenix, 85087 (New River)
Desert Hills Community Church 34835 N 7th St Phoenix, 85086 (Deadman Wash, Desert Hills, Tramonto)
North Valley Regional Library/Anthem 40410 N Gavilan Peak Pkwy Phoenix, 85086 (Biscuit Flat, Gavilan Peak, Hastings, Majesty, Wolf Run)
Arizona voters are 34.6 percent Republican, 34.1 percent Independent, 30.2 percent Democrat and 1.1 percent Libertarian and Green parties combined.
Vote for Just One Candidate
When filling out a ballot for this primary, choose just one candidate. That is in fact the instruction printed on the ballots.
But the yellow "voting instructions" sheet, a generic set of instructions sent out with mail-in ballots but not specific to this election, contains the phrase "vote for not more than 2." Voting for more than one candidate in this election would render your ballot void.
Voters who make a mistake and need a new ballot can call 602-506-1511.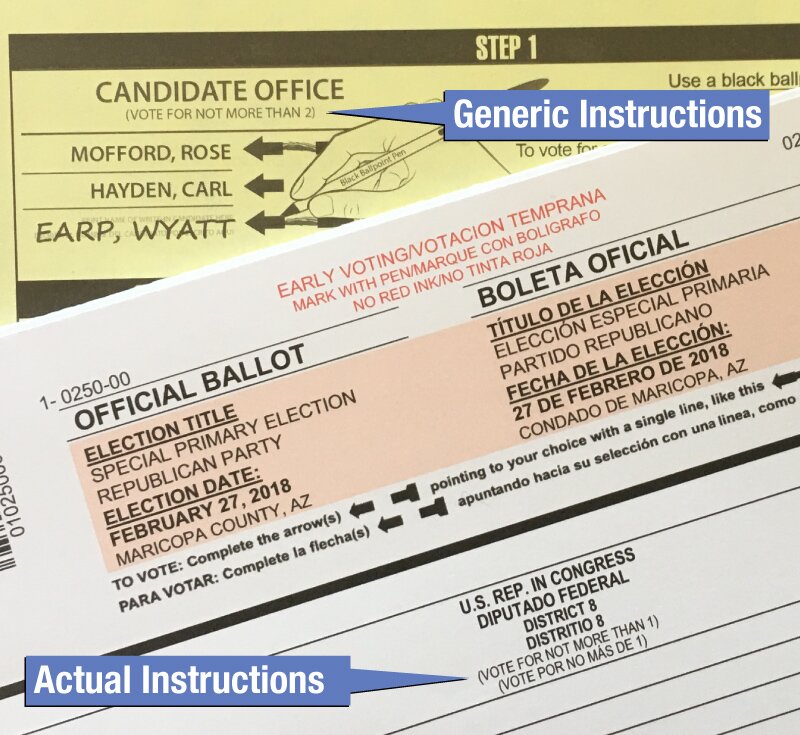 Congressional District 8 Map