USAA Starts Upscale 1,100-Home Development at Norterra
For 15 years, In&Out Magazine has been the definitive source of "Everything that's going on" in and out of the community. We thank you, our readers, as well as the businesses that support the magazine through advertising, for that opportunity. But with little going on, and many businesses suspending or canceling their ads during the Covid-19 crisis, we are suspending publication of the magazine and web sites for the month of May. 
---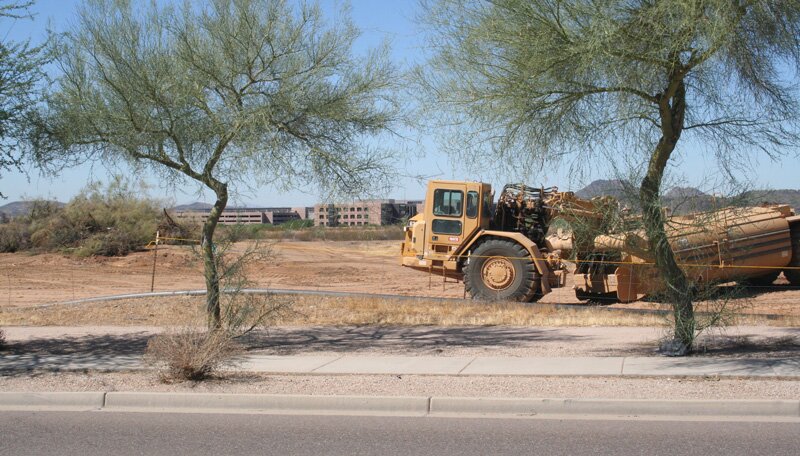 Development has begun on Phase 1 of a large, upscale community in Norterra envisioned as a residential and commercial hub of activity, a project likely to be second only to Anthem among North Phoenix communities in terms of size and scope.
UPDATE: In October 2017, the development was named Union Park at Norterra and additional details were provided. Full Story >>>
As reported in February by North Phoenix News and In&Out Magazine, plans for the USAA Real Estate Company project harken to Kierland Commons or Scottsdale Quarter, with restaurants and shopping along a Main Street and lofts above stores. Also planned is a recreation center with pool, a community park and a hotel.
The development sits on 398 acres between I-17 and 19th Avenue, and Happy Valley and Jomax Roads.
Phase 1 will involve 309 single-family homes only, with no retail, said a spokesperson for Sunbelt Holdings, the developer. The first model homes are a ways off. "We anticipate a Grand Opening of all Phase I builders late 2018," the spokesperson said today.
The community has been named, but the name will be announced along with other details next month. Discuss This Article on Facebook >>>
---
Video: Phase 1 of the construction as seen from 19th Avenue, looking north toward Jomax Road, then west toward the USAA Phoenix Campus and I-17, then south toward Happy Valley Road.