Decision Looms on Proposed Development Between Anthem & New River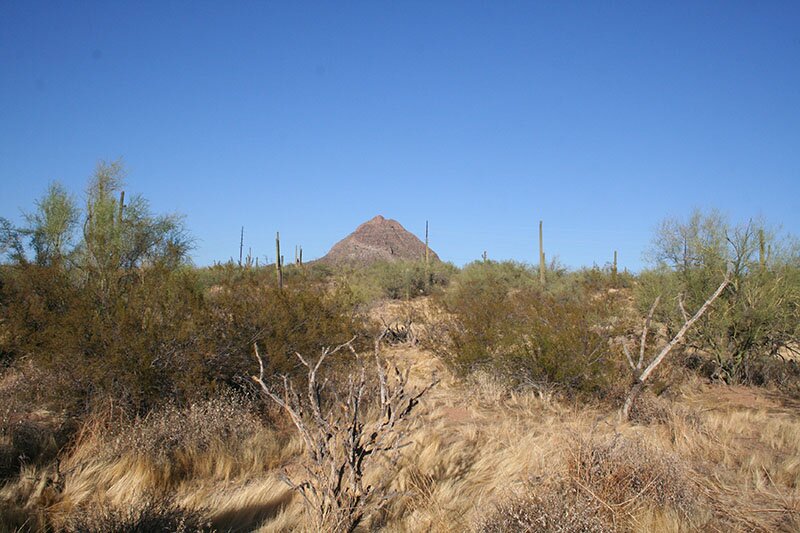 UPDATE SEPT. 12, 2018: 
City Advisory Committee Unanimously Disapproves Planned North Phoenix Residential Development
By a resounding and somewhat surprising 6-0 vote, the Rio Vista Planning Committee, an advisory committee to the City of Phoenix, recommended denial of a rezoning request to allow construction of 286 houses between Anthem and New River. But the vote is not a final decision.
The story below remains as originally published.
---
SEPT. 6, 2018: Anthem Community Council and several New River residents strongly oppose a proposed development of 283 homes on 71 acres between the two communities, and are hoping to sway a decision by the Rio Vista Planning Committee at its Sept. 11 meeting. Legally, however, neither group can stop the development.
The land, within the City of Phoenix by virtue of a hopscotched border, would need to be rezoned by the city from commercial to residential. The city has already taken steps indicating it may support the project.
The proposed development, called Valley Ridge Estates, is east of I-17 between Circle Mountain and Jenny Lin roads. The property is zoned C-2, which could allow for anything from a hotel to a bus depot or an adult entertainment venue.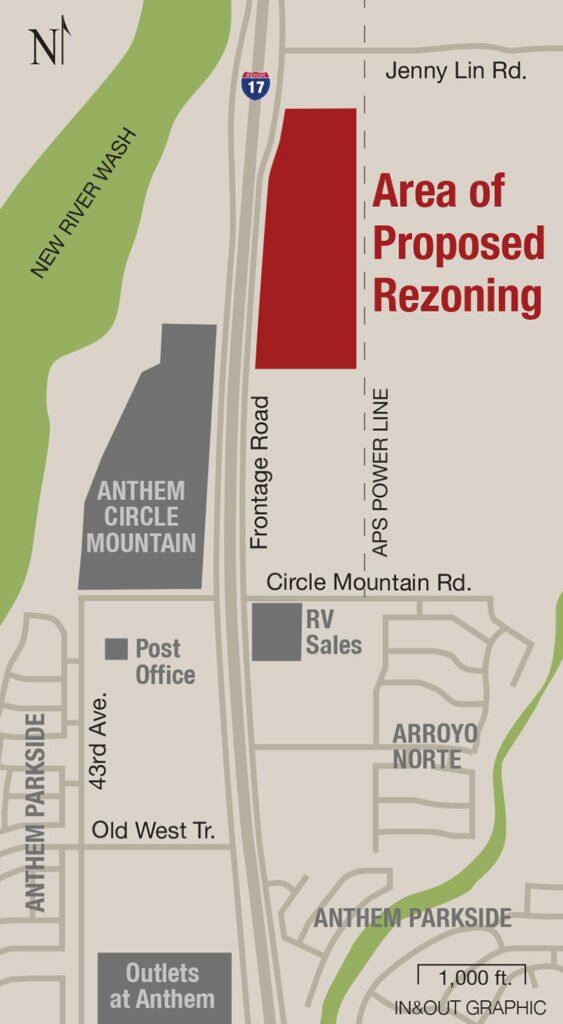 The land contains seven contiguous parcels, four of which were previously within Phoenix city limits and three that were recently annexed by the city. The first step in the rezoning process was approved in August 2017, when Phoenix agreed to amend its long-range land-use planning map, changing the property's designation from commercial to residential to allow for 3.5 to 5 dwellings per acre.
An analysis by city staff recommended approval stating, "The proposed amendment will allow for additional housing and has the potential to stimulate additional job creation and economic opportunities in the Rio Vista area."
The parcels still need to be formally rezoned from C-2 to residential before any homes can be built.
Changes & Concerns
To date, applicant and developer David Telles has held two community meetings, a requirement of the rezoning process. The first one in March attracted about 75 people, mostly from New River, Desert Hills and Anthem. The second on Aug. 9 drew more than 60. Top concerns expressed:
Increased traffic

Density of homes near a rural community

Effect on schools, police and fire services
Those opposed to the project had hoped their concerns would be addressed during the five months between the two community meetings, but many left the Aug. 9 meeting unsatisfied.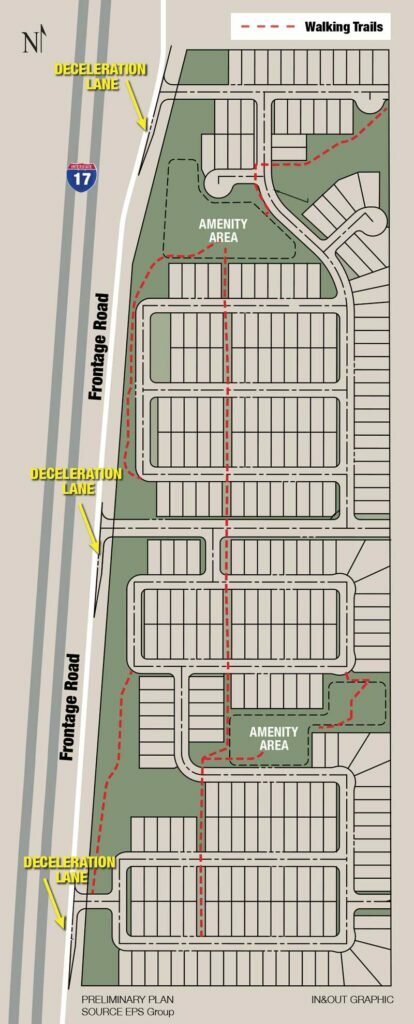 Traffic Worries
At the Aug. 9 meeting, a representative from the project's design firm said the team has been working with various agencies, including the city, ADOT, MCDOT and the State Land Department to address issues with the development.
"The biggest change is the addition of a collector road [within the neighborhood] that divides the project into two phases," said Jorge Villasenor, of EPS Group Inc.
Villasenor said other requirements set by the agencies have been met, including the addition of deceleration lanes off the frontage road into the proposed community entrances, a second park within the community, and a trail connecting both phases.
"So in other words, you've done nothing to change the [frontage] road," said one resident at the Aug. 9 meeting. "You're going to put 600 cars on a little two-lane road?"
Other than the deceleration lanes, Villasenor couldn't speak to any future widening or improvements on the frontage road, but he did say the city has required a traffic statement be completed, which will help determine how much traffic the development will generate as well as the capacity of the road.  
The proposed number of lots per acre is now four instead of five, at roughly a quarter-acre each. "We're well within the allowed density," Villasenor said.
Schools & Water
With regard to area school capacity, Villasenor said, "It's my understanding that there's sufficient room at [the] elementary school, but the high school is pretty packed," after discussions with school officials. He added that, if approved, the first house likely wouldn't be ready until 2020.
New River Elementary School is under half its capacity, and Canyon Springs STEM Academy (a DVUSD school in Anthem) is at 70 percent capacity, while Boulder Creek currently sits just above capacity and is projected to begin declining in enrollment in 2021. [See "DVUSD Faces Over- and Under-capacity Issues," In&Out, July 26, 2018.]
Some detractors worry there would be an impact on local aquifers. But water for the development would come from Phoenix's Lake Pleasant Water Treatment Plant, which gets Colorado River water delivered through the Central Arizona Project, the city confirmed to In&Out.
Telles, the developer, who sat among the crowd, said street maintenance, safety, fire and schools would be Phoenix's responsibility.
Anthem Reacts
Anthem Community Council has openly criticized the project.
"The ACC is opposed to this project, as there are no identified solutions to address the negative impacts of this development on surrounding areas and critical service providers," Neal Shearer, Anthem's Community Executive Officer, told In&Out in an email.
At its Aug. 22 monthly meeting, ACC directed Shearer to send a letter to the city planner's office outlining its concerns:
Burden on police, fire and emergency services resources.

Impact of additional traffic on the frontage road and several intersections: I-17 and Anthem Way exit, Anthem Way and Navigation Way, and Gavilan Peak Parkway and Navigation Way.

Impact on Anthem's privately-owned and funded park system due to limited recreational facilities within the proposed community.
Meanwhile, a petition created by New River residents against the proposal is circulating with more than 1,000 signatures.
However, neither Anthem nor New River have any legal standing in Phoenix's decision, said Tom Belshe, deputy director of the Arizona League of Cities and Towns. "There's no legal requirement that you get permission from your neighbors" to approve development within your city, Belshe said.
Next Step
At the Sept. 11 meeting, the Rio Vista committee will discuss a staff report prepared by the city's planning and development department, hear community input, then offer its own input to the City Planning Commission, which is the next group involved in the approval process.  
"I'm taking notes, and the committee is very aware of concerns of the community," said Steven Scharboneau, a Rio Vista committee member. "There will be public comment, you'll have opportunity to try to persuade the committee to vote against or recommend… either way."
Be Heard
Rio Vista Village Planning Committee Meeting
6 p.m., Tuesday, Sept. 11
Goelet A.C. Beuf Community Center
3435 W. Pinnacle Peak Road, Phoenix
Email questions or comments prior to the meeting: RioVistaVPC@phoenix.gov
---
Large Country Club View Lot 
ADVERTISEMENT
Bennington with 14-foot ceilings, fireplace, no homes behind, and near the first gate!
N Moss Springs Road, Anthem Country Club
3 BEDS | 2.5 BATHS | 3-CAR GARAGE | 2,542 SQFT | $440,000
Call 623-297-2557 or CLICK TO LEARN MORE