DVUSD Preps for Possible Teacher Strike
For 15 years, In&Out Magazine has been the definitive source of "Everything that's going on" in and out of the community. We thank you, our readers, as well as the businesses that support the magazine through advertising, for that opportunity. But with little going on, and many businesses suspending or canceling their ads during the Covid-19 crisis, we are suspending publication of the magazine and web sites for the month of May. 
---

This article no longer reflects the latest information. See our School News page for the latest.
---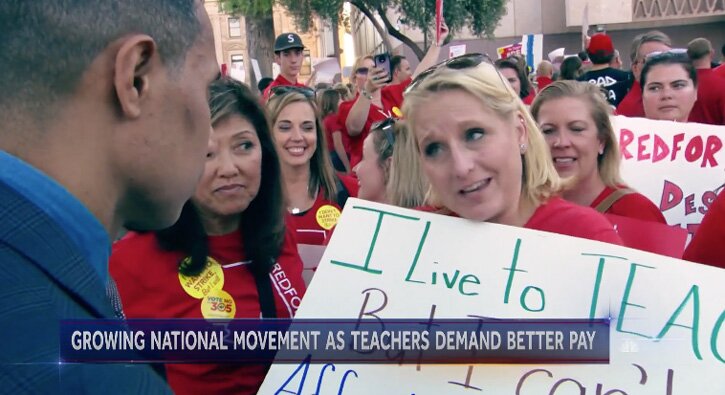 Arizona educators leading the #RedForEd movement—not trusting promises of future pay raises and frustrated over the level of funding for education overall—plan a statewide vote of all public school educators this week on whether to walk out.
Deer Valley Unified School District administrators are making preparations in the event of a strike, while remaining hopeful one won't occur. "However, if we have too few staff members to safely hold school, we may be forced to close schools," DVUSD Superintendent Curtis Finch said in a letter to parents.
The pay-raise proposal put forth Friday by Gov. Doug Ducey is simply not enough, one of the teacher group's leaders said last night, in announcing the planned vote.
"Sadly the plan does not meet the needs of our students," Arizona Education Association President Joe Thomas said, in a video posted to Facebook. "It falls far short. It lacks a lot of details. We have no idea where a significant amount of the money comes from."
Bending to demand by educators for more than the 1 percent raise that had been in the state's budget proposal for next year, Ducey last week proposed a 10 percent increase this fall and additional 5 percent increases in each of the next two years. Arizona Educators United, the group organizing #RedForEd events, has called for a 20 percent raise this year, plus restoration in roughly $1 billion in state cuts to education in recent years.
Narrow Definition
Among criticisms of the governor's plan—just a rough outline at this stage—is that the definition of teachers does not include non-teaching certified positions and other support staff.
"The definition of teachers is narrow," Thomas said. Classrooms also lack supplies due to past budget cuts, Thomas said, and good teachers are leaving the state for higher-paying positions elsewhere, he said.
Various surveys put Arizona public school teachers near the bottom of the national pay scale. In the 2016-2017 school year, DVUSD's average teacher salary was $45,022, as compared to the state teacher-pay average of $48,372, said district spokesperson Monica Allread, citing information from the Arizona Auditor General.
The state legislature is expected to debate Ducey's proposal later this week, meaning any final proposal might be worked out in the state Capitol around the same time educators are voting on whether to strike.
Ducey has said funding would come from cuts to other programs, increased efficiencies, and via growth in state revenues. He promised no "shell games."
"We are not supporting [Ducey's proposal] at this time," Thomas said. "We hope that it becomes better."
The Vote
On the heels of last week's walk-ins, which Thomas said drew support from 110,000 educators and community members around the state, his group is partnering with Arizona Educators United to hold a vote "so every single school employee can weigh in on whether or not they're ready to take a statewide job action."
Thomas said the vote would be conducted in every district in the state and would be held at the schools. Details and timing were still being finalized, he said.
It's not clear how the majority of educators feel about the governor's proposal. Several have said they need to know more about it. One of the #RedForEd movement leaders, Noah Karvelis, put it this way in a tweet: "Governor Ducey's proposal raises a lot of questions. Where does the funding come from? Who receives the raises? Educators deserve a seat at the table on this. Let's find solutions."
What Would Happen?
Finch, the DVUSD superintendent, said Friday in a town hall meeting in Anthem that he supported teachers efforts to seek higher pay and more school funding. But he also planned to meet this morning with #RedForEd leaders to encourage compromise with the governor.
"If a strike is planned, DVUSD will make every effort to avoid closing schools," Finch said in a letter to parents Friday. "We are currently working on plans to keep our schools open in the event of work stoppage. However, if we have too few staff members to safely hold school, we may be forced to closed schools. You may want to consider an alternative daycare plan in the event that schools are forced to close."
Some parents worry that teachers or staff may leave during the school day, Finch said.
"We believe our staff cares deeply for the safety of our students would not unexpectedly leave campus during the school day," he said. "In the event that we are unable to hold school, parents and guardians will receive a phone call and/or email (if provided to the school) with information about a school closure."
Also on Friday, the DVUSD Governing Board approved a resolution supporting teachers in the #RedForEd movement. A draft of the resolution said "chronic underfunding" of Arizona schools has had a "negative impact to teachers, staff, students, families, community and State."
If schools were closed due to any possible strike, the school year would be extended to make up the days, DVUSD said in an FAQ about the situation.
The Governing Board "is in full support of our educators as they advocate for meaningful pay raises for public school employees and increased funding for public education in ways that are lawful and do not disrupt the educational mission of our District," the draft resolution stated.
Meanwhile, another walk-in, in which educators start and end their workday at the precise times prescribed in their contracts, is planned for this Wednesday.
---