Game & Fish Defends Euthanizing 2 Bears

After euthanizing a second bear this week, Arizona Game and Fish Department asked residents statewide to not leave food or water accessible to wild animals. The extreme drought has increased the chances that bears and other creatures will visit neighborhoods, the agency said, upping the odds of human interaction and potential injuries.
Meanwhile, the agency responded to critics who decried the euthanizations, including one in Anthem, and said it is adding to more than 1,000 remote water troughs for wildlife throughout the state.
"When a bear becomes habituated to people for food and water, it can become a real threat to public safety," AZGFD Wildlife Manager Shawn Wagner said. "People feeding wildlife think they're helping wildlife, but they're putting everyone's safety at risk—whether it's a neighbor out walking their pet or a family out for a jog. When a bear doesn't get the meal it's become accustomed to, it can attack whoever is around."
The agency held a lengthy press conference with four bear experts speaking, today on Facebook Live.
2nd Bear Euthanized
Monday, Game & Fish captured and then euthanized a young male black bear that was roaming in Anthem. After rummaging through garbage 10 days earlier in a Prescott neighborhood, the bear had been captured, tagged, and relocated to a remote spot in the wild "a long ways away," the agency said. It then travelled more than 40 miles to Anthem.
In a separate incident Sunday, officers captured an adult female bear that was "feeding on large piles of food and water left by a local resident" near Pinetop, in the White Mountains. That bear had previously been captured in Pinetop last June and relocated to a site near the Mogollon Rim some 55 miles away.
The bear was euthanized this week, and its two cubs were transferred to Bearizona in Williams.
Several Anthem residents, and others, criticized the agency for euthanizing the bears instead of releasing them further into the wild or placing them at Bearizona or other sanctuaries.
"Our primary desire is to put animals back into the wild," Pat Crouch, a wildlife manager at Game & Fish, said in a Facebook live video earlier in the week.
And in the majority of cases, that's what happens, Crouch said. But the bear that visited Anthem "had clearly become habituated to humans. The initial trapping occurred because the animal was already in garbage in peoples' backyards, looking for handouts and becoming unafraid of people."
Relocate Farther Out?
Critics said the bear should have been relocated farther away.
Game & Fish's response: "The department spends considerable time and resources each year to remove or relocate habituated bears to minimize the risk to people. However, relocating a bear doesn't always solve the problem. Approximately half of all bears relocated will return to where they were captured, no matter how great the distance."
Crouch said there are not that many places in Arizona where you can relocate an animal and not have it be within 50 miles or so of some community or ranch. And, he added, bears that make repeat visits to residential areas are "not going to stay in the wild" and are at high risk for injuring someone.
"We can't take that chance," he said.
While a bear may look hungry and harmless in a video, they are "very large carnivores, apex predators," said Scott Poppenberger, who is on Game & Fish's response team. Poppenberger said a bear mauling in 1996 was a turning point toward the management policy that's in place today, which doesn't allow relocation of repeat-offenders that are deemed potentially dangerous.
Put it in a Zoo?
Game & Fish was also criticized for not placing the Anthem bear in a sanctuary.
The agency does seek to place bears when possible, and works with many partners, Crouch said. But often the sanctuaries are full, or choose not to take creatures of a particular type or age. The cubs placed at Bearizona this week will go through an extensive period of socialization with other bears at the park.
The sub-adult male captured in Anthem—no longer a little cub—"is not an animal that is easily placed," Crouch said.
Bear expert Grey Stafford, who worked for a number of years at Wildlife World Zoo, said it's "unlikely" a zoo would have taken either of these bears. He said it is more difficult to take "older animals used to being on their own" versus a cub. A bear raised in the wild vs. a bear raised by humans "is a very different animal," he said.
Young males "are the ones that typically get into trouble, because they get pushed out of their den and look for new territory," Game & Fish spokesperson Tom Cadden told North Phoenix News earlier in the week. "Nobody likes having to euthanize an animal," Cadden said. "It's the last thing the department wants to do."
Helping Bears
Black bears are the only bear species in the Arizona. They are often brown or cinnamon colored. They are typically solitary, shy and secretive, according to the Game & Fish website. Their normal habitat does not include the Phoenix area.
The drought is "increasing the chances that bears will visit neighborhoods," the agency said, and already it is keeping an eye on another so-called "nuisance bear" that recently visited a Mesa neighborhood, as well as others in Show Low, Yarnell and elsewhere.
"People should remove bird seed, hummingbird feeders, pet food and trash from their homes, the agency said. "People should never intentionally feed wildlife."
At the same time, Game & Fish is providing water to wildlife during this extended drought.
"We're currently working on creating more water catchments (we already built & maintain 1000 around the state) so that wildlife has the water they need out in the wild so they don't feel the need to enter neighborhoods at all," the agency tweeted in reply to a critic. The Twitter thread:
---
This View Could Be Yours!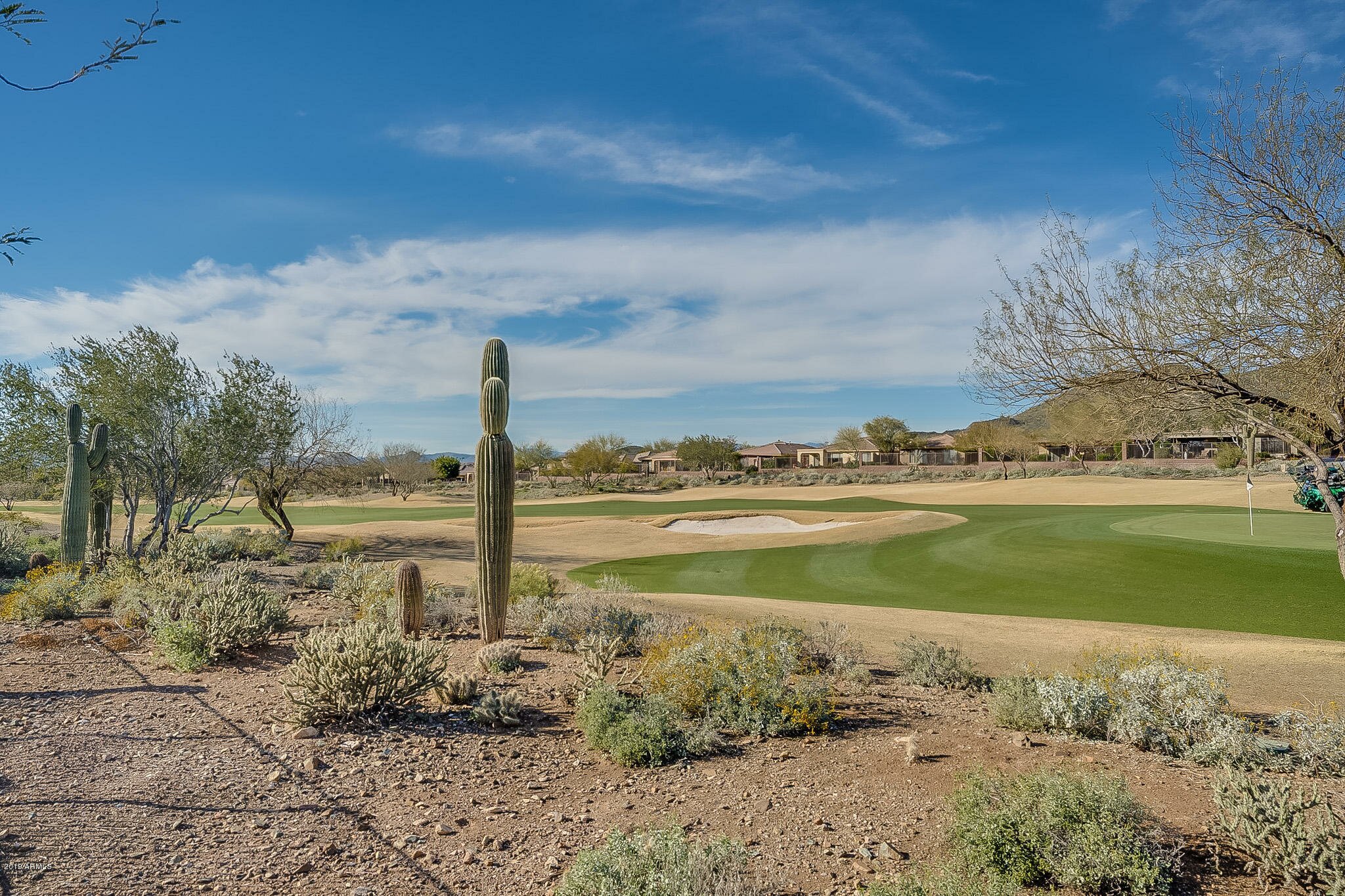 ADVERTISEMENT
What a find! Stunning, unobstructed golf course and mountain views are yours in this whistle-clean, gleaming, two bedroom + office (which is easily converted to a 3rd bedroom, if you prefer). 
3 BEDS | 2 BATHS | 2-CAR GARAGE | 2,035 SQFT | $335,900
2416 W Muirfield Dr., Anthem Country Club
Call 623-297-2557 or CLICK TO LEARN MORE