Plans to Widen I-17 from Anthem to Sunset Point Discussed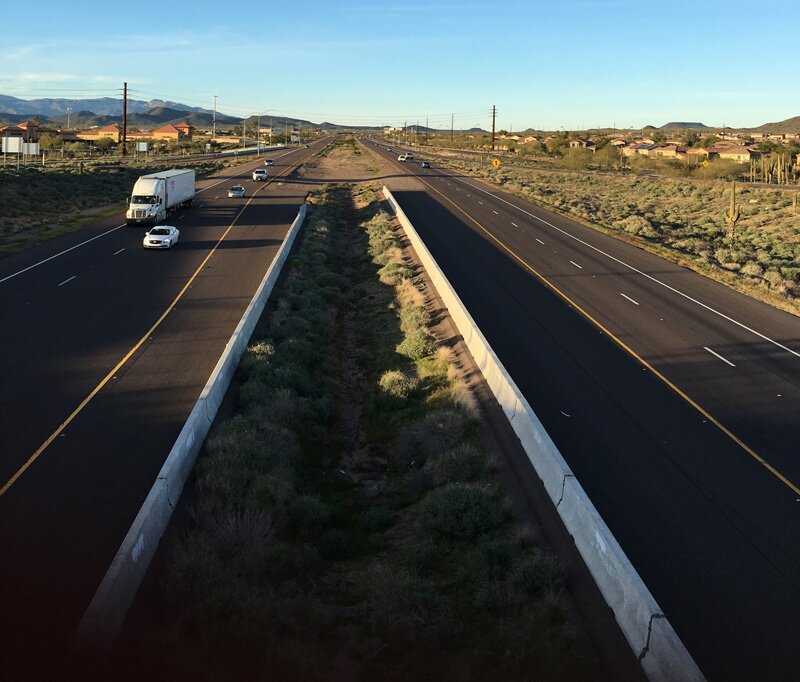 UPDATE: This story was first published in March 2018. It has been updated to include details from the April 3 ADOT public meeting.
---
The Arizona Department of Transportation updated the public April 3 on its study and plans for adding lanes to the crash-prone stretch of I-17 between Anthem Way and the Sunset Point Rest Area [see video and map below].
One part of the project calls for construction of one new lane in each direction in the years 2021-22 between Anthem and Black Canyon City. The northbound roadway would be widened toward the median side, and the southbound roadway toward the median in some stretches and toward the outside in other areas, according to ADOT's preliminary plans.
The agency is also considering adding two "flex lanes," also called "reversible lanes," to the 8-mile grade from Black Canyon City to Sunset Point. These lanes could be used for the busiest direction of travel, the agency explained in a statement. For example, they could be used for northbound travel on a Friday as vacationers head to the high country, then used for southbound travel on Sunday. The extra lanes would be controlled at each end by a gate or similar mechanism, the agency said.
Residents at an ADOT public meeting in Black Canyon City expressed concern about wrong way drivers.
"Those separate lanes would be operated with gate or barrier systems on either end to allow only one direction of traffic," said ADOT spokesperson Doug Nintzel.
The reversible lanes might work something like this, the agency explained last year: Two lanes could be built in the median, separated from current lanes by a barrier. Barriers at each end would allow only one direction of travel at a time—similar to how urban bridges give commuters extra lanes coming into a city during the morning rush, then devote the extra lanes to outbound traffic in the evening.
In June 2017, the State Transportation Board approved a five-year plan that includes funding for design and construction of the project. North Phoenix News initially reported the project proposal last in February 2017.
For the I-17 widening, the new budget approval sets aside $15 million for design work in 2019, and $178 million for the widening project, to be spent in 2021 and 2022. The funding includes $128 million from ADOT and $50 million from the Maricopa Association of Governments.
"We're approaching this project with optimism because we know that construction will start in 2021," Nintzel said. "We haven't always been able to say that. We have to work through the details of exactly what will can build and where to start."
Final designs and the determination of next steps are expected to be completed by early 2019.
The agency's longer-term goal is to widen I-17 to three lanes all the way to Flagstaff, ADOT spokesperson Nintzel said early last year. But that project, just a vision for now, would require separate approval and funding down the road.
Be Heard
Anyone wishing to comment on the project can do so by May 3. Send to: 
ADOT Community Relations
1655 W. Jackson Street
Mail Drop 126F, Phoenix 85007.
Questions or comments also can be emailed to: Projects@azdot.gov