Grand Falls: Arizona's Chocolate Waterfalls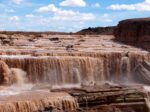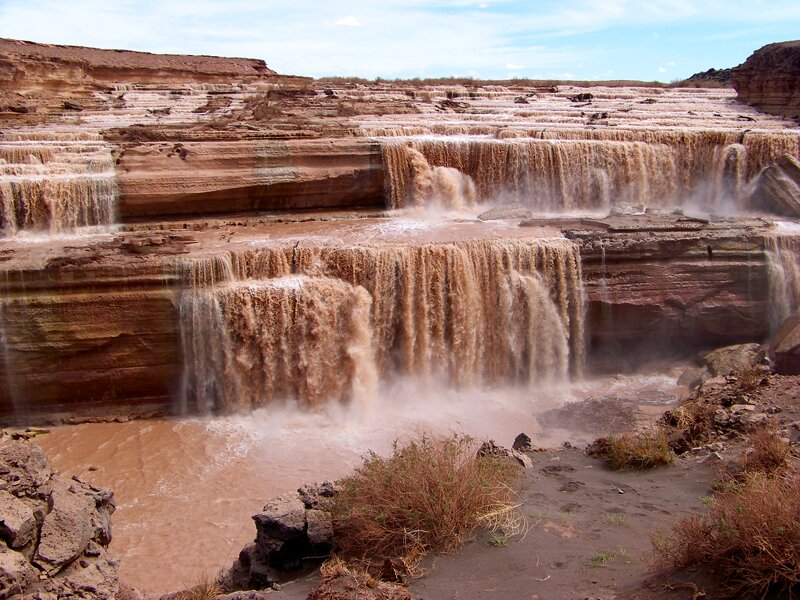 Why You Should Go
Waterfalls are not common in the desert regions of Arizona, so seeing Grand Falls in action is a unique adventure. The roaring energy released by the surging waters creates dancing rainbows in the rich, foaming display of chocolate color.
When To Go
March and early April during the annual White Mountains snow melt, especially after heavy rains.
History & Geology
The Grand Falls are a natural creation of an ancient lava flow from the local Merriam Crater that filled the 200 foot deep Little Colorado River Canyon gorge some 100,000 years ago.  After the lava cooled, a natural basalt dam was formed blocking the original river channel.  Seasonal river water would pool behind the basalt dam while continually seeking a way to escape and rejoin the ancient Little Colorado River channel. After cascading over the wide spillway of basalt, the water finally plunges over a final wall, forming the Grand Falls.
The chocolate color comes from the river water having to travel some 150 miles through this high-desert region picking up tons of sand and clay.  The silt-laden water then tumbles over the waterfalls creating the distinctive brownish color.  Once over the falls, the water re-enters the original Little Colorado River channel and continues on a 70-mile journey to the Grand Canyon.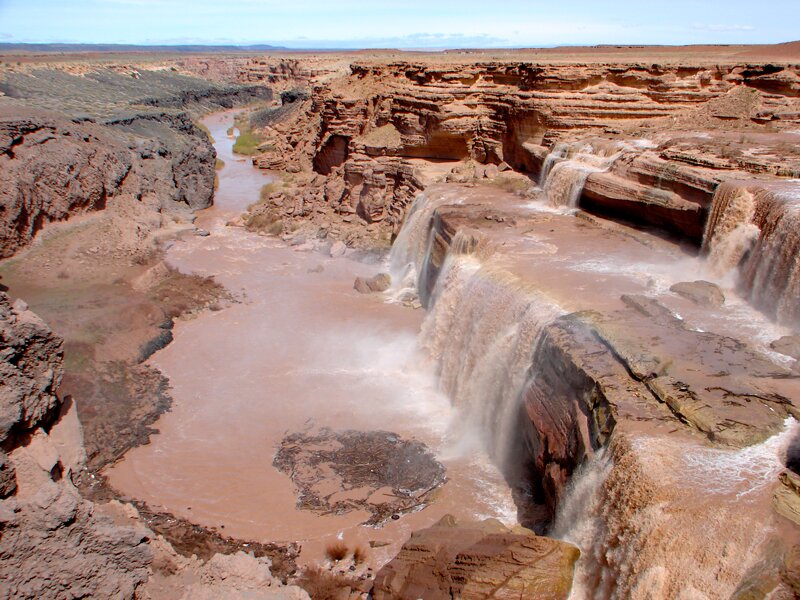 IF YOU GO: Chocolate Falls
Distance from I-17/Carefree Highway:  157 miles. These falls are in an isolated and rustic part of Arizona. There is no drinking water nor restroom facilities available.
DIRECTIONS: Take I-17 north to Flagstaff, then follow AZ State Route 89A North past the Flagstaff Mall, turning right onto the Townsend/Winona Road. The falls are 31.7 miles from this turn. Travel 8 miles before turning left onto the Leupp Road, then another 14.7 miles and just after entering the Navajo Reservation, turn left onto Navajo Road 70 (Watch for a sign advertising the Grand Falls Bible Church). Go 8.5 miles on Navajo Road 70 (which is a wide, cinder road) until it dead-ends at the Little Colorado River. Just before the river, a small road to the left leads to the overlook. A rustic trail leads from the overlook down to the river level of the falls.
Warning: Do Not Attempt to drive across the Little Colorado River in a vehicle. 
COST: Free
HOURS:  24/7/365
How Taking Photos Affects Experiences
The picture is far from clear on how nonstop photography affects enjoyment and memories of those Kodak moments. But here's one viewpoint.
---
Large Country Club View Lot 
ADVERTISEMENT
Bennington with 14-foot ceilings, fireplace, no homes behind, and near the first gate!
N Moss Springs Road, Anthem Country Club
3 BEDS | 2.5 BATHS | 3-CAR GARAGE | 2,542 SQFT | $440,000
Call 623-297-2557 or CLICK TO LEARN MORE