Each fall, Arizona education officials report their enrollment numbers. We combine, compare and analyze the figures for North Phoenix schools. Below is the latest data, for the 2016-17 school year. See our DVUSD Schools 2017-2018 Special Report for enrollment projections.
Enrollment in five of the six North Phoenix charter schools increased for the 2016-2017 school year, while the student body count fell at 10 of 15 DVUSD schools in the area. Overall, enrollment at these district schools declined by 200 students, while charters added 175.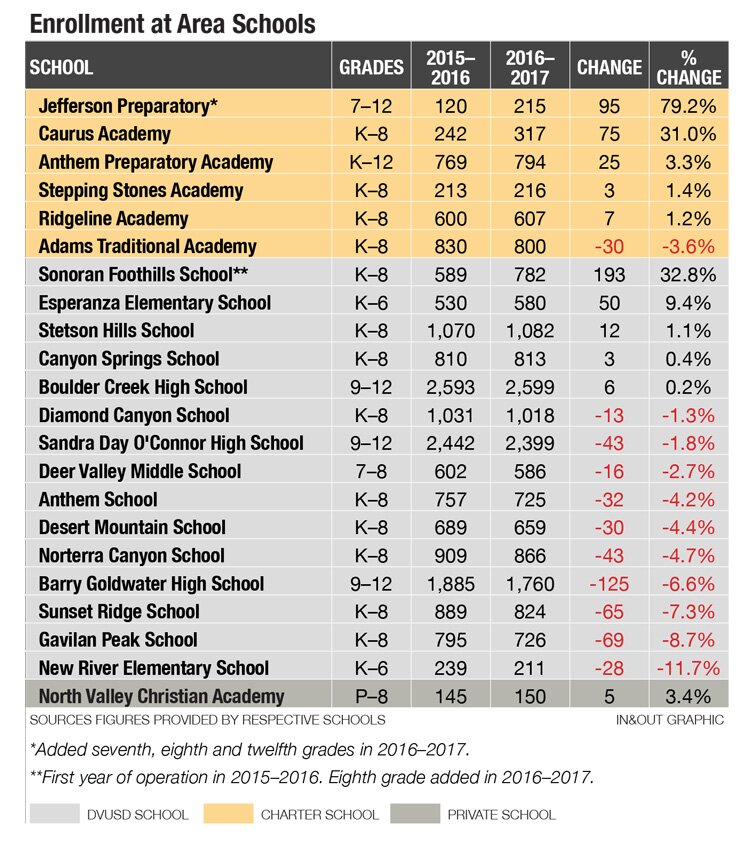 The addition of eighth grade at Sonoran Foothills School increased matriculation by 33 percent, with the majority of new students coming from nearby Sunset Ridge School, whose student body shrank due to the new boundaries.
Some schools with enrollment decreases such as Gavilan Peak School, happened to have a larger graduating class last year―28 more eighth graders, according to DVUSD spokesperson Monica Allread. "These enrollment bubbles happen sometimes when a larger class graduates or is promoted to high school," she told In&Out. And, others such as New River Elementary, which lost 11 percent of its enrollment (after losing more than 12 percent the previous year), are being monitored. "We are closely watching enrollment at all of our schools, and will work with a demographer who helps us predict enrollment in the future," Allread said.
With the addition of grades 7 and 8, Jefferson Preparatory (which underwent a name change) saw its population surge 79 percent. Its first class of 12th grade is set to graduate spring 2017.
Caurus Academy's student body continues to swell with a 31-percent increase over 2015. This comes after a 25-percent increase the prior year. Caurus parent Wendy Davison applauded the administration for its efforts in "teaching outside the boundaries of typical education."
"We looked for a school that was highly rated academically, yet balanced with true differentiated education, an emphasis on community, and somewhere we felt educators were passionate about helping students learn," Davison said. "Caurus checked every one of those boxes."
School Overviews
This article was first published on Anthem News.