Each spring, Arizona public schools administer a statewide achievement test to students in grades 3–12. The AzMERIT (Arizona's Measurement of Educational Readiness to Inform Teaching) test results are released each fall. We compile and analyze the results for schools in North Phoenix. Here are the most recent results, from 2017.
OCT. 30, 2017 — Scores on AzMERIT rose for most North Phoenix-area schools in 2017, as did the statewide average. But in the test's third year, only 40 percent of Arizona students passed math and 39 percent passed language arts. The chart below was revised to reflect changes after the state initially made errors in the math scores. 
All but two area schools, Barry Goldwater High and Deer Valley Middle School, performed above the state average. Boulder Creek High School students scored a 14.7 percent increase.
---
School Overviews
Special Report: North Phoenix Schools in 2017-18
---
ARCHIVES: 2016 Results
Scores on AzMERIT rose for most area schools in 2016 compared to 2015, the first year of the test. The statewide average also inched up, yet less than 40 percent of the state's students passed language arts and math.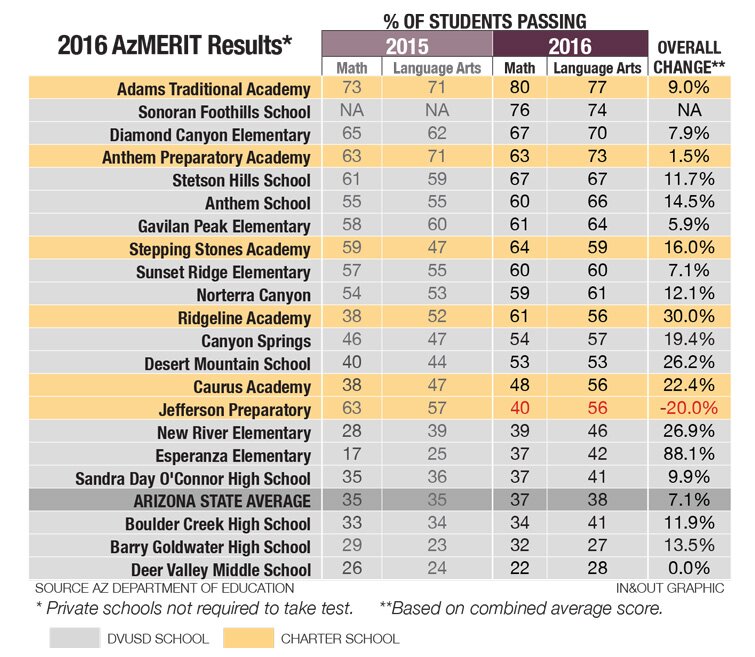 All but two area schools performed above the state average in 2016. Notably, performance was up in five of the six area charter schools, with Ridgeline Academy logging a 30-percent improvement over 2015 scores.
In DVUSD, all area schools saw an increase in scores. DVUSD Deputy Superintendent of Curriculum Gayle Galligan attributed much of the success to professional development geared toward the Arizona College and Career Ready Standards.
"This support can be seen in the great growth with sixth grade math, where we targeted professional learning for all math teachers. …Twenty-seven of the 28 K–6, K–8 schools showed increases in sixth grade math [ranging] from 1 percent to 41 percent."
The 2017 AzMERIT test are scheduled primarily for March 27 – May 4, 2017. (Exceptions: Writing must be completed by April 21, 2017; Grade 3 Reading and Math must be completed by April 28, 2017.)