Phoenix Rents Rise Most of Any Large City
For 15 years, In&Out Magazine has been the definitive source of "Everything that's going on" in and out of the community. We thank you, our readers, as well as the businesses that support the magazine through advertising, for that opportunity. But with little going on, and many businesses suspending or canceling their ads during the Covid-19 crisis, we are suspending publication of the magazine and web sites for the month of May. 
---

Rents in Phoenix rose 3.7 percent in March compared to the year prior, the largest increase of any large U.S. city and nearly three times the national average of 1.3 percent.
The median rent for a 2-bedroom apartment in Phoenix is $1,070, compared to the national average of $1,175, according to a report out today from Apartment List. Since 2014, rents in Phoenix have grown by 21.8 percent, compared to the national average of 12.7 percent. Charts illustrate the comparisons: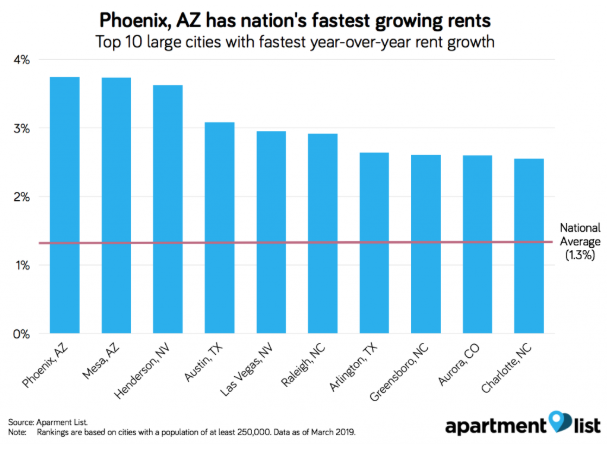 These median figures don't tell the full story, as rents are typically higher in some parts of Phoenix and in outlying suburbs. And Phoenix is far from being the most expensive city:
Rising rents and rising home prices in the Valley can be attributed at least in part to strong job growth. Maricopa County is the fastest growing county in the nation, and Phoenix is the 2nd-fastest growing large city.