Businesses Pivot With Virtual Instruction
For 15 years, In&Out Magazine has been the definitive source of "Everything that's going on" in and out of the community. We thank you, our readers, as well as the businesses that support the magazine through advertising, for that opportunity. But with little going on, and many businesses suspending or canceling their ads during the Covid-19 crisis, we are suspending publication of the magazine and web sites for the month of May.
---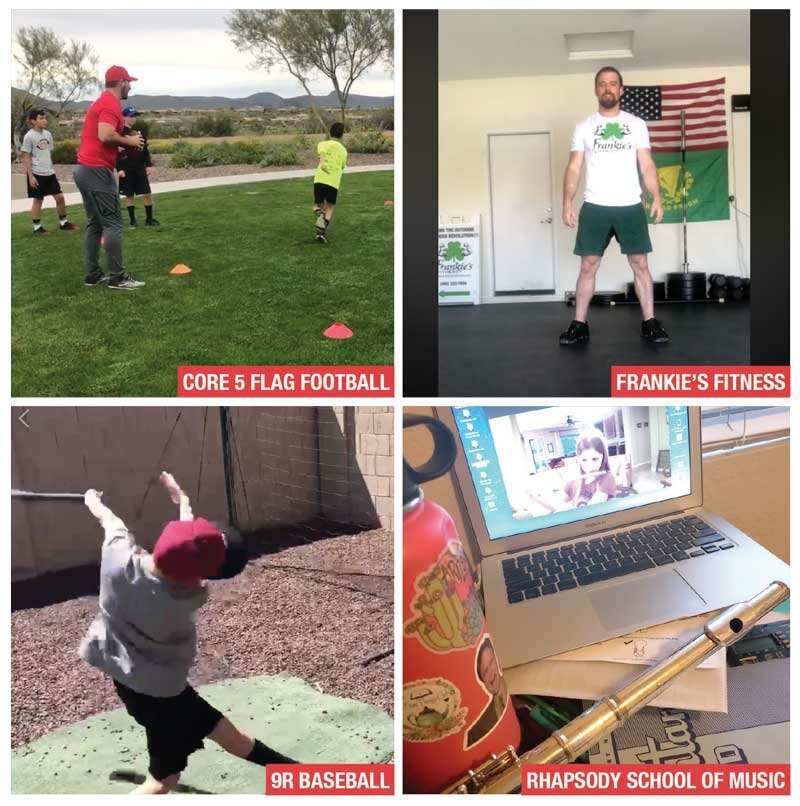 Amid social distancing, parks, sports fields and gyms that were once bustling are now empty as youth sports practices and adult workouts happen at home with a combination of live and recorded instruction. Even local music lessons have gone virtual.
Using Zoom, Facebook Live, Instagram and YouTube, local instructors have pivoted business models quickly to stay relevant while keeping people in shape and skills sharp. Useful Internet sources were especially helpful, which maximized the idea of using a variety of Internet sites and how it is practical and economical. You can even buy term papers online on any topic of interest to you, discussing all questions online!
Rhapsody School of Music is a few weeks into its virtual lessons, and while teachers and students have had to adapt to some hiccups, for the most part things are going well.
"Teachers are staying engaged, our students are still learning, and the most important thing to us is being accomplished: Music is continuing on in the homes of our students," said Brian Kunnari, the school's marketing and communications director. "We are going to call that a win in today's world."
Local trainer Frankie Carman of Frankie's Fitness began posting online videos for all ages and fitness levels to encourage families to get moving together during the pandemic.
"The thought of families being pent up together in their household without an outlet to exercise kills me, so I wanted to offer these sets of videos for free so that everyone can join in on the fun," Carman said. "I've been able to reach families that I've never met before and they're loving the workouts so far."
Youth sports clubs, unable to host camps, clinics, private lessons and tournaments, are trying to keep players active.
9R Baseball Club offers training videos on its YouTube channel, Zoom and other social media outlets. The videos are available to anyone "as a free service to help as many athletes as possible stay active in baseball," said owner Fred Speck. "It's really been more about goodwill during this time."
The New Way?
Business owners say the shift online has opened new possibilities for their businesses that might stick even after social-distancing measures are lifted.
9Rs Baseball has been using social media as a way to expand its reach and promote services when it is safe to open back up. "I think we will continue to use the other resources
that have come as a result of these changes as well," Speck said.
Rhapsody is currently exploring what the summer programming could look like, and how performance ensembles could continue from home, along with the virtual lessons, Kunnari said.
True Fitness owner Gina Quinn is looking to keep virtual training as part of their program. "We are working on fine tuning our virtual training to bring more professional-grade training to our clients," Quinn said. "We do see a silver lining in the crisis."
Creative Virtual Finds
Whether you're looking to keep your skills or strength sharp, or try something new during COVID-19, In&Out Magazine has compiled a list of creative virtual options in our area to keep you active, entertained and engaged.
9R Baseball posts a 30–day skills challenge on YouTube and Facebook, with drill videos produced by the coaching staff, available to anyone.
480-540-8689
www.9rbaseball.com
As You Wish Pottery provides pottery and canvas projects kits for kids and adults available for pick–up within 24 hours of online purchase.
$10–$35
623-587-7700
www.asyouwishpottery.com
Core 5 Flag Football has a private, virtual training Facebook group page for families to stay active with drill videos to practice at home or outside with physical distancing.
702-807-1118

http://core5flagfootball.com
Fit4Mom offers virtual versions of their five prenatal and postnatal fitness programs for moms and their little ones. Membership includes unlimited workouts (up to 14 per week), virtual play–dates with the kids (five per week) and weekly virtual "mom's night" without the kids.
$29/Month during social distancing
602-644-1258

https://northwestvalley.fit4mom.com
Frankie's Fitness offers free online videos each week on Facebook and YouTube for all ages and fitness levels. A more extensive program, personal training and nutritional coaching sessions are all available through the Zoom app (price varies).
$47/Month
480-322-7804

www.frankiesfitness.com
Jabz Boxing Happy Valley hosts daily live-stream boxing classes led by trainers, plus video workout routines for members to do on their own time.
$40/Two weeks; First week free for new members
623-349-1502

www.jabzboxing.com
Mountainside Fitness offers free at–home daily workouts and live Facebook group classes to the public.
1-866-686-3488
https://mountainsidefitness.com
MudPie Studios presents "art to go," a complete project including a piece of pottery or ceramics of choice, three colors of paint and brushes delivered to your door for free within 15 miles. Ready–to–paint canvases are also available.
$10–$13
623-551-9177

www.mudpiestudios.net
Musical Theatre of Anthem moved its Minis program for ages 3–5 to Zoom classes and the organization recently held a virtual talent showcase. Jackie Hammond, the producing artistic director, is personally offering one–on–one acting and vocal lessons, as well as audition-feedback workshops.
623-336-6001

www.musicaltheatreofanthem.org
No Limits Karate Academy started a private group Facebook page for students to continue to receive training online.
623-869-6631
http://nolimitskarateacademy.com
North Valley Symphony keeps its youth ensemble members busy with virtual rehearsal sessions on SmartMusic learning software.
623-980-4628

www.northvalleysymphony.org
Plant Bar AZ offers free porch delivery anywhere in the Valley and pickup options on at–home planting kits, including a DIY terrarium and a "plant adventure" kit with tools to decorate and plant a terracotta pot with paint, rocks and a mystery succulent. Tutorial videos available online to assist with both kits.
$24.95
623-363-2882

https://plantbaraz.com
Red Effect Norterra welcomes the public to join its studio with $0 down for daily group virtual fitness classes, ranging from high interval intensity training to yoga and barre, until the studio opens back up and membership charges resume.
480-530-0335

www.redeffectfitness.com
Rhapsody School of Music shifted to Zoom online music lessons. Tuition includes 30–minute private instruction on a weekly basis for nearly every instrument. During this time, the standard registration fee has been waived and the first lesson is free. The online retail store is also operating with free same–day delivery on phone and online purchases of instruments, accessories and sheet music to homes within a 10–mile radius of Anthem.
$140/Month
623-465-7060

www.rhapsodyschoolofmusic.com
True Fitness programs home workouts via Facebook Live six days a week led by trainers using weights and heavy household items such as gallon water jugs, broomsticks and even pillows.
623-328-7109

www.truefitnessgymaz.com
World Family Taekwondo offers virtual training for students in an instructor-led live Zoom session.
623-551-8089
www.worldfamilytkd.com