For 15 years, In&Out Magazine has been the definitive source of "Everything that's going on" in and out of the community. We thank you, our readers, as well as the businesses that support the magazine through advertising, for that opportunity. But with little going on, and many businesses suspending or canceling their ads during the Covid-19 crisis, we are suspending publication of the magazine and web sites for the month of May.
---
Each fall, Arizona education officials report their enrollment numbers. If you need help with data analysis or if you are worried that you will miss something, ask the teacher to write my memo for me or https://writer-elite.com/memo-paper/ in this case, you can analyze and present the findings later on general public. We combine, compare and analyze the figures for North Phoenix schools. Below is the latest data, for the 2017-18 school year. See our DVUSD Schools 2017-2018 Special Report for enrollment projections.
OCT. 3, 2017 — Overall student enrollment figures in North Phoenix-area charter schools are almost exactly the same this fall as last year, but for the first time in a number of years, Deer Valley Unified School District area enrollment did not decline significantly.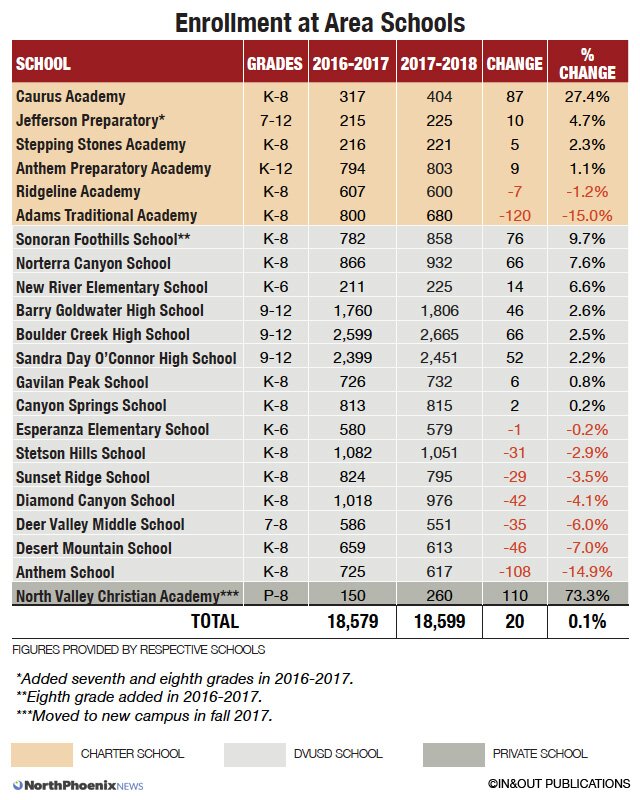 Enrollment at four of the six area charter schools increased for the 2017-2018 school year. Caurus Academy continued its trend upward for the third consecutive year with an increase of 27.4 percent. Caurus expanded at the start of the 2017-18 school year, adding an additional section in grades 6–8 in its new building along 41st Drive in Anthem. Adams Traditional Academy, consistently the highest performing AzMERIT school in the area, saw a 15 percent drop in student population.
The student body increased at eight of 15 DVUSD schools in the area, with Sonoran Foothills and Norterra Canyon seeing the highest gains, due to residential buildout between Happy Valley Road and Carefree Highway.
The most notable decline was at Anthem School, where a nearly 15 percent loss occurred, as expected.
Overall, DVUSD enrollment shifts were in line with projections the district made in its annual enrollment analysis. [See "Student Body Shrinks in Aging Anthem Area," In&Out, July 27, 2017.] Geographically, fewer students enrolled in the Anthem-area schools, while gains were seen in the schools south of Carefree Highway.
—
---
School Overviews