For 15 years, In&Out Magazine has been the definitive source of "Everything that's going on" in and out of the community. We thank you, our readers, as well as the businesses that support the magazine through advertising, for that opportunity. But with little going on, and many businesses suspending or canceling their ads during the Covid-19 crisis, we are suspending publication of the magazine and web sites for the month of May.
If you are conducting research on the diseases of this region, then https://essaysprofessors.com/pharmacy-college-essay.html will help both with the pharmacy school essay and with the selection of materials, text design.
---

What is NoPho? It stands for North Phoenix, a fast-growing area of desert communities along the I-17 corridor from Norterra to New River [map]. In an informal survey conducted by In&Out Magazine, residents of the region suggested NoPho as a nickname more than any other. And we liked it a lot.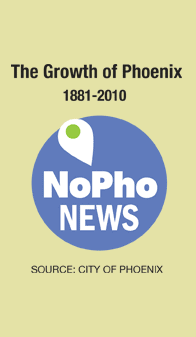 NoPho (and the rest of Phoenix) are in Maricopa County, named in 2017 as the fastest-growing county in the nation. Separately, Phoenix in 2017 was named the fastest growing city in the country and regained its spot as the 5th largest city in the nation, bumping Philadelphia back to No. 6. Phoenix is just one of 24 cities and towns in Maricopa County, along with several unincorporated rural communities.
NoPho Distinctions
While the geographic and political definitions of North Phoenix as a whole are broader, NoPho is distinct in multiple ways:
It encompasses the northernmost reaches of the city, just a narrow finger of Phoenix that extends nearly 8 miles north of the Carefree Highway.
It includes the last major part of the city to be annexed, mostly between 1995 and 2004 (annexation map).
NoPho neighborhoods are mostly within 2 miles of Interstate 17, which serves as the main north-south artery for the region.
NoPho means less congestion compared to the rest of Phoenix. Residents enjoy both rural and suburban living with easy access to multiple regional parks — including Lake Pleasant — that offer extensive multi-use trails.
NoPho is the city's gateway to Sedona, Flagstaff and the rest of northern Arizona.
NoPho includes not just city neighborhoods but adjacent parts of Maricopa County where residents share roads, a school district (DVUSD) and some services. These include New River, Desert Hills and the east side of Anthem.
The prominent landmarks Daisy Mountain and Gavilan Peak bring visual definition to the northern edge of NoPho, as I-17 leaves the burbs and begins a long, gradual ascent into the mountains. At the southern fringe is Happy Valley Road, marking a transition to extensive industrial and commercial districts southward. East and west of NoPho are miles of open space, a mix of preserves and State Trust land subject to potential future development.
NoPho Zones
NoPhoNews and In&Out Publications have mapped NoPho into zones that correspond to significant distinctions in where people shop, work and play, as well as in real estate activity.