For 15 years, In&Out Magazine has been the definitive source of "Everything that's going on" in and out of the community. We thank you, our readers, as well as the businesses that support the magazine through advertising, for that opportunity. But with little going on, and many businesses suspending or canceling their ads during the Covid-19 crisis, we are suspending publication of the magazine and web sites for the month of May. 
---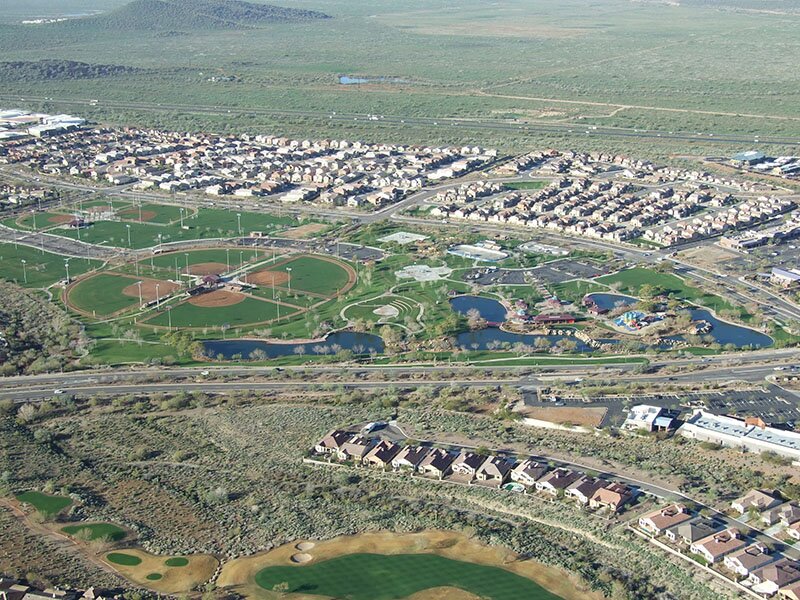 Anthem, AZ is a unique family-oriented, master-planned community that covers nearly 10 square miles of desert foothills just north of the Carefree Highway, all straddling I-17 at the northern edge of Phoenix, Arizona. Anthem is the largest development in North Phoenix, with more than 10,000 homes in six distinct neighborhoods, each with different personalities. All Anthem residents have access to the amenities of Parkside. See below for more information about the entire community, or jump straight to a neighborhood for more information:
Real Estate Watch: Monthly Analysis of Residential Sales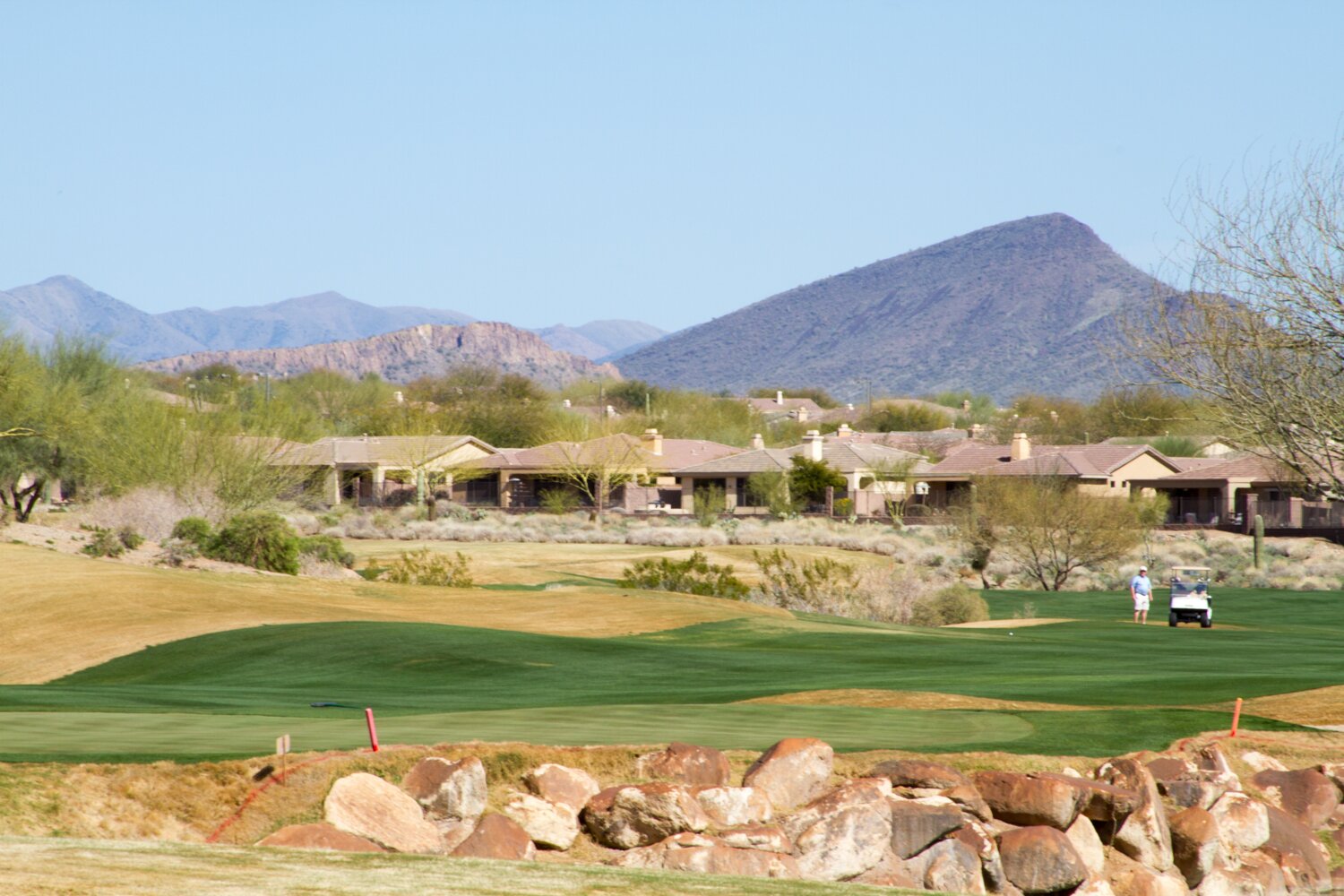 The Setting
Anthem residents have quick access to I-17 and a less than 40-mile drive to Sky Harbor International Airport. Three major shopping centers are nearby: Outlets at Anthem sits in the middle of Anthem; the Shops at Norterra and the Happy Valley Towne Center are about 20 minutes south. Four regional parks that offer hiking, fishing and boating are all within 30-minute drives.
Anthem is nestled along the slope of Daisy Mountain — a roughly 1-hour hike to the top for those in shape. The community has a stunning view of the sharp-edged Gavilan Peak to the North and views of the North Valley to the south.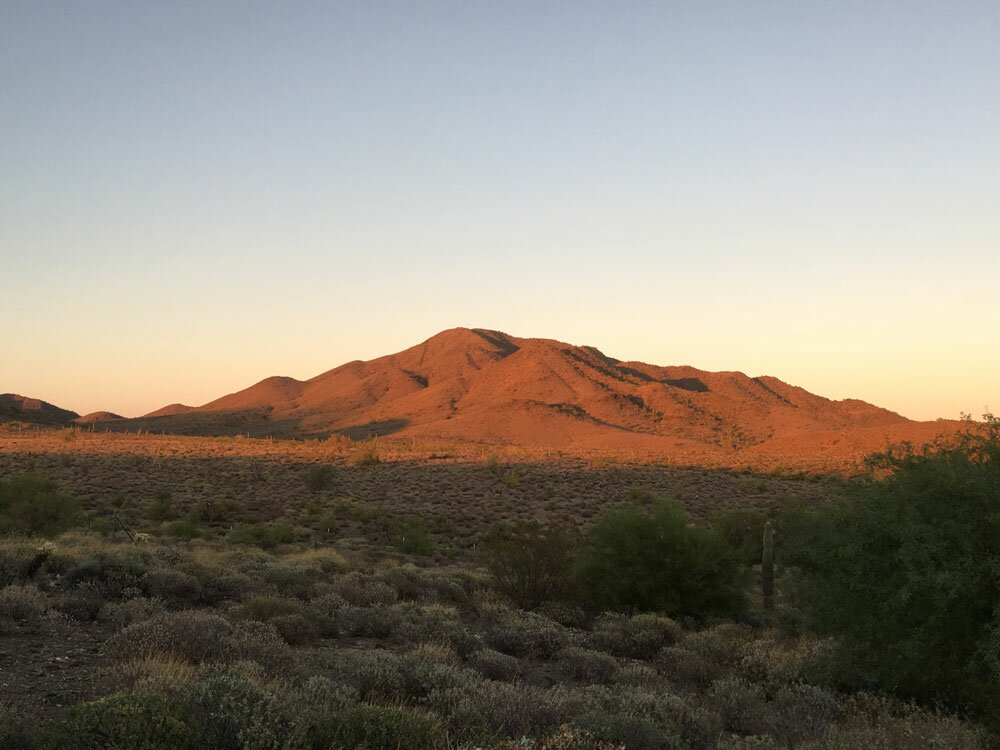 Saguaro and other cacti, along with ample shade trees and acres of open, grassy fields and parks dominate the community's well-maintained landscape. The surrounding desert is wild, open and gorgeous. Thirty-six percent of the community is devoted to open space, with several miles of trails and walkways, plus open arroyos and wide-open, endless desert views and mountain scenes.
Anthem is anchored by a large Community Center and an adjacent 63-acre Community Park. The basic facilities are available daily for free use by residents, though special programs and events often carry a fee.
Homes in Anthem range from modest 2-bedroom houses to large 6-bedroom homes in Parkside and the gated Country Club section. Parkside homes range from 1,122 square feet to two-story, 4,338 square-foot models with libraries, courtyards and 4-car garages. Many houses in Anthem have swimming pools, and many have room to park boats and RVs.
Schools
Anthem is in the Deer Valley Unified School District (DVUSD). The primary public high school is Boulder Creek High School, and there are five lower schools serving the area ( Anthem School; Canyon Springs; Diamond Canyon; Gavilan Peak; New River Elementary), plus several charters. For details on each school, boundary maps and more, see:
Anthem Community Center
The vibrant center's sprawling features include:
A full-size, outdoor heated swimming pool with lap lanes
A diving area with high and low diving boards
A children's waterpark that rivals the finest resorts
Full gymnasium for basketball and other court activities
A mezzanine-level gym with dozens of exercise machines, weightlifting equipment and spectacular mountain views
Rooms for aerobics, yoga, tai chi, zumba and countless other classes
Six outdoor tennis courts
A fully certified child care center
The center is buzzing with activity with some 2,500 residents passing through each day.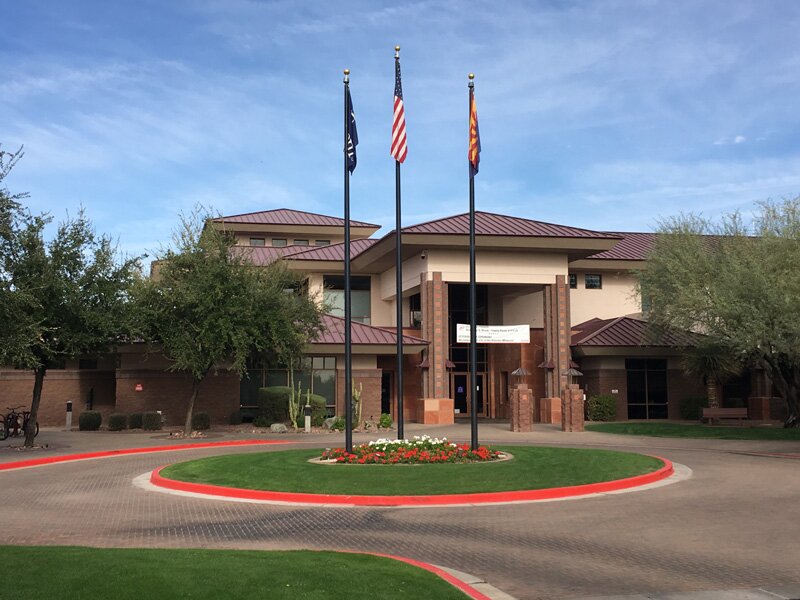 Community Park
The Community Center sits on the edge of a lushly landscaped 63-acre community park including:
Multiple lighted soccer, baseball and football fields
Basketball and beach volleyball courts
A catch-and-release fishing pond
The Adventure Playground with its massive play structure and splash pad
A small-gauge train offering serene tours of the park
A skateboard/scooter park with a 6-foot-deep bowl
An outdoor amphitheater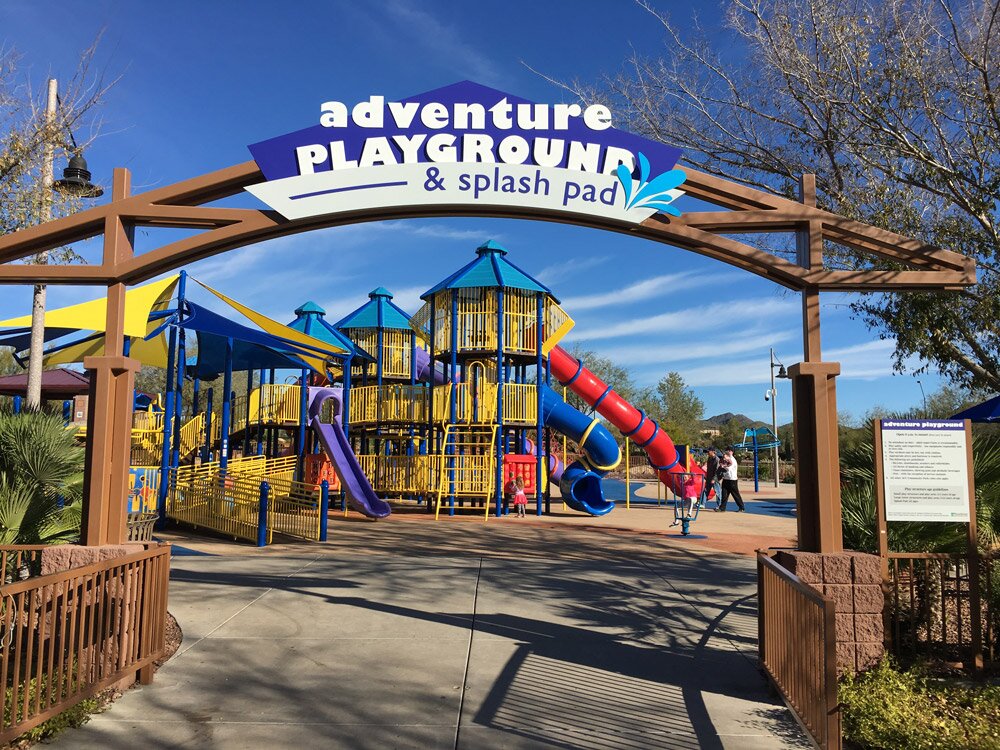 Annual Events
Anthem hosts several landmark events each year drawing thousands of residents and visitors from throughout the state. [Event Calendar]
Anthem Days, a community business and arts fair, and a carnival ride
Music in May, an outdoor music festival bringing a new musical artist each Friday during May
Independence Day Celebration, full-fledged fireworks show on or around the 4th.
Daisy Mountain Veterans Day Parade, the largest Veterans Day event in the Southwest
Autumnfest, pumpkin carving, pony rides, carnival rides and games


North Valley Regional Library
North Valley Regional Library, part of the Maricopa County Library District, conveniently shares space with Boulder Creek High School in Anthem. Its collection of more than 80,000 titles includes:
Bestsellers
Books on CD
Music CDs
Newspapers
Magazines
DVDs
e-books
The library has several computers with Internet access. Teen and youth areas with collections dedicated specifically to them. Programs and events for adults, teens and children are offered regularly. [More]
Anthem's Governance
Del Webb began selling homes in Anthem in 1999 and was later bought by Pulte.
The Anthem community is operated by the seven-member volunteer board of directors known as the Anthem Community Council. Council makes decisions about finances and community-wide operations. It operates similar to a city council but has more autonomy. Since Anthem is not an incorporated town, the Council lacks authority over crucial services such as law enforcement and fire protection.
The Anthem Community Council's stated mission is "to establish and maintain a governing structure which will preserve, protect and enhance the plans, policies, infrastructure and resources needed to support a sense of community, ensure sound economic development, and promote a quality of life for all Anthem residents."
The day-to-day operations are overseen by Council employees, primarily a Community Executive Officer and a Community Operations Officer. Council maintains community property such as Anthem's main community park, Liberty Bell park, the main entrance fountains, the catch-and-release fishing lake.
In addition, there are three HOAs that enforce their own Covenants, Conditions & Restrictions (CC&Rs) and govern operations of their specific neighborhoods: Country Club, Parkside and the Village (condominiums). The HOAs have elected boards and community managers who run the day-to-day.
Examples of differences between the HOAs and Council: Parkside HOA maintains the pocket parks and monitors CC&R violations. Council, on the other hand, is in charge of running and maintaining the Community Center, Community Park and the ball fields. Council is responsible for collecting homeowner assessments and distributes a portion to the corresponding HOA.
The roads in gated communities are privately owned by the respective HOA, while roads in most of parkside are owned by Maricopa County on the eastside, and City of Phoenix on the west.
The overall operation of Anthem falls under the jurisdiction of the Arizona Revised Statutes Title 33, Chapter 16, "Planned Communities."
Anthem's Distinct Neighborhoods
Recent Anthem News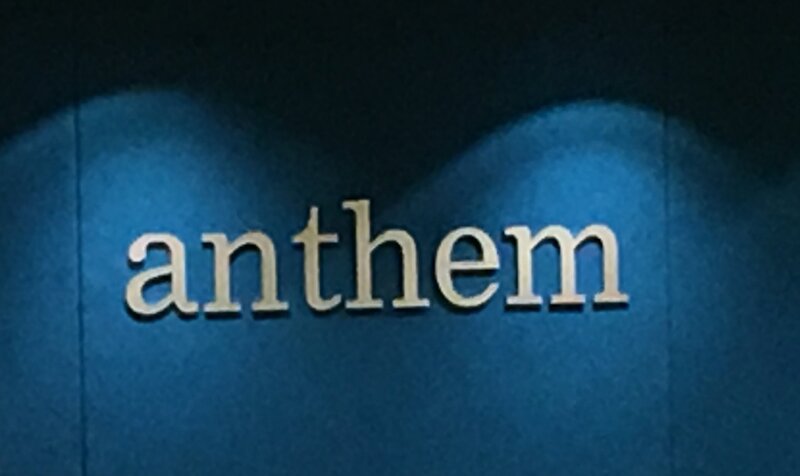 Anthem Community Council will hold a public meeting Tuesday, Oct. 15 to discuss budget plans for next year. Residents are welcome to attend. An information packet outlining the proposed budget has been posted to council's website.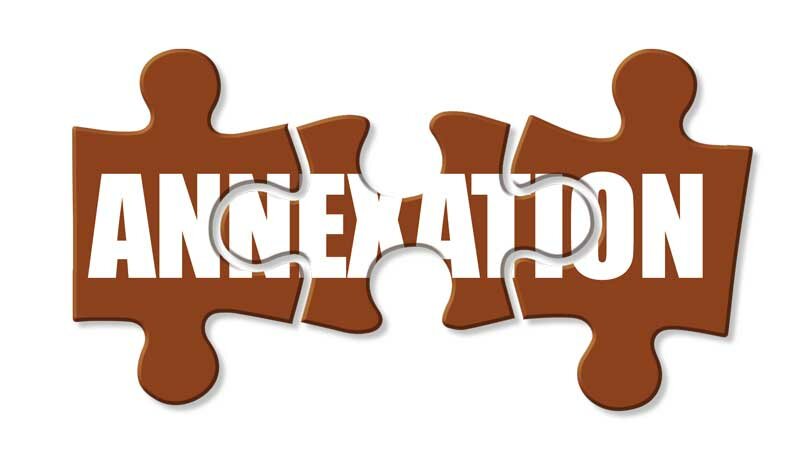 What is and is not likely to happen in New River, Desert Hills and Anthem.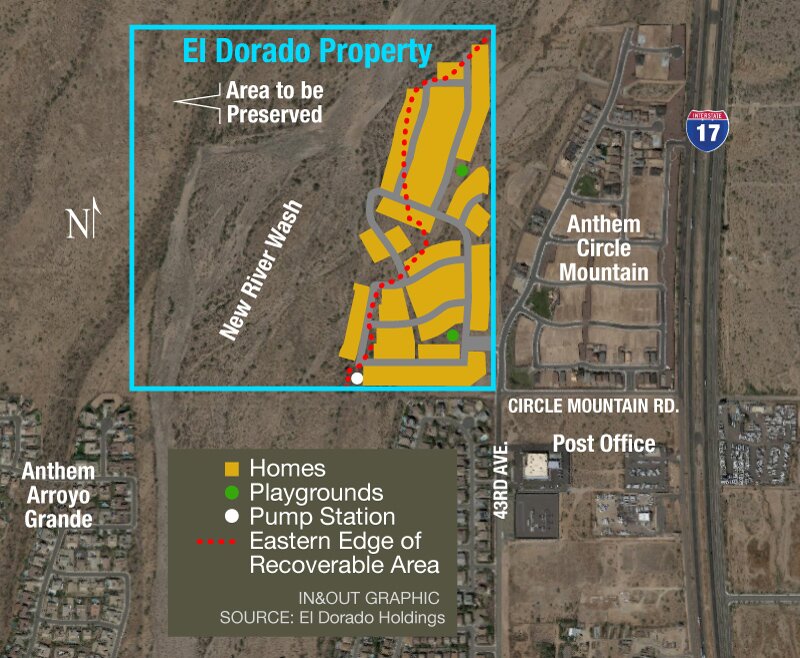 Despite a thumbs down from a neighborhood planning committee, the City of Phoenix Planning Commission voted June 6 to approve a request to rezone 55 acres adjacent to Anthem's Circle Mountain neighborhood and the Post Office, to allow 170 homes. The request now goes before Phoenix City Council for a final vote.
Some of this material was published previously on our sister site, Anthem News.