Development Near Anthem Gets a Thumbs Up in 2nd of 3 Votes
For 15 years, In&Out Magazine has been the definitive source of "Everything that's going on" in and out of the community. We thank you, our readers, as well as the businesses that support the magazine through advertising, for that opportunity. But with little going on, and many businesses suspending or canceling their ads during the Covid-19 crisis, we are suspending publication of the magazine and web sites for the month of May.
---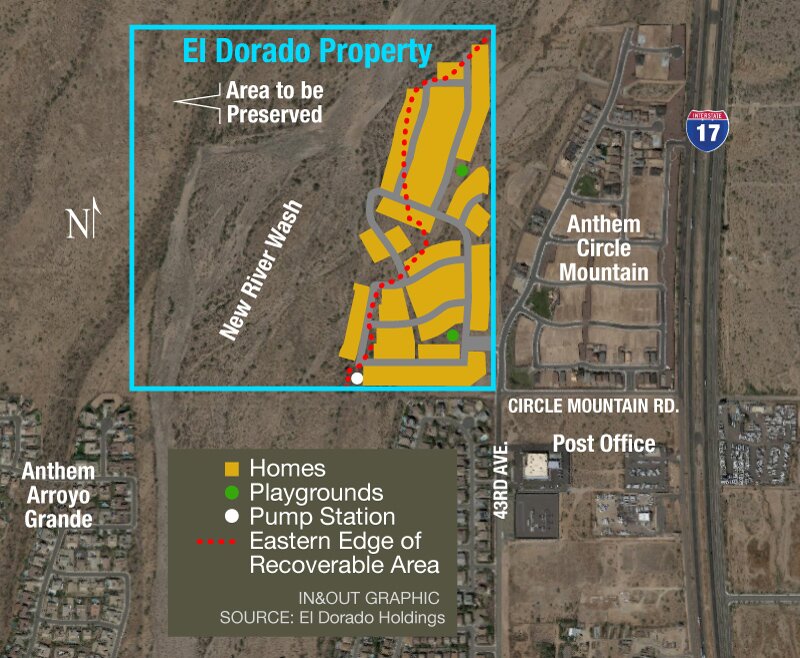 Despite a thumbs down from a neighborhood planning committee, the City of Phoenix Planning Commission voted June 6 to approve a request to rezone 55 acres at the north end of 43rd Avenue, adjacent to Anthem's Circle Mountain neighborhood and the Post Office, to allow 170 homes. The request must go before Phoenix City Council for a final vote.
Anthem residents near the development have opposed the development on the grounds that the only way in and out—43rd Avenue—can't support the traffic. If built, the neighborhood will not be part of Anthem, and Anthem Community Council added it would increase use of parks that Anthem residents pay for.
The Rio Vista Planning Committee, a volunteer advisory board to the city, sided with the residents, voting 5-1 against the request. However, city planners are not bound by recommendations from the neighborhood committees.
The request is to rezone the property from S-1 (ranch or farm residence) to R1-6 (single-family residential). The developer argued that because the property is private and the plan is within the scope of Phoenix's General Plan, they should be able to develop it at typical suburban density.
City Council had been expected to vote on the request at a meeting Wednesday, July 3 at 10 a.m., but the developer has requested a continuance of this meeting until Sept. 4.
This article was updated July 2 to reflect the new planned City Council meeting date.