Cost Comparison: Rent vs. Buy
For 15 years, In&Out Magazine has been the definitive source of "Everything that's going on" in and out of the community. We thank you, our readers, as well as the businesses that support the magazine through advertising, for that opportunity. But with little going on, and many businesses suspending or canceling their ads during the Covid-19 crisis, we are suspending publication of the magazine and web sites for the month of May. 
---
Depending on individual finances, investing in a home may result in lower monthly costs than renting. Several variables determine the costs of a home loan, explained Eric Kilstrom, senior vice president of V.I.P. Mortgage, serving Anthem, all of Arizona and 21 other states:
Lenders determine interest rates based on your credit score and the ratio of the loan amount to the home's value.

Credit scores below 640 will rarely qualify for conventional loans.

A down payment of less than 20 percent on a conventional loan may require private mortgage insurance (PMI). PMI

protects the lender

if the owner defaults. 

The lowest down payment typically allowed on a conventional loan is 3 percent, but PMI will tend to be higher. 

FHA loans, backed by the federal government and aimed at low- to moderate-income borrowers, have looser credit standards and allow modest down payments but always have PMI. 

VA loans for service members and veterans, also backed by the government, never have PMI but carry a related fee instead.
Borrowers can lower interest rates by paying "points" up front, which can make sense if interest rates are high and a buyer plans to stay in a home for a long time.
"With interest rates as low as they are now, it doesn't make much sense for most people to pay points, unless they're dealing with poor credit," Kilstrom said.
Monthly Home Ownership vs. Rental Costs
Estimated costs of renting either of two typical single-family homes in Anthem Parkside versus buying, assuming a credit score of 720 and a 30-year fixed-rate mortgage: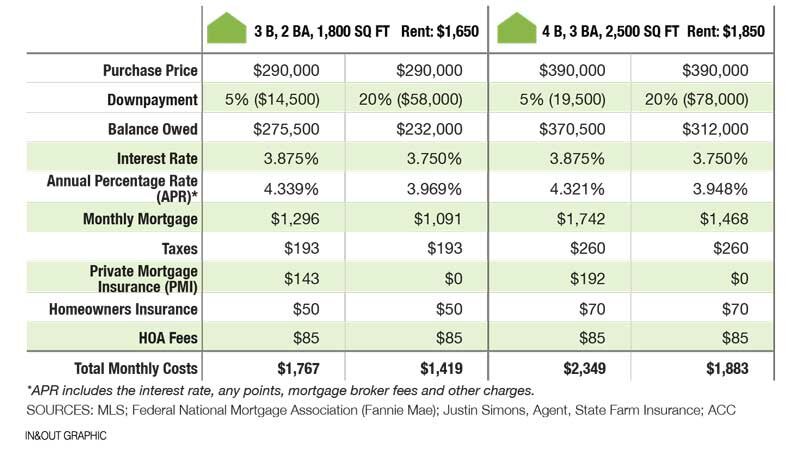 See Also: Columnist Chris Prickett weighs in on other factors in the rent vs. buy equation.