Will Local Home Prices & Rents Keep Rising?
For 15 years, In&Out Magazine has been the definitive source of "Everything that's going on" in and out of the community. We thank you, our readers, as well as the businesses that support the magazine through advertising, for that opportunity. But with little going on, and many businesses suspending or canceling their ads during the Covid-19 crisis, we are suspending publication of the magazine and web sites for the month of May.
---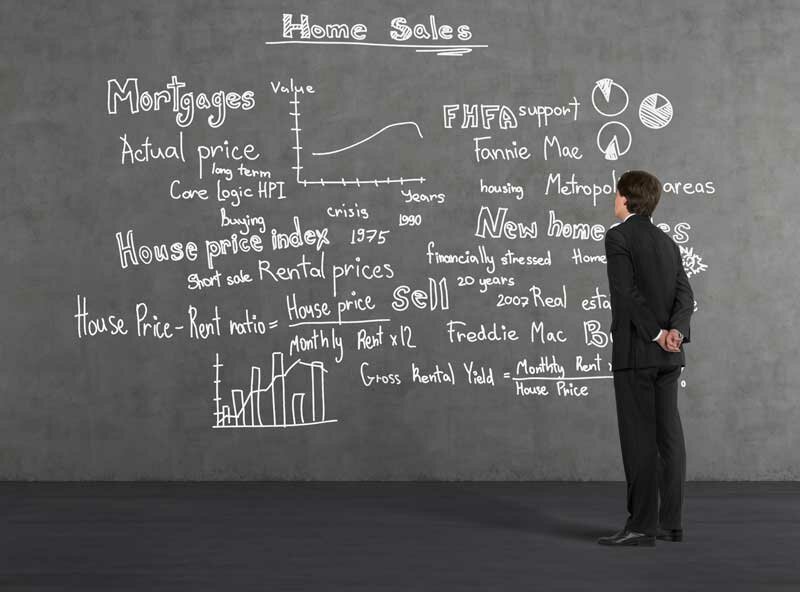 Nobody can predict with total confidence what the real estate market will do in any given year, but by many measures, the Valley of the Sun, along with our little corner of it, is poised for continued upward pressure on both rents and home prices.
Job growth, low taxes, and affordable rents and home prices compared to other metro areas are among the primary drivers. For the past three years, Phoenix and Maricopa County have been the fastest growing city and county in the nation, respectively. And despite several years of rising home prices [See "Home Prices Rise Amid Shrinking Revenue," In&Out, Jan. 23], most of the metro area, as well as the North Valley, remain affordable compared to, say, Los Angeles, San Francisco, New York and many other major cities where, for various reasons, people are looking to escape.
The second most popular state-to-state move in the nation is from California to Arizona (California to Texas is No. 1), according to a new study from StorageCafé. Other research has found the I-17 corridor from Norterra northward to be among the most desirable neighborhoods in Phoenix.
Rising Rents
Among people in Los Angeles who plan to move and rent a home, the Phoenix Metro area is the No. 1 destination, according to a new study of online search data by Apartment List.
Meanwhile, rents in Phoenix grew 8.1% in 2019 to an overall average of $1,470, compared to a 2.6% growth nationwide to an average of $1,600, according to Zillow.
A separate report this month from Apartment List shows similar patterns but lower numbers, in part due to methodology differences (Apartment List's estimates are less affected by the construction of new high-rent units). In this analysis, rents in Phoenix rose 3.8 percent over the past year, the third-fastest growth rate in the country (Mesa was No. 1). Nationwide, rents rose by 1.4 percent, according to this analysis, and since 2014, rents in Phoenix have spiked 21.7 percent, nearly double the national average of 11.3 percent.
Still, median rent in Phoenix for a two-bedroom apartment is just $1,099, according to Apartment List, while several other communities around the Valley range from $200 to $400 higher. In Los Angeles, the median is $1,760, with many surrounding communities exceeding $2,000.
(Note: Rental prices for single-family homes tend to be higher than a typical apartment. See Page 22 for typical rents on single-family Anthem homes).
"Strong economic growth has been driving the hot rental market in the Phoenix area," says Chris Salviati, a housing economist with Apartment List. "The Phoenix-area economy has a strong outlook for 2020, and so I would expect prices to continue rising."
Barring a recession, Salviati sees another reason rents would continue rising: Permits for new home construction in Phoenix have risen in recent years but remain below the pre-recession peak, yet "the vast majority of new building permits are for single-family homes," he told In&Out, "and stagnation in permits for multi-family-housing could contribute to tightness in the rental market."
Home Sales Outlook
Like affordable rents, the relative affordability of houses for sale adds to the Valley's allure for job seekers. And that demand has made prices less affordable.
Phoenix led the 35 largest metro areas in the country in 2019 with home values rising 6.5 percent, according to Zillow. Meanwhile, the National Association of Realtors (NAR) figures the Top 10 metro markets likely to outperform over the next three to five years, based on a combination of job growth and home affordability, do not include Phoenix. That list, which predicts outsized price gains on a percentage basis, is topped by… in case you're thinking of moving… Charleston, South Carolina and Charlotte, North Carolina.
The housing market's continued strength, locally and nationally, depends in part on if, and when a recession kicks in, potentially dampening the appetite for home purchases.
While nobody has an effective crystal ball, top economists predict a 29 percent chance of recession in 2020, according to a recent report from the NAR. Two-thirds of these economists do not expect interest rates to rise significantly this year, another important factor driving home purchases. Their consensus on home prices: a 3.6 percent lift in 2020.
"We saw the year come to a close with the economy churning out 2.3 million jobs, mortgage rates below 4 percent and housing starts ramp up to 1.6 million on an annual basis," said Lawrence Yun, NAR's chief economist. "If these factors are sustained in 2020, we will see a notable pick up in home sales in 2020."
Inbound!
Search data reveals where the majority of the people outside Arizona, who are looking for a rental in the Phoenix Metro area, are moving from. Map shows the Top 20 (SOURCE: Apartment List).
The Top 5
Los Angeles: 33.2%
Riverside, Calif.: 4.6%
Chicago: 4.0%
Las Vegas: 2.4%
New York City: 2.3%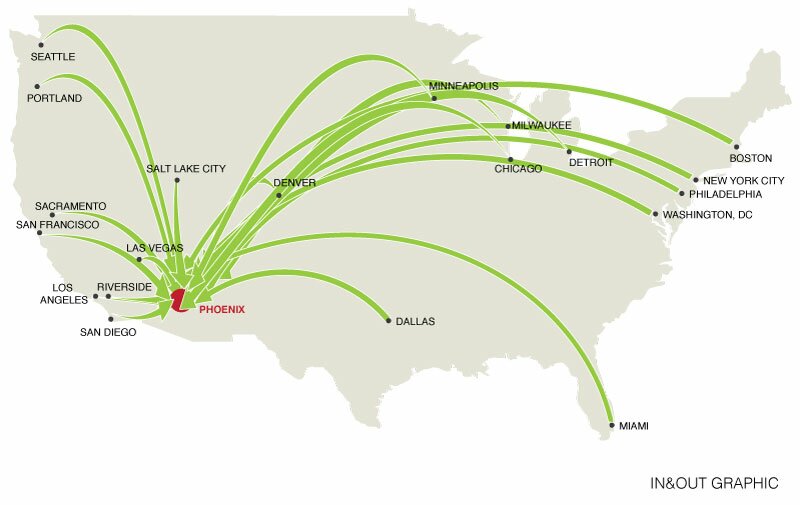 Related Stories
The Year in Review: Home Prices Rise Amid Shrinking Inventory
Things to Consider Before You Make the Commitment of a Lifetime…