No New High School in DVUSD's Planning Window
For 15 years, In&Out Magazine has been the definitive source of "Everything that's going on" in and out of the community. We thank you, our readers, as well as the businesses that support the magazine through advertising, for that opportunity. But with little going on, and many businesses suspending or canceling their ads during the Covid-19 crisis, we are suspending publication of the magazine and web sites for the month of May. 
---

Boulder Creek High School, the largest of five in the Deer Valley Unified School District, is projected to exceed capacity in fall 2018. Yet, based on demographic information it has today, DVUSD sees no need to build another high school in the next three- to-five years. 
Anthem's population is aging, and the town's elementary schools are in the midst of a long-term enrollment decline. Fewer students from these feeder schools will enter Boulder Creek in the years after enrollment peaks in fall 2019.
The feeder schools "have not been growing at the same rate that they were before and we're seeing the bubble now at the high school level," said Jim Migliorino, DVUSD deputy superintendent of fiscal and business services.
If projections hold, BCHS will have fewer students than Sandra Day O'Connor High School and Barry Goldwater High School by fall 2024.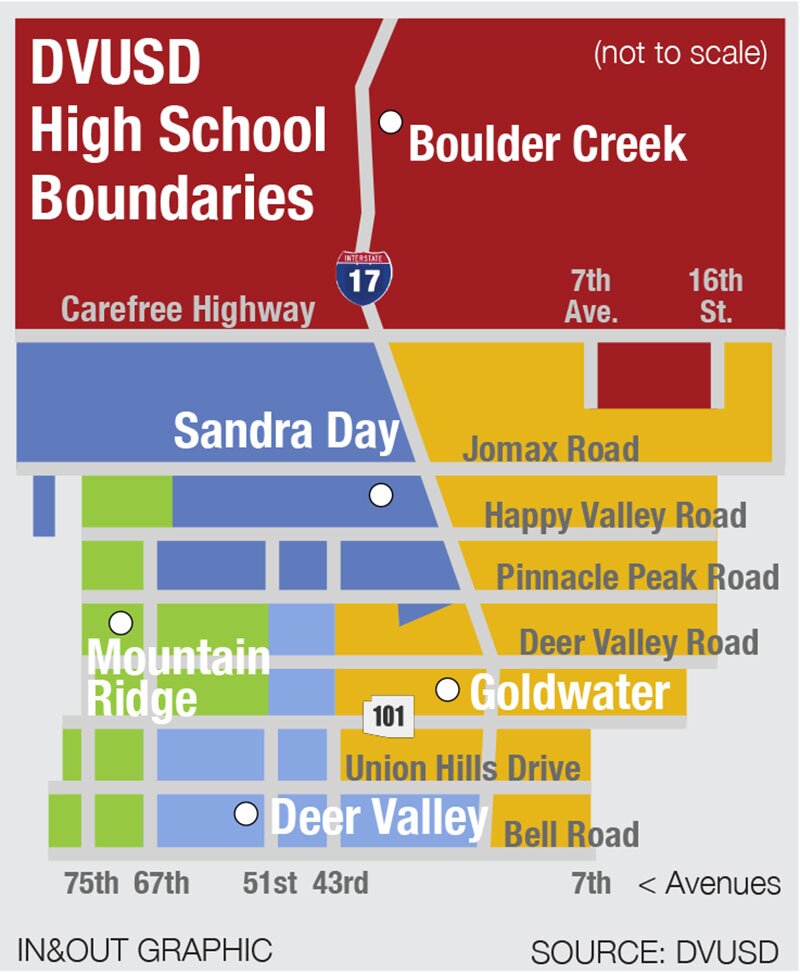 Sandra Day O'Connor opens this school year at more than 90 percent capacity. The student population is expected to remain relatively stable for the next 10 years.
Barry Goldwater, which has the most unused capacity of the three area high schools, will begin the 2017-18 school year roughly 586 students below capacity. A lot of students in the Goldwater attendance area elect [through open enrollment] to attend other schools, Migliorino said, but Goldwater has room to accommodate students from the feeder schools in the growth area between Happy Valley Road and Carefree Highway.
If projections hold, Goldwater could swell to greater than 90 percent capacity in the next five years, and become the largest of the three area high schools by 2024-25.
Serving the southwest corner of the district, Mountain Ridge High School is projected to handle capacity after a peak last school year, and Deer Valley High School will remain several hundred students under capacity through the next decade.
DVUSD may need to revise the high school boundaries within five years to help even enrollment levels, Migliorino said. Meanwhile, the district does have a 60-acre site reserved with the Arizona State Land Department at I-17 and Jomax, earmarked for the development of a future high school if and when the need exists. Discuss This Article on Facebook >
Editor's Note: This special report analyzed DVUSD schools serving residents from the Norterra area to New River. Not all DVUSD Schools are included. 
---
Related Articles