2 Developing North Phoenix Areas Compete for New School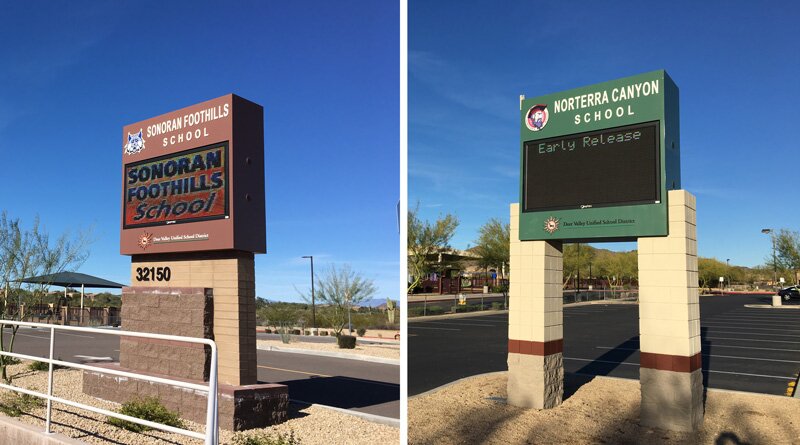 Population growth between Happy Valley Road and Carefree Highway will soon force construction of another elementary school to accommodate new students. When school resumes in Deer Valley Unified School District Aug. 7, enrollment in Norterra Canyon and Sonoran Foothills schools will push closer to capacity. Both are expected to exceed capacity by 2019-20, according to DVUSD's latest analysis.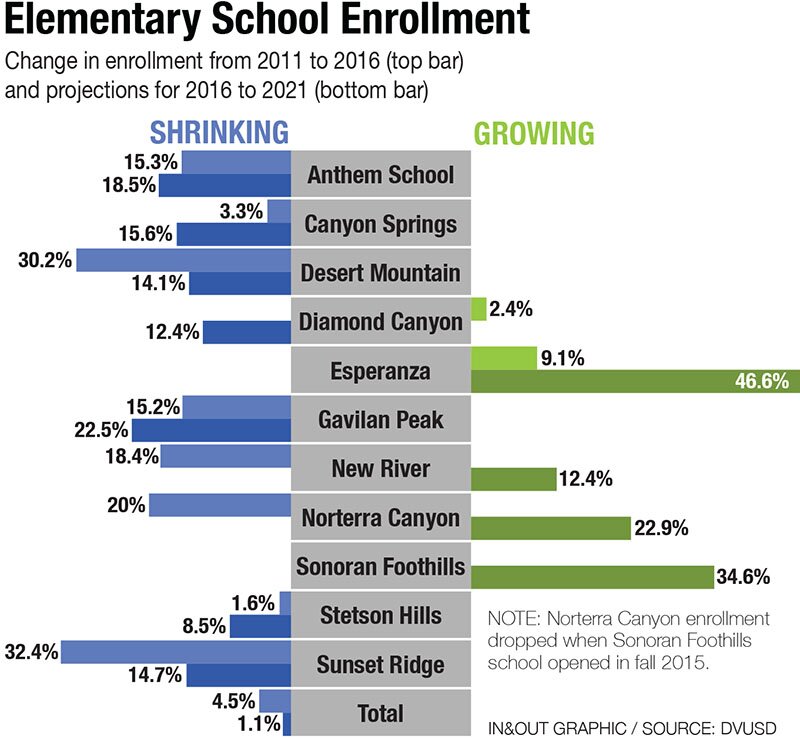 Esperanza Elementary School, which serves a portion of the area, including the planned 1,200 single-family homes and another 800-900 apartments in the USAA Norterra development, is projected to be above capacity within five years.
Hot Pockets
DVUSD's annual analysis identifies residential development impacts, aging population areas and enrollment projections for the next 10 years. The district is monitoring two areas of high residential growth:
The east side of I-17 between Happy Valley Road and Carefree Highway, along North Valley Parkway, is projected to add 942 students within five years.

The west side of I-17 north of Happy Valley Road between 51st Avenue and 75th Avenue is projected to add 270 students within five years.
Which of the two developing areas builds out most quickly will help determine where the new school will go. On the west side, Stetson Hills Elementary School is above capacity and expected to stay that way the next six years.
"It looks like the USAA property will be more accelerated… and this area would be the frontrunner," Jim Migliorino, DVUSD deputy superintendent of fiscal and business services, told In&Out. But Migliorino can't yet say when a school would be needed. "We build the school once we know we can't accommodate the students in any other fashion."
Several Options
Ideally, the district needs two years to plan for a new elementary school. If enrollments exceed capacity faster than predicted, nearby Sunset Ridge and Desert Mountain schools could absorb some overflow in the short term, Migliorino said.
DVUSD owns land for future elementary schools west of I-17―one plot in Stetson Valley and the other in Sonoran Mountain Ranch―but it does not own any sites east of I-17.
A potential school site has been reserved within the USAA Norterra development, and an agreement with the City of Phoenix gives DVUSD the first right of refusal to purchase it, but Migliorino said the district has funds from a 2013 bond plan to cover construction of the school, not land purchase. "There are indications that [USAA] may be willing to partner with us on a school site," Migliorino said. "We've been having conversations with them, but nothing has been decided." Discuss this Article on Facebook >
Editor's Note: This special report analyzed DVUSD schools serving residents from the Norterra area to New River. Not all DVUSD Schools are included.
---
Related Articles