Happy Valley & Pinnacle Peak Roads to Get New I-17 Interchanges

EDITOR'S NOTE: This article, first published July 14, was updated July 25 to include additional information provided in an ADOT public meeting, as well as a sampling of reader comments from social media and ADOT responses to public questions and concerns.
ON THIS PAGE
Video Example | Reader Comments | ADOT Q&A
Kiss the roundabout goodbye and say hello to new overpasses at two frustrating I-17 interchanges in North Phoenix. ADOT plans to rebuild the interchanges at Happy Valley and Pinnacle Peak roads, widening the streets and, at Happy Valley, installing a relatively new concept known as a "diverging diamond traffic interchange," or DDI.
As part of the $49 million project, I-17 will be widened between the two interchanges from four lanes (including the HOV lane) to five in each direction, officials told more than 200 area residents at a public meeting July 25 at the Goelet A. Beuf Community Center on Pinnacle Peak Road.
At both interchanges, new bridges will be built over I-17, which will allow the additional lane on the interstate as well as a future sixth lane when needed.
Design work has begun. The construction project is scheduled to start next fall and be finished in 2020. The projects aim to improve traffic flow and safety and prepare for additional population growth in the area.
"Compared to a conventional diamond interchange, the DDI reduces vehicle-to-vehicle conflict points by nearly 50 percent and eliminates many of the most severe crash types," according to the Federal Highway Administration, based on studies of DDIs in other states.
Because of their geometry, DDI's reduce the possibility of wrong-way drivers, according to both ADOT and the Federal Highway Administration.
While some lane closures can be expected, "the majority of construction of the new interchange will happen while the existing interchange is still in use, which will lessen restrictions," ADOT spokesperson Doug Nintzel told North Phoenix News.
Pinnacle Peak Road
The Pinnacle Peak Road overpass, which now has one through lane and one left-turn lane in each direction, will be rebuilt and have two through lanes and two left-turn lanes in each direction. The interchange "will remain a traditional diamond interchange, but its reconstruction also will focus on improved capacity to handle increased traffic over time," Nintzel said.
Happy Valley Road DDI
Happy Valley Road will be expanded to three through lanes in each direction over the highway, with right- and left-turn lanes. The roundabout will be replaced with a "diverging diamond traffic interchange," or DDI.
"The reconstructed interchange will carry Happy Valley Road over I-17 on two new parallel bridges, replacing the current Happy Valley bridge," Nintzel said.
Though complex at first glance, the diamond interchanges reduce congestion and cut down on crashes, ADOT said. More than 80 have been installed across 29 states since 2009. Traffic in a diverging diamond interchange moves on the opposite side of the normal flow while crossing the highway, with stoplights controlling who moves when.
The DDI is "a solution that's performed extremely well" based on studies done in other states, said Scott Johnson, traffic operations engineer for the design project. "They're great at processing left turns," Johnson said, and they "process high volumes of traffic" regardless of each vehicles' destination. And, Johnson said, they are safer than traditional interchanges, based on federal studies.
The best way to understand a DDI is in a video. Note: These videos describe diverging diamond traffic interchanges in other states and are not identical to the one ADOT is designing.
Reader Comments
Prior to the public meeting, dozens of readers expressed concerns about the DDI on the Facebook pages of North Phoenix News and our sister site Anthem News, as well as directly to ADOT. Those concerns were echoed at the July 25 public meeting. Here is a sampling:
"Oh no! I hated these in Utah. Not to mention the traffic that will increase while they build them."
— Rob Fetter
"People can't even get down the roundabouts at Happy Valley. You think these will be even better? Nice for an upgrade but seriously, what's wrong with good old stops signs or lights?"
— Jessie Andrews
"Wrong-way driving nightmare. Seriously why can't it be just a normal intersection."
— Trey Ordonez
"Hope it works better than the roundabout that was supposed to work so well."
— Leah O'Daniel Polanski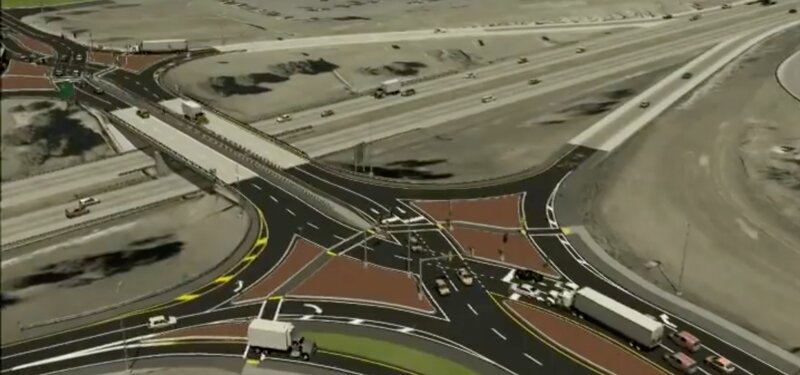 ADOT Answers Questions
At the public meeting, ADOT provided answers to these and other questions.
Are DDIs safe?
Speeds through a DDI are lower than conventional interchanges, Johnson said, and if a car runs a red light, it would hit other cars at an oblique angle rather than a dangerous T-bone. The number of potential conflict points — common crash sites — is reduced from 26 in a conventional interchange to 14 in a DDI, and the number of severe conflict points (tending to cause fatal accidents) is reduced from 10 to two, he said.
A study of the nation's first DDI, in Springfield, Missouri, compared crashes in its first year to the previous five-year average at the old interchange. The results, according to the Federal Highway Administration:
Left turn crashes were eliminated.
Right-angle crashes were reduced 72 percent.
Rear-end crashes were reduced 29 percent.
Total crashes were reduced 46 percent.
What about wrong-way drivers?
Unlike conventional interchanges, which allow a 90-degree left-turn onto the wrong ramp, a driver in a DDI would have to make almost a complete U-turn to get on the freeway in the wrong direction, Johnson explained.
Aren't the intersections confusing?
While it may look confusing from above, at street level there are clear lane markers and signs. In his experience actually driving through DDIs, "it's very obvious where you have to go," Johnson said. "It's like you're on a one-lane roadway."
Why not just expand the roundabouts?
Love 'em or hate 'em, roundabouts have a limited capacity to move traffic, ADOT explained. The existing roundabouts are two lanes wide, and adding a third lane would increase the risk for collisions, the agency's project manager said, so that option was not considered viable. ADOT projected traffic volume to the year 2035 and then added a 20 percent margin of error, and determined the DDI to be the safest and the most cost-effective option, and able to move the most traffic.
What about cyclists?
"Cyclists always say on the right side of traffic" in a traditional bike lane very similar to any other bike lane on a road's outer edge, Johnson said.
What about pedestrians?
They can walk on a dedicated path from any corner of the interchange to any other, using a series of signaled crosswalks. For part of the journey, they'll be in the middle of the bridge, between the lanes of traffic, protected by barriers — safer than along the side of the roadway, Johnson said. The signals activate only when pushed by pedestrians, so traffic won't be stopped unless there's a need.
How will local traffic be affected?
All access to frontage roads will be preserved, Johnson said. Also, he cited examples of other DDIs installed next to large distribution warehouses and heavy-traffic retail outlets like Home Depot and Costco, noting that the DDIs were chosen as the best method to get high volume of traffic on and off the freeway, including big rigs.
"The current roundabouts dating back more than 15 years have always been an interim measure until available funding allowed for a complete reconstruction of the interchange," Nintzel said. The plan is to do both projects simultaneously, he said. Discuss this Article on Facebook >