Widening of I-17 North of Anthem Gets Funding
For 15 years, In&Out Magazine has been the definitive source of "Everything that's going on" in and out of the community. We thank you, our readers, as well as the businesses that support the magazine through advertising, for that opportunity. But with little going on, and many businesses suspending or canceling their ads during the Covid-19 crisis, we are suspending publication of the magazine and web sites for the month of May. 
---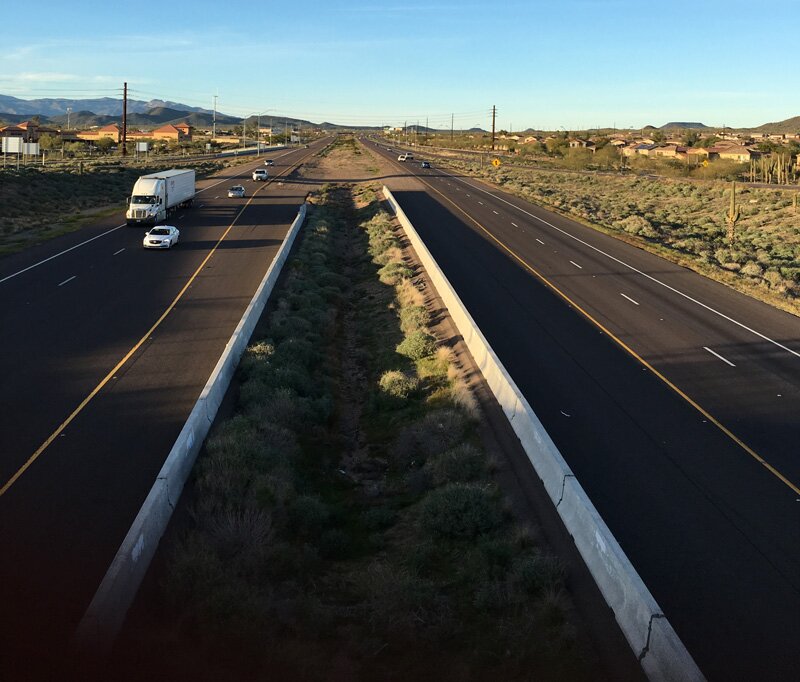 ADOT's goal of widening of I-17 north of Anthem moved a step forward Friday (June 17) when the State Transportation Board approved a five-year plan that includes funding for design and construction.
North Phoenix News reported the project proposal in February, before it had received any significant funding and prior to public hearings. While planning is still underway, the idea is to lessen backups and reduce accidents.
ADOT aims to widen I-17 to three lanes north of Anthem Way, where the interstate currently narrows to two, plus build "reversible lanes" on the crash-prone 8-mile grade between Black Canyon City and Sunset Point.

The agency's longer-term goal is to widen I-17 to three lanes all the way to Flagstaff, ADOT spokesperson Doug Nintzel said in February. But that project would require separate approval and funding down the road.
---
Crash-Prone Stretch
Accidents on I-17 between Black Canyon City and Sunset Point:
2011: 94
2015: 137
SOURCE: ADOT
---
The newly approved plan, for 2018-2022, would improve and expand nearly two dozen stretches of roadway throughout the state, including many on Interstate 10 and the Loop 101 in Maricopa County.
Funding Details
For the I-17 widening, the new budget approval sets aside $15 million for design work in 2019, and $178 million for the widening project, to be spent in 2021 and 2022. The funding includes $128 million from ADOT and $50 million from the Maricopa Association of Governments.
"Connectivity and reliability are crucial for an ever-expanding state highway system like Arizona's, especially as the population continues to grow and businesses choose to relocate here," ADOT Director John Halikowski said. "Projects in ADOT's Five-Year Construction Program will help move people, goods and services, generate commerce and economic activity through investments in major freight and travel corridors, and deliver on the agency's commitment to not only maintain but improve the quality of pavement, bridges and other infrastructure."
Interstate 10, State Route 189 and US 93 will all see capacity improvements over the next five years, according to an ADOT statement.
Funding for these projects come primarily through gas and diesel fuel taxes and vehicle license tax. Maricopa and Pima counties contribute revenue generated by voter-approved sales tax increases, ADOT said.
Recent I-17 Closures North of Anthem
May 27: Vehicle Fire Causes 25-Mile I-17 Backup: Sunset Point to Anthem
May 15: Wreck North of Black Canyon City Shuts Down I-17 For Hours
Related Articles