Slightly Less Hot: Heat Wave Forecast Moderated
For 15 years, In&Out Magazine has been the definitive source of "Everything that's going on" in and out of the community. We thank you, our readers, as well as the businesses that support the magazine through advertising, for that opportunity. But with little going on, and many businesses suspending or canceling their ads during the Covid-19 crisis, we are suspending publication of the magazine and web sites for the month of May.
---
---
UPDATE Monday, June 19, 5:48 a.m.: The National Weather Service lowered its forecasted high temperature at Sky Harbor on Tuesday from 120 degrees to 119. Its forecast for Anthem remained unchanged. The article below remains as originally written Sunday morning.
---
While the National Weather Service sticks to its prediction of a record-setting 120-degree day on Tuesday at Sky Harbor Airport — for now anyway — the forecasted high temperatures in NoPho have been moderated by a couple degrees. Further lowering of predicted highs is possible, North Phoenix News has learned.
Computer models at the weather service's Phoenix office have begun indicating slightly cooler temps the past day or so, explained meteorologist Chris Kuhlman, adding that the latest guidance, which also is looking more moderate, has not been reflected in the official forecast.
"We may even have to lower things a little bit more" later today or tomorrow, Kuhlman said in a phone interview this morning. The official forecast is updated every 12 hours, he said.
Kuhlman cautioned that the heat wave will still be extreme. Health officials have warned Valley residents to be prepared as daytime temperatures become "supremely dangerous and deadly," as the NWS stated in a tweet yesterday.
The New Forecast
Compared to the forecast on Friday, here's what's changed as of Sunday morning:
>>> The expected highs at Deer Valley Airport in North Phoenix dropped by 2 degrees for each day through Tuesday. Predicted overnight lows dropped by a degree or two.
>>> The expected highs and lows in Anthem remained largely unchanged, even though Anthem is higher and closer to the mountains and therefore typically cooler than Deer Valley Airport.
Meanwhile, private predictor WeatherBug's latest forecast calls for highs in Anthem to be 2 to 4 degrees cooler than what the National Weather Service currently predicts.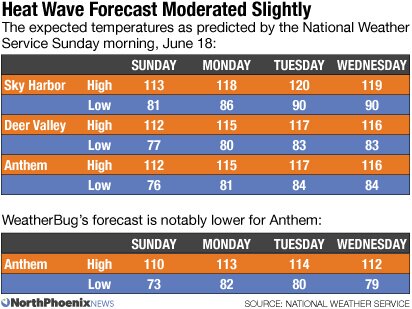 Daily records may still fall at Sky Harbor. The previous daily highs for Sunday, Monday and Tuesday (and the year they were set):
June 19: 118 (2016)
June 20: 116 (2016)
June 21: 115 (2008)
Not Always Perfect
Kuhlman said the higher elevation does not always guarantee cooler temperatures. But he also explained that the computer models make predictions for 3-square-mile areas, extrapolating forecasts for specific towns. The prognostications for Anthem, and even large cities like Tempe, are extrapolations that may not always be 100 percent accurate for any given location.

"We'd love to be perfect, but it's never going to happen," Kuhlman said.
Meteorologists also look at multiple computer models that may each generate slightly different forecasts, then use their judgment. In an extreme heat event, it can be hard to predict just how high the warming will go, and models tend to under-predict the highs, Kulman explained.
"We've been forecasting a little bit warmer than median guidance," he said. "Normally that's a good practice. We often end up warmer during a warming event than the models show."
So what can you expect? NoPho communities will tend to be cooler than downtown Phoenix, and the forecast may change slightly as the heat wave progresses.
"It's still going to be hot, either way," Kuhlman said.
Related