Wildfire Near I-17 & Bumble Bee Exit Burns 1,400 Acres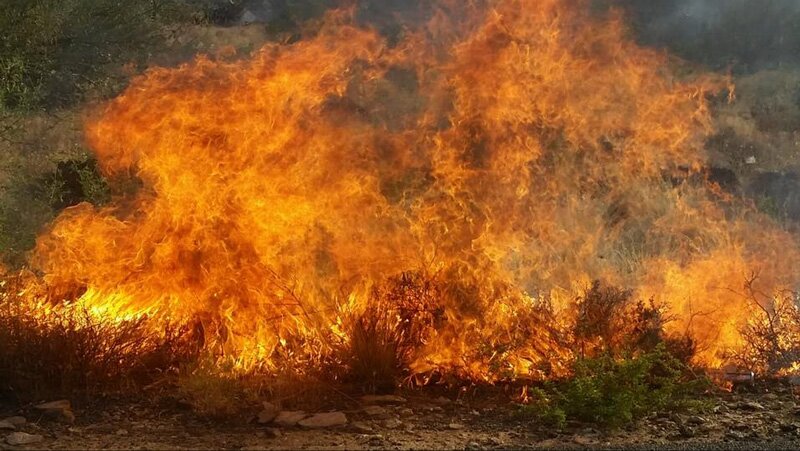 UPDATED 2:30 p.m., Monday June 19: A wildfire north of Phoenix forced closure of the southbound lanes of I-17 briefly Sunday evening, causing a backup as Valley residents were heading home.
The blaze, dubbed the Maggie Mine Fire, burned west of I-17 near the Bumble Bee exit. The fire began around 3 p.m. Sunday near Maggie Mine Road in a mostly remote, mountainous area. It was "rapidly growing," Daisy Mountain Fire Department said in a Sunday-evening statement. Air tankers and a helicopter helped battle the wildfire before nightfall.
By 10 p.m. Sunday, it had covered more than 600 acres, according to the Central Arizona Wildland Response Team (CAWRT).
Bumble Bee Ranch, a 180-acre tourist destination with campsites and cattle, was under recommended evacuation Sunday night, according to the Bureau of Land Management, one of several agencies and about 175 personnal involved in fighting the fire.
By Noon today (Monday) the evacuation was lifted, while the fire had grown to 1,400 acres — a little more than 2 square miles — BLM reported.
"Our firefighters were working throughout the night trying to contain the fire," BLM spokesperson Mariela Castaneda told North Phoenix News this morning.
"Forward progression of the fire has been stopped," DMFD tweeted Monday afternoon.
Active Fire Season
Roughly two dozen brush fires and wildfires this year have scarred the landscape between North Phoenix and the Sunset Point area. Most if not all of the fires have been human caused, fire officials say.
Exactly a week ago today a wildfire scorched 1,200 acres near I-17 and the Table Mesa exit.
Fire experts have pleaded repeatedly during this busy wildfire season with people to be extremely careful along roads and in the desert, as a wet winter left plenty of brush that's now tinder dry. Among the ways humans can start brush fires: driving over dry grass or brush in the desert or at the roadside; dragging chains used with trailers; and shooting guns.