Signs of 'Booming Growth' in NoPho
For 15 years, In&Out Magazine has been the definitive source of "Everything that's going on" in and out of the community. We thank you, our readers, as well as the businesses that support the magazine through advertising, for that opportunity. But with little going on, and many businesses suspending or canceling their ads during the Covid-19 crisis, we are suspending publication of the magazine and web sites for the month of May.
---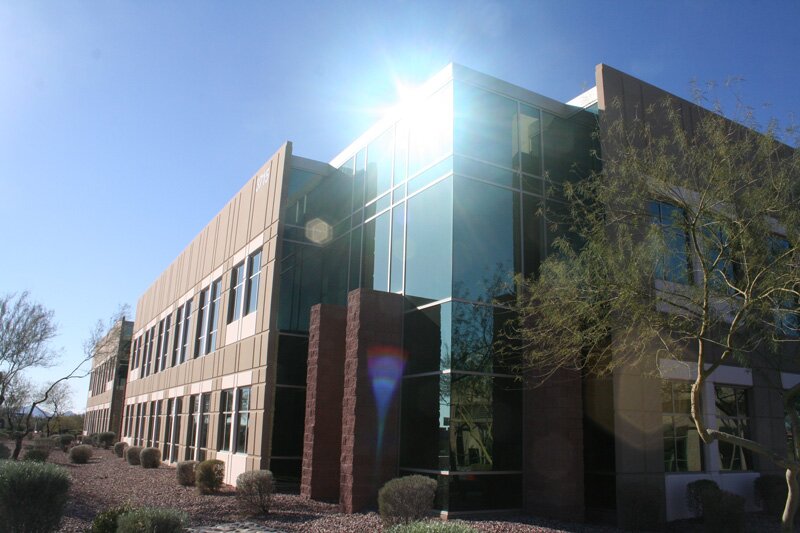 A large office building in Anthem vacant for a decade is suddenly on the verge of gaining several tenants, while a retail plaza that was less than half full is nearing full occupancy. Business and residential growth has picked up notably across NoPho, the I-17 corridor from Norterra to New River. Among the new developments and businesses opened or planned in the past year:
14 restaurants (at least)
8 large new-home developments
5 self-storage facilities
4 apartment complexes
3 school expansions
No Longer Vacant
Anthem Corporate Center, a tall-windowed, 65,000-square-foot office building at 3715 Anthem Way, was erected in 2008 and never occupied. That's about to change.
Kathleen Morgan, a broker for commercial real estate firm Newmark Knight Frank, said she's negotiating with a corporation seeking an entire floor, up to 30,000 square feet, and other businesses that need 2,500 square feet or more of office or medical space. A "prominent" local dentist is moving into the one-story companion building at 3719 Anthem Way, Morgan said.
What changed?
The building's new owner, West Coast Capital Partners, is motivated to fill the building, Morgan told In&Out. Plus: "The commercial market in North Phoenix continues to strengthen, with rising lease rates and… decreasing vacancy. These growth trends are expected to continue in 2018 and beyond."
Filling Up Fast
Meanwhile, the Shops at Anthem, anchored by Ace Hardware, was less than 50 percent occupied just a few months ago. Among new tenants: Freedom Cycles, Filiberto's and Lifestyle 2 Nutrition. Amped Coffee Company is under construction in a never-occupied corner suite in the plaza. Also coming: Sam's Frozen Yogurt.
The market is heating up, said Ryan Amato of the Eisenberg Company, which handles leasing for the plaza. It also has new owners, who bought at such a low cost they're "able to go to the market and offer space cheaper than the competition." Two more deals are pending, Amato said, which would bring the plaza to 84 percent occupancy.
He added: "I'm bullish" on the commercial real estate market in Anthem and North Phoenix. "Rents are going up for sure."
'Hottest Corridor'
There's also been an influx of jobs to North Phoenix by big firms like USAA (1,000), Farmers Insurance (1,000) & Fry's Dove Valley (400). And a half-dozen high-tech companies are either moving in or expanding and hiring near the southern fringe of NoPho, including around Deer Valley Airport, Phoenix Councilwoman Thelda Williams said at an Anthem town hall in December.
"I-17 is the hottest corridor for new development in the Valley," Williams said.