ADOT Proposal: Widen I-17 North of Anthem Way
For 15 years, In&Out Magazine has been the definitive source of "Everything that's going on" in and out of the community. We thank you, our readers, as well as the businesses that support the magazine through advertising, for that opportunity. But with little going on, and many businesses suspending or canceling their ads during the Covid-19 crisis, we are suspending publication of the magazine and web sites for the month of May. 
---
Ultimately, ADOT has set a goal of widening I-17 to at least three lanes in each direction between Anthem Way and Flagstaff. — Doug Nintzel, ADOT
To lessen backups and reduce crashes, ADOT has proposed widening I-17 to three lanes north of Anthem Way and creating "reversible lanes" on the 8-mile grade between Black Canyon City and Sunset Point, according to a Jan. 27 statement. No firm date has been set for any construction, however, and funding is not in place.
It's all part of a grand design still in the exploratory stage, explained ADOT spokesperson Doug Nintzel.
"Ultimately, ADOT has set a goal of widening I-17 to at least three lanes in each direction between Anthem Way and Flagstaff," Nintzel told In&Out. "As you might imagine, that's easier said than done given the tremendous amount of not-yet-available future funding it would take to do that."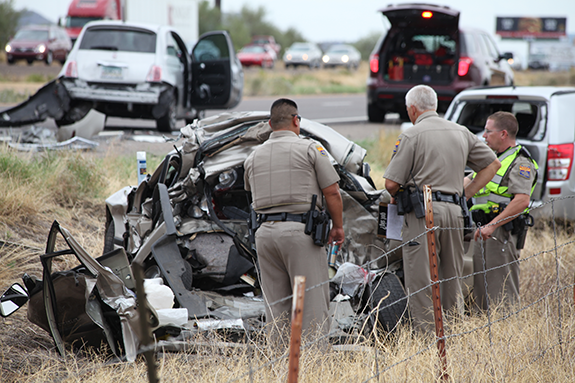 In the meantime, ADOT is focused on the 8-mile stretch from Black Canyon City to Sunset Point, evaluating options for improvements. Reversible lanes might work this way: Two lanes could be built in the median, separated from current lanes by barrier wall, Nintzel said.

Barrier systems at each end would be used to allow only one direction of travel at a time. For example, the lanes could be used on a Friday afternoon to provide more capacity for heavier northbound traffic, while the system could be used for southbound traffic on a Sunday afternoon.
"I-17 is vital for passenger and commercial traffic between Phoenix and northern Arizona communities," ADOT Director John Halikowski said. "We're determined to identify options to increase the lane capacity along the highway while also working with the Department of Public Safety and other partners to reduce driver behaviors that lead to crashes and cause unnecessary delays."
ADOT has earmarked $3 million for preliminary design work on alternatives for the corridor between Black Canyon City and Sunset Point. Another $5 million has been set aside in fiscal year 2020 for final design, the agency said. Reversible lane construction could cost $125 million, ADOT estimates.
ADOT did not have any further details on the potential construction immediately north of Anthem. "Whether it's widening I-17 north of Anthem with third lanes in each direction, or considering the reversible lanes concept north of Black Canyon City, we need folks to understand additional funding would needx to be available," Nintzel said.
Later this year the agency plans to install six electronic "speed feedback" signs along I-17 north of Phoenix. The signs will display vehicle speeds while reminding drivers of the posted speed limit. In addition, four overhead message boards will be added, Nintzel said, "to help provide drivers with information about highway conditions, which helps when an incident has stopped traffic."
---
Crash Course
Accidents on I-17 between Black Canyon City and Sunset Point:
2011: 94
2015: 137
SOURCE: ADOT
---
This article was originally posted Jan. 27. It was updated Feb. 5 to reflect additional information. First published on Anthem News.