What's Behind Rising Arizona Traffic Deaths
For 15 years, In&Out Magazine has been the definitive source of "Everything that's going on" in and out of the community. We thank you, our readers, as well as the businesses that support the magazine through advertising, for that opportunity. But with little going on, and many businesses suspending or canceling their ads during the Covid-19 crisis, we are suspending publication of the magazine and web sites for the month of May. 
---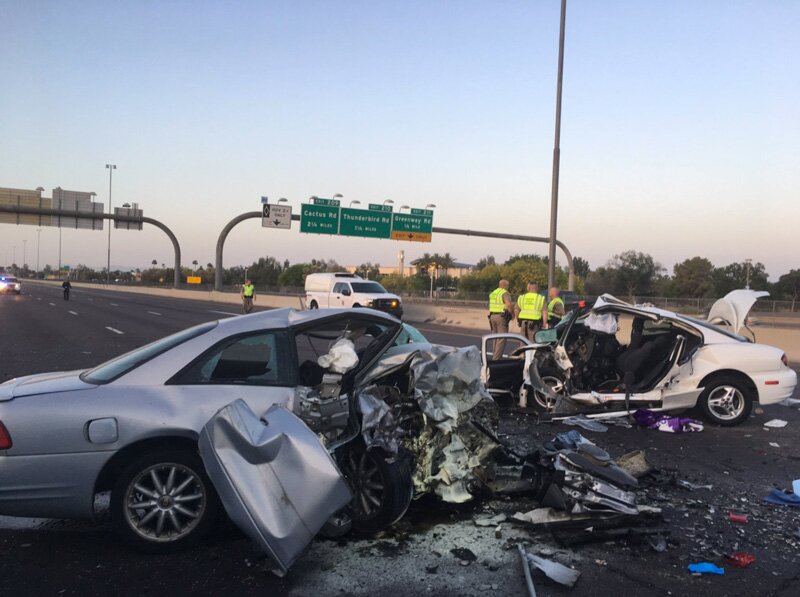 When Arizonans travel this summer, most will hit the road, according to AAA, and those roads are getting more dangerous. In a horrific accident caused by a wrong-way driver on I-17 in the early-morning hours of April 14, the driver and two women in the other car were killed. On May 2, a vehicle slammed into an existing crash scene on I-17 just south of the Yorkshire Drive exit, killing the initial crash victim and a bystander who had stopped to help. In early May, 15-year-old Sandra Day O'Connor High School student Alexa Flores was killed in a Peoria neighborhood crash.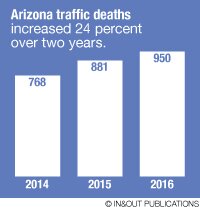 The accidents are part of a marked increase in Arizona auto fatalities. On average, 2.6 people die in the state every day due to motor vehicle accidents. The figures include motorcyclists, as well as pedestrians and bicyclists struck by motorized vehicles.
Arizona's 950 motor-vehicle deaths in 2016 were up 8 percent from the previous year and 24 percent from 2014, according to the latest figures from the National Safety Council. Nationwide, motor vehicle deaths in 2016 were up 6 percent from 2015, and 14 percent from 2014, according to the NSC report.
There are, of course, spots that are worse than others. Things have gotten so bad on the particularly treacherous stretch of I-17 between New River and the Sunset Point recreation area that ADOT took the unusual step over this Memorial Day Weekend of lowering the speed limit 10 mph during key travel times.
What's Going On?
The majority of Arizona crashes, as well as fatalities, are not related to wrong-way drivers. Most are caused simply by driving too fast, officials say. And many of the deaths could be prevented, those same officials say, by simply wearing seat belts and helmets.
"It is hard to put one reason as to why there was an increase from 2014 to 2015," said Public Information Officer Kameron Lee of the Arizona Department of Public Safety, which handles enforcement on highways and interstates. "What we can say is traffic volume increased from 2014 to 2015, and lack of seatbelt usage continues to be a big part of fatality collisions."
Speeding is the most common cause of auto accidents in the state, based on Arizona Department of Transportation statistics for 2015. And one-third of fatal collisions involve alcohol. Other ADOT crash facts:
Peak day for auto accidents: Friday

Peak hour for auto accidents: 4–5 p.m.

Peak day for fatal crashes: Saturday

Peak hour for fatal crashes: 8–9 p.m.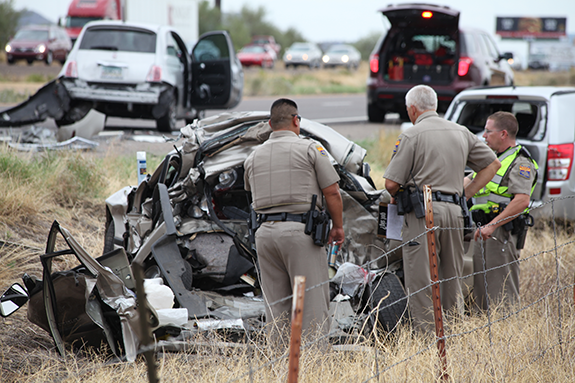 Wrong-Way Drivers
DPS began tracking wrong-way driver accidents in April of 2015. While these often heartbreaking collisions get a lot of attention, they represent a fraction of auto deaths in the state. Here are the DPS numbers on wrong-way collisions that resulted in injury or death:
2015 (April–December): 15 (1.67 per month)

2016 (entire year): 28 (2.33 per month)

2017 through April: 8 (2.00 per month)
Not all disoriented drivers cause accidents. The agency got 1,600 calls of wrong-way driving last year. But in these situations, "impaired drivers play a major role," Lee said in an email interview. "Many wrong way drivers have been found to be impaired by intoxicating beverages or drugs."
What's Being Done
ADOT is asked frequently why it doesn't install metal spikes to prevent wrong-way drivers. The reasons why not are many, ranging from them being dangerous for legal traffic, especially small cars and motorcycles, to studies showing that they don't always work.
DPS evaluates monthly where collisions are most common—collisions of any type. It looks for a cause, then deploys troopers to enhance enforcement, Lee explained. The solution is sometimes blunt. "Several times troopers used their patrol vehicles in such a way as to stop the wrong way driver, causing physical harm to themselves and damage to the vehicle."
Meanwhile, ADOT has installed hundreds of larger Wrong Way signs, and later this year will test a wrong-way driver detection system on I-17 between I-10 and Loop 101, said spokesperson Doug Nintzel.
The system is supposed to detect, alert and track wrong-way drivers, using sensors at exit ramps and on the freeway. It will trigger flashing warning signs and overhead message boards and alert law enforcement, plus turn traffic cameras toward the wrong-way vehicle.
A prototype is in "the final design stage," Nintzel said.
[UPDATE June 7, 2017: After another deadly wrong-way-driver crash on a Phoenix freeway last night, Arizona Gov. Doug Ducey declared the state must "take action to more seriously address the issue of wrong-way driving." Ducey ordered that installation of the detection system be expedited.]

ADOT is looking for other ways to engineer highway safety. In a crash-prone I-17 corridor north of Anthem, for example, the agency hopes to eventually add lanes to improve safety. The long-range plan, not yet funded, would widen the interstate in the 8-mile stretch from Black Canyon City to Sunset Point, where accidents rose from 94 in 2011 to 137 in 2015. Ultimately, ADOT wants to expand I-17 to three lanes in each direction all the way to Flagstaff.
In the meantime, "speed feedback" signs will be installed later this year on I-17 north of Phoenix, alerting speeders to the legal limit. 
What You Can Do
DPS and ADOT offer these tips for staying safe on the roads:
Buckle up

: In 2015, 35 percent of those killed on Arizona roads were not wearing

a seat belt, child safety device or helmet.

Avoid distractions

, including  eating, drinking and texting, so you ready to quickly take evasive action. Nationwide,

3,477 people were killed

, and 391,000 injured, due to distracted driving in 2015.

Slow down

: Speeding is the root cause of most crashes. Speeding kills

more than 9,000 people a year

across the country.
"Without a doubt, the number of crash fatalities would be dramatically reduced if more drivers would slow down and obey speed limits," says Colonel Frank Milstead, director of the Arizona Department of Public Safety. "Our troopers are focused on stopping aggressive speeders. Changing bad driving behaviors is a key to highway safety."
And if you must be on the highways after the bars close, consider this: Wrong-way drivers tend to use the far-left and HOV lanes, DPS says, so it advise drivers in the early morning hours — when most wrong-way collisions occur — to use the middle lanes. And officials ask that you call 911 immediately if you see a wrong-way driver.
I-17 Not the Worst
It should be noted that I-17 is not among the deadliest highways in the nation, at least according to the analyses that have been published.
A review of highway deaths nationwide by the analytics firm Geotab found Interstate 1 in Florida and Interstate 83 in Texas have the highest statewide fatality rates (the calculation factors deaths compared to traffic volume). Interstate 40 in California is third, and I-40 in Arizona is 4th.
A separate analysis last year by financial analyst ValuePenguin included Interstate 10 in it's Top 5 deadliest roads, but did not single out Arizona as particularly deadly (I-10 runs from California to Florida).