For 15 years, In&Out Magazine has been the definitive source of "Everything that's going on" in and out of the community. We thank you, our readers, as well as the businesses that support the magazine through advertising, for that opportunity. But with little going on, and many businesses suspending or canceling their ads during the Covid-19 crisis, we are suspending publication of the magazine and web sites for the month of May. 
---
Caurus Academy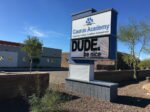 Caurus plans to lease a new building to expand its middle school in fall 2017 and launch a high school in fall 2018. Enrollment has grown from 190 to 330 in three years. [Story]
Arizona charter schools are public school that operate autonomously from the local school district based on a contract with the State Board of Education. Learn More.