Deceptive 'Solar Initiative' Flyers Appear on Phoenix Homes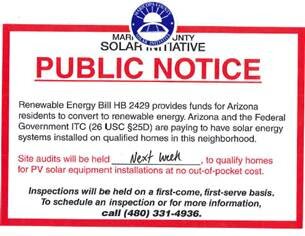 Flyers promoting an official-sounding solar energy effort are being posted on homes in the Phoenix area. Much about the scheme is deceptive, according to the Arizona Attorney General's office.
The flyers claim to be a "Public Notice" from the "Maricopa County Solar Initiative," and claim that "Arizona and the Federal Government ITC (26 USC § 25D) are paying to have solar energy systems installed on qualified homes in this neighborhood." The flyers tell consumers to call to schedule their "site audits." Consumers who call are subjected to a solar sales pitch by a private company.
The Maricopa County Solar Initiative's website improperly uses a modified version of the county seal, but the "Solar Initiative" is linked to a private business and is not associated with the county, the Attorney General said in a statement today. The "Solar Initiative" is also not registered to do business in Arizona.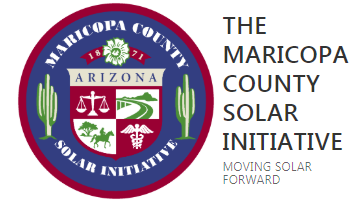 ---
SUBSCRIBE & STAY INFORMED
North Phoenix Newsletter
Anthem Newsletter