I-17 Construction Begins at Happy Valley & Pinnacle Peak Road Interchanges
For 15 years, In&Out Magazine has been the definitive source of "Everything that's going on" in and out of the community. We thank you, our readers, as well as the businesses that support the magazine through advertising, for that opportunity. But with little going on, and many businesses suspending or canceling their ads during the Covid-19 crisis, we are suspending publication of the magazine and web sites for the month of May. 
---

Construction has started on two new I-17 interchanges, to render the roundabouts at Happy Valley Road obsolete and replace the narrow, congested overpass at Pinnacle Peak Road. Also, I-17 will be widened between the two interchanges from four lanes (including the HOV lane) to five in each direction. Minor lane restrictions are planned in coming weeks.
Starting Nov. 27, lane restrictions are scheduled on the southbound I-17 Pinnacle Peak Road on-ramp. Exact times will be announced prior to the start date, ADOT said. Crews will also begin surveying work and start moving equipment into the construction area and conducting other minor work along roadway shoulders near Pinnacle Peak Road after Thanksgiving.
"No major restrictions or closures are scheduled to occur during the holiday season," ADOT said.
2-Year Project
The project, detailed last summer, will create a relatively new traffic-pattern concept called a "diverging diamond traffic interchange," or DDI, at Happy Valley Road. [See Videos Below]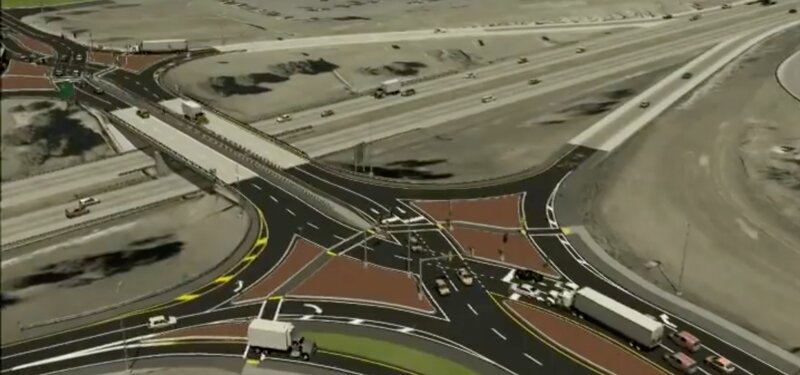 "Compared to a conventional diamond interchange, the DDI reduces vehicle-to-vehicle conflict points by nearly 50 percent and eliminates many of the most severe crash types," according to the Federal Highway Administration, based on studies of DDIs in other states. DDI's reduce the chance of wrong-way drivers, according to both ADOT and the Federal Highway Administration.
Happy Valley Road will be widened to three through lanes in each direction over I-17, with right- and left-turn lanes. Two new, parallel bridges will be constructed.
The new Pinnacle Peak Road interchange will be a traditional diamond interchange but capacity will be increased.
While some lane closures can be expected during the roughly two-year project, "the majority of construction of the new interchange will happen while the existing interchange is still in use, which will lessen restrictions," ADOT spokesperson Doug Nintzel told North Phoenix News previously.
Safety Concerns
Residents have expressed concern that the DDI will be too complex, causing traffic problems and increasing the risk of wrong-way drivers. In response, an ADOT engineer stressed in a public meeting last summer that DDIs process higher volumes of traffic and are safer—for vehicles, bikes and pedestrians—than traditional interchanges.
Unlike conventional interchanges, which allow a 90-degree left-turn onto the wrong ramp, a driver in a DDI would have to make almost a complete U-turn to get on the freeway in the wrong direction, said Scott Johnson, traffic operations engineer for the project's design.
A study of the nation's first DDI, in Springfield, Missouri, compared crashes in its first year to the previous five-year average at the old interchange. The results, according to the Federal Highway Administration:
Left turn crashes were eliminated.
Right-angle crashes were reduced 72 percent.
Rear-end crashes were reduced 29 percent.
Total crashes were reduced 46 percent.
Roundabouts have limited traffic capacity and were always intended as a temporary measure at Happy Valley Road, while funding for a longer-term solution was secured, ADOT has said.