More Lanes Planned for Loop 101 from I-17 to Scottsdale
For 15 years, In&Out Magazine has been the definitive source of "Everything that's going on" in and out of the community. We thank you, our readers, as well as the businesses that support the magazine through advertising, for that opportunity. But with little going on, and many businesses suspending or canceling their ads during the Covid-19 crisis, we are suspending publication of the magazine and web sites for the month of May. 
---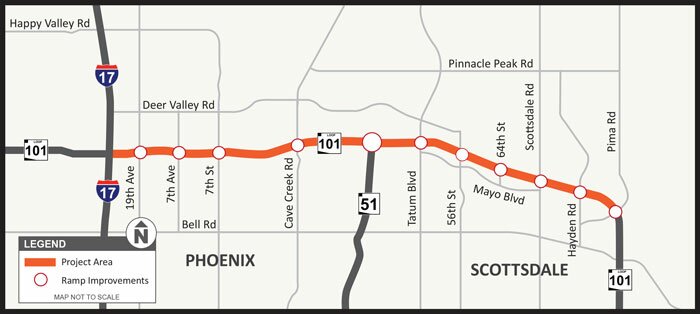 Loop 101 will get new lanes in each direction between the I-17 interchange and Pima Road in Scottsdale, a heavily travelled corridor that officials expect to only get busier in years to come.
The project, expected to be completed in early 2021, will address bottlenecks along the Loop 101 at I-17, Cave Creek Road, State Route 51, and Tatum Boulevard, according to a statement yesterday from the Maricopa Association of Governments (MAG). According to ADOT, here are some of the plans:
Add one general purpose lane in each direction between I-17 and Pima Road
Add an auxiliary lane in each direction between Seventh Street and Cave Creek Road
Modify freeway ramps and frontage road connections at 10 interchanges
"A smoother, hassle-free commute means people can travel to work and home to their families faster and more efficiently," said MAG Chair Gail Barney.
The project also will include installation of quieter rubberized asphalt overlay, drainage improvements, unspecified technological upgrades, and other improvements, MAG said. A contractor could be chosen as early as Dec. 21, MAG said. ADOT plans to hold informational meetings in early 2019, prior to the start of construction.
I-17 Construction Begins at Happy Valley & Pinnacle Peak Road Interchanges
---