Anthem, New River & Desert Hills Residents: Take This Survey on Long-range Planning

In a recent survey by county planners, more than half of respondents in New River, Desert Hills and Anthem said quality of life had declined the past five years, and 23 percent said they wished to see major improvements on growth control. Now's your chance to contribute to the second phase of the survey.
The county survey (click here) seeks input through Wednesday, Jan. 9. — from residents of New River, Desert Hills and Anthem's east side — to help shape a new New River Area Plan, one of 13 long-range planning documents tied to Maricopa County's Vision 2030 plan, which aims to guide decisions about growth. Here's the area it covers:
The survey is part of a second phase of public input prior to updating the New River Area Plan for the first time since 1999. Preliminary findings were presented at a public meeting in December (see below) and as of yesterday, 434 people had responded to the two phases of the survey.
District 3 Supervisor Bill Gates explained the plan and how it relates to rural residents as well as those in Anthem, where development is largely complete and governed by the Anthem Community Council.
"The New River Area Plan includes goals and specific policies that address the location, type and intensity of future development, and how to help make community services and infrastructure more cost-effective," Gates told North Phoenix News. "The New River Area Plan applies to the unincorporated areas of Maricopa County. While Anthem is within the planning area, it is subject to the Anthem Development Master Plan (DMP), approved in the early/mid-1990s, that provides much more specific guidelines for development within the Anthem community boundaries. The New River Area Plan will not change the guidelines and requirements of the Anthem Development Master Plan."
But input from Anthem residents is encouraged.
"Our goal is to produce a plan that reflects the values of the entire community," Bill said. "We encourage all residents to actively participate in the development of the plan by attending upcoming public meetings or by visiting the Plan Update website and submitting feedback online."
Another public meeting will be held in late February or early March, to get feedback on a draft plan, goals and policies, Gates said. It will then be revised further and go before the Planning and Zoning Commission by early summer, then be put to the Board of Supervisors for final approval in the fall, he said.
What Residents Are Saying
The majority of respondents to the survey's first round live on 1-acre or larger lots, suggesting they are residents of New River or Desert Hills, according to the county's data. Up to 22 percent live on smaller lots, suggesting some of them may live in Anthem, Gates said. Here are some of the results of the initial survey, taken from the county's December meeting presentation slides:
---
---
---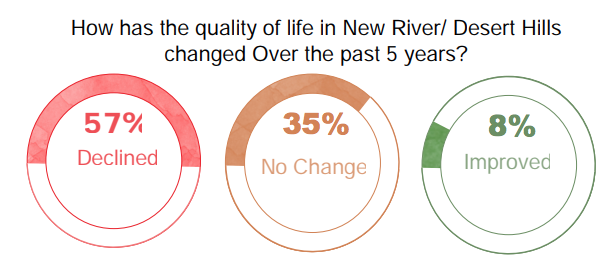 ---
ADVERTISEMENT
Here's a sneak peek at some of the homes we have "coming soon" in this incredibly tight market:
Pool with Swim-up Snack Bar!
Upgraded Majesty model on cul-de-sac with lovely landscaping.
W St. Exupery Court, Anthem Parkside
4 BEDS + CASITA | 3.5 BATHS | 2-CAR GARAGE | 2,915 SQFT | $455,000
Upgraded Patio Home!
Master on 1st floor, premier end-lot overlooking green space! Close to school, park, shopping.
W Murfield Court, Anthem Paseo
4 BEDS | 2.5 BATHS | 2-CAR GARAGE | 1,772 SQFT | $269,000
NEW POOL and Sweeping Views!
End of quiet cul-de-sac, backyard faces east at Anthem's edge.
N Long Landing Court, Anthem Country Club
4 BEDS + CASITA | 4.5 BATHS | 2-CAR GARAGE | 3,556 SQFT | $590,000
Large View Lot Near 1st Gate!
Bennington with 14-foot ceilings, fireplace, no homes behind!
N Moss Springs Road, Anthem Country Club
3 BEDS | 2.5 BATHS | 3-CAR GARAGE | 2,542 SQFT | $440,000
Stunning Backyard + RV Parking! 
Spacious Wonder model on east-facing view lot with 3-car garage and paved RV Parking.
N 50th Drive, Arroyo Grande 
4 BEDS + Office + Teen Room + "Attic" | 3.5 BATHS | 3-CAR GARAGE | 4,009 SQFT | $449,000
Call or Text 623-297-2557 to Learn More