Tramonto Self-Storage Proposal Back on Table


Another real estate developer has its sights set on building yet another self-storage facility in the area (see map below).
Brexton, LLC, is proposing a self-storage facility sandwiched between the Ironhorse at Tramonto apartments and the under-construction Casitas at Tramonto—on land proposed for the same purpose in 2016 by another developer. Those earlier plans, which required a special-use approval from the City of Phoenix, were eventually withdrawn by then-developer High Range Partners, LLC after the project was met with opposition from several nearby residents.
Brexton's preliminary site plan today shows a proposed two-story, 117,000-square-foot building near North Valley Parkway and Canotia Place on nearly four acres.
Representatives from Brexton will present the proposal for discussion Thursday evening before the Phoenix North Gateway Village Planning Committee, which advises the City of Phoenix. No action or approval is expected.
Be Heard
Phoenix North Gateway Village Planning Committee Meeting
6 p.m., Thursday, Feb. 8, 2018
Goelet A.C. Beuf Community Center
3435 W. Pinnacle Peak Road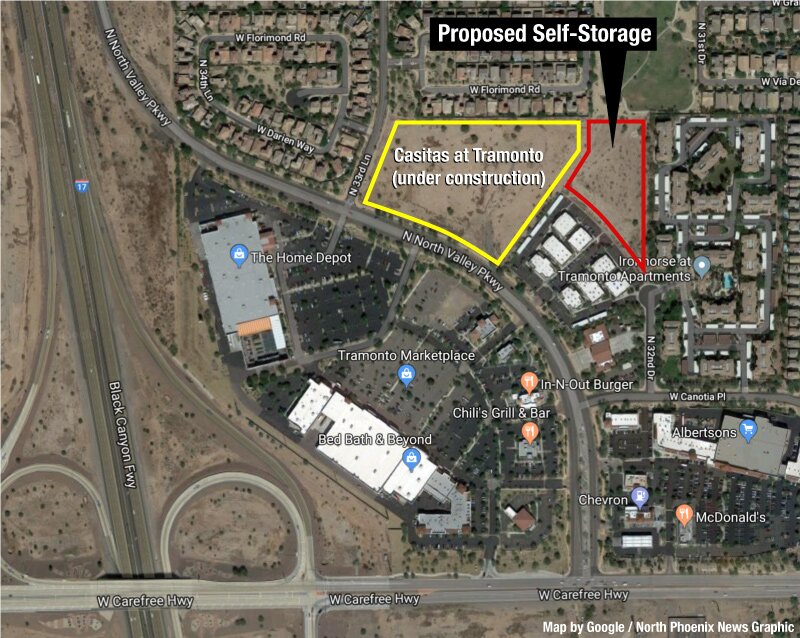 ---
Large Country Club View Lot 
ADVERTISEMENT
Bennington with 14-foot ceilings, fireplace, no homes behind, and near the first gate!
N Moss Springs Road, Anthem Country Club
3 BEDS | 2.5 BATHS | 3-CAR GARAGE | 2,542 SQFT | $440,000
Call 623-297-2557 or CLICK TO LEARN MORE