14-Year-Old Wins Violin in North Valley Symphony Orchestra Competition
NVSO — Jonathan Green was recently announced as the winner of a brand new handmade violin, valued at $3,000, after competing in North Valley Symphony Orchestra's annual Summerford Violin Concerto Competition.  Jonathan will perform Accolay's Violin Concerto #1 in a minor at the March 4th North Valley Symphony Orchestra concert, playing his new violin.  Jonathan is currently a first violinist in the NVSO Youth Orchestra.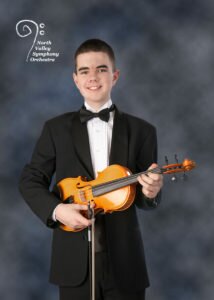 At only 14 years old, Jonathan has been playing violin eight years, and plans to someday attend college majoring in music, and minoring in business. He plans to be a private music teacher while contributing his talents to community orchestras.  He hopes to audition for a major metropolitan city symphony orchestra in the future.
Three years ago, Jonathan was diagnosed with Asperger's and Attention Deficit Disorder. Music has been a major part in helping him through different challenges that come with these conditions. With his passion and focus on musical studies, Jonathan says, "Music calms me and helps in working through different problems."
The application process for the competition consisted of composing answers to five essay questions, obtaining a letter of recommendation from outside the NVSO organization, and auditioning in front of a panel of judges.  Applicants must also be members of North Valley Symphony Orchestra's Symphonettes or Youth Orchestra. The violin is donated every year by local luthier Jody Summerford, who recognizes the work that the NVSO artistic staff is doing to nurture and develop young musicians in the Phoenix community. Mr. Summerford has recently been nominated by the AZ Citizens for the Arts for a Governors Award recognizing his philanthropic work for NVSO.
Before winning one of Mr. Summerford's gorgeous, hand-crafted violins, Jonathan owned only a student violin, and had to borrow his teacher's violin just to practice and participate in this competition.  Winning the violin has special meaning to Jonathan, who stated, "Winning this violin will give me the opportunity to have a relationship with the maker and [get to] know him personally." Being homeschooled, Jonathan has been fortunate enough to practice long and often for the past six months, typically two to four hours a day. The prize violin will be a reminder of the struggle, determination and time that he put into this one piece of music.
Plan to hear Jonathan play his brand new violin at NVSO's "Dvorak 7" concert, Saturday, March 4th, 7:00 p.m. at North Canyon H.S. Performing Arts Auditorium (1700 E. Union Hills Rd.).
NVSO wishes to invite young string players to join NVSO Symphonettes or NVSO Youth Orchestra for the 2017-18 concert season.  Auditions will be scheduled in May and August. For more information about membership in one of the youth performance groups, or the North Valley Symphony Adult Orchestra, email Music Director Kevin Kozacek at , or call 623-980-4628.
The Arizona Commission on the Arts offers funding to NVSO from the State of Arizona and the National Endowment for the Arts.