Anthem Holiday Light Cruise, an Annual Parade, Set for Saturday
For 15 years, In&Out Magazine has been the definitive source of "Everything that's going on" in and out of the community. We thank you, our readers, as well as the businesses that support the magazine through advertising, for that opportunity. But with little going on, and many businesses suspending or canceling their ads during the Covid-19 crisis, we are suspending publication of the magazine and web sites for the month of May. 
---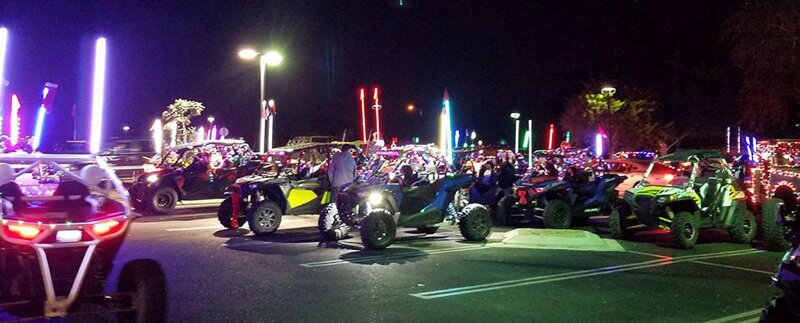 The annual, informal cruise around Anthem by festively lighted Jeeps, side-by-sides (SXSs) and UTVs  is planned for Saturday, Dec. 21. The Anthem Holiday Light Cruise, as it's called now, involves participants who string colorful holiday lights, garlands and other holiday decorations on their off-road vehicles.
Starting at 6 p.m., participants—more than 200 in years past—will traverse some 15 miles of the community for about two hours on major streets as well as through several neighborhoods. As in years past, spectators are expected to line the route.
"Saw this for the first time last year and it was amazing," Paula Damico posted to the organizing group's Facebook page. "A must see!"
The advance forecast for Saturday evening calls for clouds and light winds, with no rain, and temperatures between 47 and 52 degrees during the event. The route [click here for a map] has been modified slightly from last year. 
The parade was created in 2016 "to celebrate the holidays and create a fun and memorable experience for all of Anthem and the neighboring communities," said Harmony Brown, who has organized it in years past but recently passed the torch. This year, Anthem resident David Coleman, along with other volunteers, stepped up to organize the parade.
"We streamlined it a bit more this year because of the growing interest and for safety reasons," Coleman said. "Last year there were so many turns, people got lost."
Some approximate times for those who wish to go out and watch, according to volunteer organizer Stephanie McLean: 
4:00 p.m. Staging begins in a parking lot at 4111 W. Innovation Dr., Suite 112. 
5:30 p.m. Best Decorated judging begins (prizes awarded at end of route) 
6:00 p.m. Starts with vehicles heading west on Opportunity Way
6:30 p.m. Crossing Anthem Way to Venture Drive, at the Civic Building, then south to Panhandle area (south of Daisy Mountain Drive at the Gavilan Peak Parkway intersection)
6:45 p.m. Traveling east on Daisy Mountain Drive to Hastings Way
7:00 p.m. Back westward to Memorial Drive
7:30 p.m. Northward past the Community Center, along Anthem Way to Navigation Way, then up through Arroyo Norte
8:00 p.m. Ending at Outlets at Anthem
Times may vary considerably, as drivers frequently get separated by street lights and get strung out like, well, like holiday lights missing a few bulbs. There will be signs along the route to help drivers stay on course, Coleman said.
The event is not officially sanctioned by law enforcement or any other organization. Participating vehicles must be street legal, and all traffic laws must be obeyed, organizers stress. Anyone interested in entering their vehicle is asked to RSVP on this Facebook page. Drivers are asked to each bring one can of non-perishable food for a food-drive effort. 
General information and discussion, including any last-minute changes, can be found on the organizing group's Facebook page.