What the APS Rate Hike Means to You: Analysis
Last week's green light for an APS rate hike means a $6 monthly increase to the average customer's bill, but your mileage may vary. The entire rate structure will be overhauled, with all new plans and more emphasis on avoiding energy use during peak hours. Incentives to install solar remain, though they're scaled back from what's in place now.
The rate increase approved Aug. 15 by the Arizona Corporation Commission is easier on customers than what APS had initially sought more than a year ago. APS had proposed an $11 monthly increase, which would have bolstered annual revenue $166 million. The $6 monthly hike will instead bring in about $95 million a year—a 3.3 percent increase.
The plan was agreed to in March by 29 of 39 primary parties that weighed in, including APS, industry representatives and solar advocates, and the Residential Utility Consumer Office, a state agency that intervenes on behalf of utility customers. AARP is among the groups that did not support the plan.
New Fees & Plans
Higher "basic service charges" went into effect Aug. 19; these fixed fees will raise the average bill from $135.54 a month to $141.70, said Anna Stewart, an APS spokesperson. APS will notify customers directly later this year about the new plan options, and customers will have until May to pick a plan, and can switch plans once per calendar year thereafter.
Meanwhile, the company provided details of the as-yet unnamed plans to In&Out.
The new plans employ more incentive to use less energy during peak hours, and those hours will change to 3 p.m. to 8 p.m. weekdays from the current noon to 7 p.m. weekdays. The number of off-peak holidays will increase from six to 10.
Peak-hour "demand charge" plans will be optional, rather than mandatory, as APS had initially sought. Peak-hour plans offer the lowest rates during off-peak summer hours, but then determine a fee based on a multiplier and the single hour of highest usage during peak daytime hours in a given billing cycle. These plans require utmost diligence to avoid surprising charges.
Customers have six options: Three flat-rate plans with rates that increase with usage; one time-of-use plan similar to one many customers use now; two peak-hour plans. The time-of-use plan includes a super off-peak period of 10 a.m. to 3 p.m. weekdays in winter.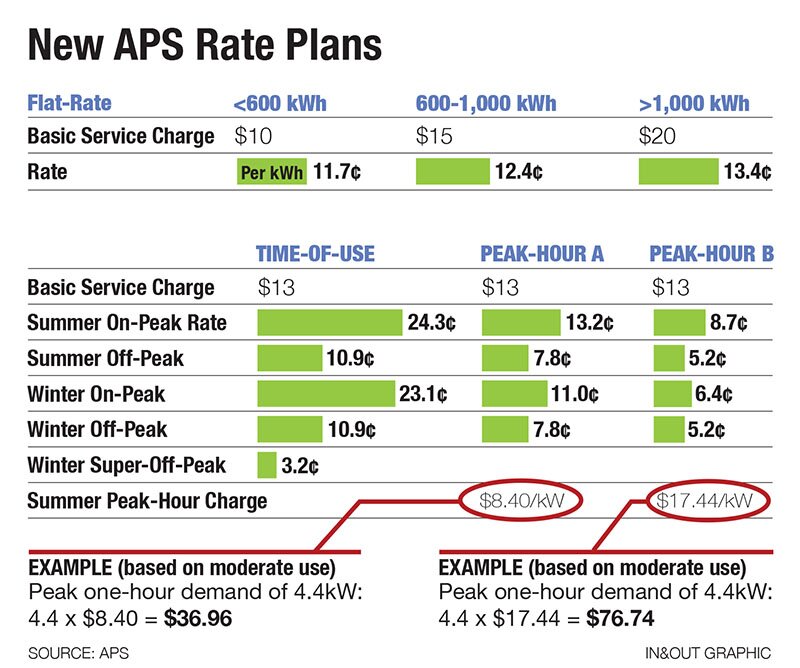 Effect on Solar
APS will grandfather existing solar customers—anyone signed up by Aug. 31, 2017—and pay the current "net-metering" rate of about 14 cents/kilowatt-hour for excess electricity flowing into the grid, Stewart told In&Out.
Customers who sign up for solar within the next year, by Aug. 31, 2018, will be credited 12.9 cents/kilowatt-hour for their excess electricity, and the rate will be locked in for 10 years. Anyone signing up thereafter could see a lower rate, Stewart said.
"This agreement enables investment in a smarter, cleaner energy infrastructure [and] gives customers more choice and control through new rate options," said Don Brandt, APS chairman, president and CEO.
Anne Hoskins, chief policy officer at Sunrun, a rooftop solar installer, said the parties that negotiated the plan "spent years reaching this compromise" on rates for solar customers. When the agreement was reached in March, she pledged "Sunrun will stand by the terms of the settlement agreement" despite what her industry sees as shortcomings.
"While Arizona does not serve as a model to encourage innovation in distributed energy, the joint agreement between the solar industry, APS, and other stakeholders is more proof that rooftop solar is inevitable," Hoskins said in a statement provided to In&Out last week.
Other Changes
Funding to assist low-income customers will increase from $35 million to $48 million.

New investments will upgrade the energy grid, reduce emissions and upgrade two power plants.

The utility will fund development of battery storage, microgrids and advanced solar research.
APS rates have increased 1.6 percent per year, on average, the past 20 years. As part of the agreement, another rate increase cannot be requested before June 1, 2019. The plan was approved by a 4-1 vote, with Corporation Commission member Robert Burns opposed, questioning the need to raise rates at all.