For 15 years, In&Out Magazine has been the definitive source of "Everything that's going on" in and out of the community. We thank you, our readers, as well as the businesses that support the magazine through advertising, for that opportunity. But with little going on, and many businesses suspending or canceling their ads during the Covid-19 crisis, we are suspending publication of the magazine and web sites for the month of May.
---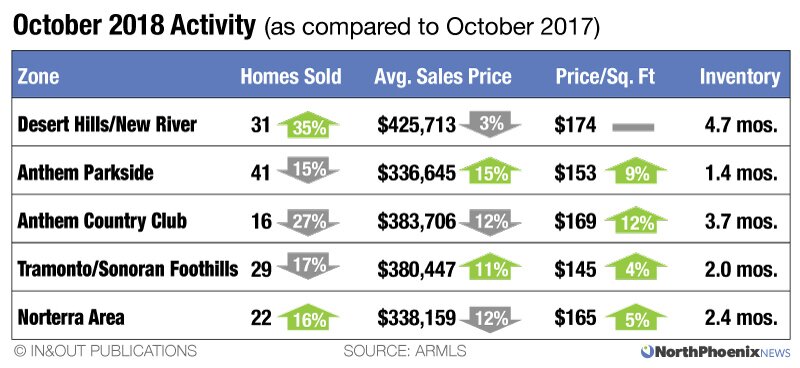 Sales of existing homes slowed down in October across much of NoPho, the I-17 corridor from Norterra to New River, reflecting a nationwide trend. The total number of sales,139, was down from 159 in September. That's not unusual, however, as sales historically tend to slow down from October through December. October's volume was down slightly from the 147 sales of October 2017.
While prices were mixed, price per square foot edged up in four of five zones. Inventory tightened in Norterra and the Tramonto & Sonoran Foothills areas compared to the previous month, while rising in New River and Desert Hills, as well as in Anthem Country Club. Parkside inventory held steady.
Nationally, rising prices and a lack of inventory in entry-level homes has stifled sales, according to the National Association of Realtors. The median price of single-family homes nationwide was $266,900 in the third quarter, up 4.8 percent from the same period last year.
See details by zone, including a list of every home sold: