Jenna Kohl, Anthem's Top Executive, Leaving
For 15 years, In&Out Magazine has been the definitive source of "Everything that's going on" in and out of the community. We thank you, our readers, as well as the businesses that support the magazine through advertising, for that opportunity. But with little going on, and many businesses suspending or canceling their ads during the Covid-19 crisis, we are suspending publication of the magazine and web sites for the month of May. 
---
Anthem's Community Executive Officer Jenna Kohl is leaving her job after eight years. Kohl will be executive director DC Ranch Community Council in Scottsdale, she told In&Out.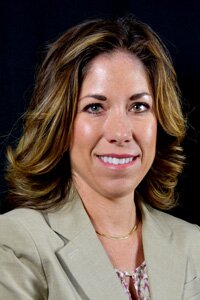 Kohl served at the pleasure of the Anthem Community Council, a seven-member volunteer board. ACC President Roger Willis announced her departure at the monthly ACC meeting Jan. 24. 
A three-person search committee (one board member from each HOA) recommended ACC Community Operations Officer Neal Shearer as interim CEO, which the board approved, according to an ACC spokesperson. Shearer will assume Kohl's responsibilities Feb. 16 and until the board evaluates next steps.
In parting words, Kohl called Anthem "a unique, beautiful and special community," noting that though residents are mostly transplants, "sense of community and traditions run deep. I've always been moved by how people come together in Anthem, whether to support families in need or to spread out a blanket at Music in May," she said. "Anthem has a sense of connectedness that you don't always find in other communities."
With an $8.76-million balanced budget for 2018, ACC oversees maintenance and operation of common areas, including the community center, community park and civic building. (Three separate HOAs, distinct from ACC, enforce homeowner rules and maintain pocket parks and other common areas.)
In a letter from Kohl read by a teary-eyed Willis, she thanked the board and the community, as well as her staff. "From finance to parks and facilities to communications, community center, civic building, special events—I am in awe of your work ethic, passion, and skills," the letter stated.
Kohl, who moved from Illinois to take the Anthem job, said the ACC board and staff she leaves behind "truly are top notch, and residents can feel confident that the ACC is in a good place going forward."
Open House
ACC recognizes Jenna Kohl's 8 years of leadership.
4-6 p.m. Monday, Feb. 12
Anthem Civic Building, Room 4
3701 W Anthem Way