New Arizona Data Shows Young People Not Immune to COVID-19
For 15 years, In&Out Magazine has been the definitive source of "Everything that's going on" in and out of the community. We thank you, our readers, as well as the businesses that support the magazine through advertising, for that opportunity. But with little going on, and many businesses suspending or canceling their ads during the Covid-19 crisis, we are suspending publication of the magazine and web sites for the month of May.
---
As of today, March 30, there are 1,157 diagnosed cases of COVID-19 in Arizona and 20 deaths, with 690 cases in Maricopa County, according to the Arizona Department of Health Services. Meanwhile, a picture is emerging of who it affects. Contrary to earlier analyses in other states and countries, younger adults and children are not immune. In fact, people age 20-44 make up one of the largest groups of infected individuals in Arizona (note that the data, seen in this graph from ADHS, is not split into equal age ranges).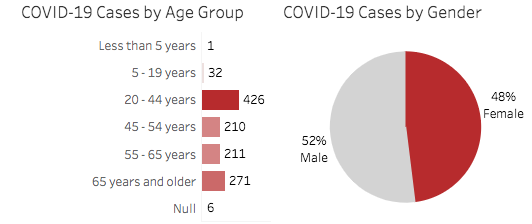 See more detail on Maricopa County cases in an UPDATE below. Meantime, the pattern reflects a greater understanding that is emerging elsewhere. Elemental, the health publication on Medium, published an article by this author summarizing some of what's known about age differences and COVID-19. Among the highlights:
An 18-year-old in the U.K. recently died of the disease.
Others in their twenties and thirties have described COVID-19 feeling "like you've been in a car crash" and "like I was drowning."
An early CDC analysis of diagnosed U.S. cases found 20% of people hospitalized for COVID-19 were age 20 to 44.
"While the risk is still very low, we now know that there are younger people who become critically ill with COVID-19," said Dr. Mahalia Desruisseaux, an associate professor of internal medicine at Yale University School of Medicine and member of the Infectious Diseases Society of America. "Data coming out of New York and California and other parts of the country, for instance, show that young adults and teenagers have had to be placed on ventilators."
Health experts continue to assert that older adults, 60 and up, are indeed more vulnerable to severe effects of the disease. But it's clear now that younger adults and even children are at risk, too—not just for passing the disease along but for also seeing serious symptoms.
There is no firm estimate for how many people in Arizona or elsewhere are carrying COVID-19 without knowing it or without having been diagnosed, but health experts say the number is significant, and that is contributing significantly to the spread.
UPDATE: Among Maricopa County cases, here's the breakdown by age group, according to data released separately by Maricopa County Public Health department a few hours after today's state figures were released:
0-17 years: 3%
18-39 years: 35%
40-59 years: 33%
60+ years: 32%
Nearly 60 percent of people hospitalized for COVID-19 in Maricopa County so far are 60 and older. All five deaths in the county were among people over age 40. The county also released new guidelines for what to do if you think you are sick. The key guideline: "Before you go to a doctor's office or emergency room, call ahead and tell them about your symptoms and any recent travel."