The New River-Desert Hills Budget Proposal: How to Fund a New Town
For 15 years, In&Out Magazine has been the definitive source of "Everything that's going on" in and out of the community. We thank you, our readers, as well as the businesses that support the magazine through advertising, for that opportunity. But with little going on, and many businesses suspending or canceling their ads during the Covid-19 crisis, we are suspending publication of the magazine and web sites for the month of May. 
---
While new taxes might be needed for a new town, there's a case to be made for starting out by relying on other funding options.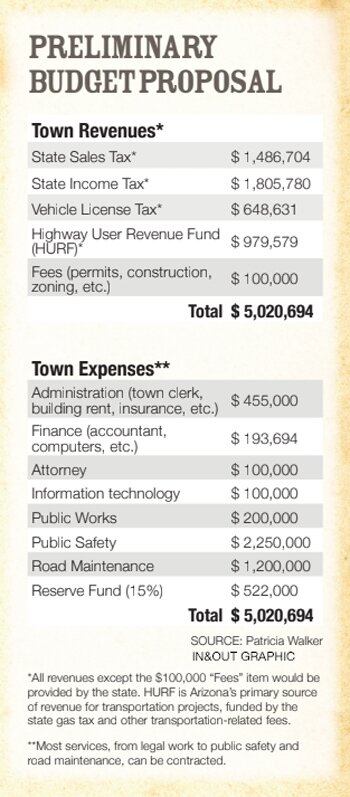 Patricia Walker, a private consultant to municipalities, told those in attendance at an Aug. 29 public meeting about incorporating New River and Desert Hills into a town that it's possible to fund required operations mostly with "state-shared revenue," money the state otherwise would give to the county.
When a town incorporates, the state diverts a percentage of those revenues from the county to the new town.
The New River–Desert Hills Incorporation Committee contracted Walker, former CFO for the City of Chandler, to provide a preliminary budget analysis for the proposed town. Walker was paid $1,000 for her analysis and presentation.
Using a population figure provided by the incorporation committee—14,952—and standard formulas for state revenue sharing, Walker suggested no local taxes would be required for the town to function.
"You don't need it at this point," she said, adding that if the town wished services beyond the minimum, it could collect local sales or property taxes, if a majority of residents vote to do so.
Insufficient Funds?
Some residents question if the budget is adequate to manage a new town. Specifically, they wonder whether the $1.2 million for road maintenance is sufficient—the county was not consulted on the number of road-miles behind those calculations.
Laurie Ricci, one of the founders of the incorporation committee, said a "public works person" who wishes to remain anonymous assisted with the estimates.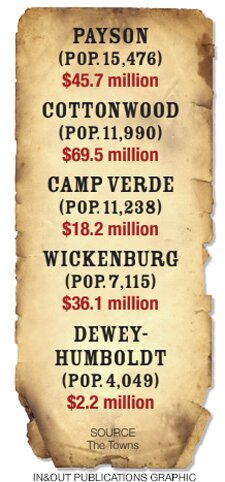 Comparing this potential new town to others that are more developed—particularly with more retail and commercial businesses—may be apples to oranges, yet towns with similar and even smaller populations have much larger budgets.
But most towns had much smaller budgets when they first incorporated, said Tom Belshe, deputy director of the Arizona League of Cities and Towns. And, Belshe said, there's no precedent for a town not surviving financially. Since Arizona became a state in 1912, no town or city has ever filed bankruptcy, Belshe said.
Some locals are not convinced.
"From what I see, they are not showing sufficient funds to move forward," said Alan Muller, past president of the New River/Desert Hills Community Association, an advisory group.
All this suggests voters would likely be asked to enact a sales tax—as every other Arizona town has done—sometime after incorporation.
"A sales tax would most likely be imposed," said Steve Scharboneau Jr., one of the incorporation committee founders, in a Facebook post.
RELATED: Talk of the Town: New River-Desert Hills Incorporation Proposal
---